ABIT NF7-S Version 1.0: Basic Features
Motherboard Specifications

CPU Interface

Socket-462

Chipset

NVIDIA SPP North Bridge
NVIDIA MCP-T South Bridge

Bus Speeds

100 - 237MHz (in 1MHz increments)

Core Voltages Supported

up to 1.85V (in 0.025V increments)

I/O Voltages Supported

N/A

DRAM Voltages Supported

up to 2.7V in 0.1V increments

Memory Slots

3 184-pin DDR DIMM Slots

Expansion Slots

1 AGP 8X Slot
5 PCI Slots

Onboard ATA RAID

N/A

Onboard USB 2.0/IEEE-1394

USB 2.0 supported through South Bridge
Realtek RTL8801B FireWire PHY (MAC in South Bridge)

Onboard LAN

Realtek RTL8201BL controller (nForce LAN)

Onboard Audio

Realtek ALC650 controller (nForce2 APU)

Onboard Serial ATA

Silicon Image 3112A RAID controller

BIOS Revision

nf7_11.b01 (11/25/2002)
Despite the fact that ABIT's NF7-S isn't a MAX series motherboard, the NF7-S still packs an acceptable punch. Besides, it's hard to argue that nForce2 isn't the most fully-featured Socket A chipset on the market, so some may not even mind that ABIT skipped MAX for their nForce2 series of motherboards.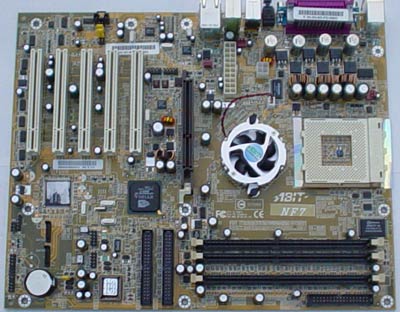 In order to take advantage of NVIDIA's nForce2 Ethernet, ABIT has outfitted the NF7-S with a Realtek 8201BL Ethernet PHY. The RTL8201BL is the physical layer for the nForce MAC integrated into the MCP-T; it is interesting to note that ABIT did not take advantage of the dual integrated MACs in the MCP-T, unlike ASUS.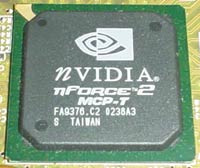 Yet another feature Realtek seems to dominate are sound controllers, this time in the form of their ALC650 chip, which can be found just below the NF7-S' I/O ports, and which handles all sound output for the board. Remember that the nForce2 APU only acts as a DSP, final sound quality is still greatly determined by the DAC (Digital to Analog Converter) in the ALC650 AC'97 codec.

The I/O ports aren't configured in an especially interesting way; Here you'll find two PS/2 ports, two serial ports, one parallel port, two rear USB 2.0 ports, one LAN port, a SPDIF port, and five 1/8' jacks, which are driven by the onboard sound. Nothing exciting to note here, as this is pretty standard among nForce2 motherboards.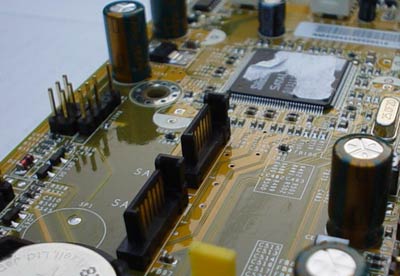 Silicon Image's SI3112A Serial ATA RAID controller has recently started to become popular among high-end and high-performance motherboards, including ASUS's P4G8X Deluxe (Intel E7205 chipset), Intel's D845PEBT2 (Intel 845PE chipset), Epox's 4PEA+ (Intel 845PE chipset), and ECS's L4S8A (SiS 648 chipset). With this onboard Serial ATA chip, you can setup two independent Serial ATA devices as well as RAID 0 (striping) and RAID 1 (mirroring) arrays. Onboard Serial ATA, in our opinion, is a nice perk, but nothing more. Serial ATA drives are finally trickling into the market but you won't see widespread support until SATA controllers are integrated into South Bridges in 2003.
The ABIT NF7-S doesn't support a large number of IDE devices, certainly nothing too interesting. The Primary and Secondary IDE connectors form the only type of onboard IDE support, supporting two channels per IDE connector. Therefore, the NF7-S supports no more than four IDE drives total, which really shouldn't be an issue with the vast majority of users (and yes, even power users).
The MCP-T South Bridge supports USB 2.0, or up to six USB 2.0 ports total. Besides the two rear USB 2.0 ports, there are two USB 2.0 headers located towards the bottom of the NF7-S. Here you'll be able to add a maximum of four USB 2.0 ports through whatever means you deem fit (using the bundled two-port USB bracket or otherwise).
For some, the NF7-S' support for FireWire is a plus, thanks to the integrated FireWire MAC in the nForce2 MCP-T.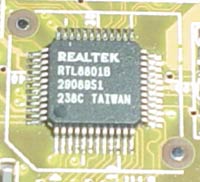 ABIT bundles a two-port FireWire bracket with the NF7-S for you to use with the two onboard FireWire headers. Since the RTL8801B controller can support no more than two FireWire ports, the bundled FireWire bracket is especially useful.

ABIT has been trying to separate themselves from other motherboard manufacturers as much as possible lately. This goal couldn't be better exemplified than by their Serillel converter technology. Essentially, the Serillel converter converts an IDE hard drive into a serial ATA hard drive just by converting the parallel signal from the IDE hard drive to a serial signal. The current advantage of Serillel is that you can add an additional IDE drive to your system (for a total of five instead of four). This seems nice, but remember that there will be some performance loss because of the Parallel to Serial conversion; on paper the performance loss shouldn't be too great but we'll be investigating that in the coming weeks.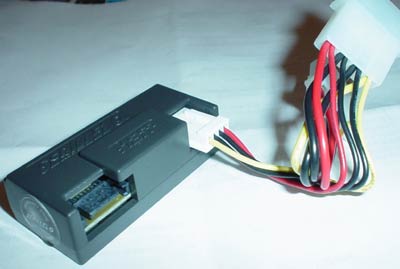 One positive of ABIT's Serillel converters is that you get the benefit of Serial ATA cables without having to wait for Serial ATA hard drives to hit store shelves.