Intel's Springdale Chipset - Up and Running
FIC also had an early sample of Intel's Springdale chipset, the first dual channel DDR chipset for the desktop Pentium 4 market (Granite Bay/E7205 is supposed to be workstation-only).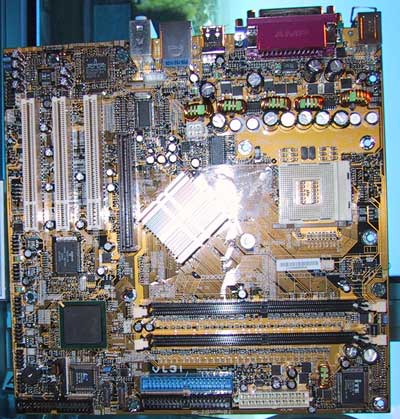 Click to Enlarge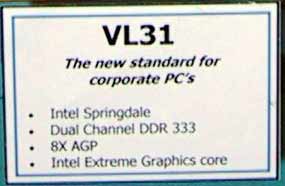 As you'll recall from our story at Computex, Springdale will bring a minimum of:
Dual Channel DDR333 support
667MHz FSB support
AGP 8X support
ICH5 with integrated Serial ATA
Optional 802.11b
Optional Communication Streaming Architecture (CSA) bus for dedicated bandwidth to Gigabit Ethernet devices
There are a few tidbits of updated information we've received today about Springdale that we'd like to share.
First of all, Springdale will apparently support dual channel DDR400 and not just dual channel DDR333. Also, Intel is strongly considering abandoning the 667MHz FSB in favor of a leap to an 800MHz FSB in preparation for Prescott. Dual channel DDR400 is necessary in order to meet the 6.4GB/s bandwidth requirements of Prescott's FSB.
It is unclear at this point whether or not Intel will release a Northwood based Pentium 4 with 800MHz FSB support, we will try and receive more clarification as soon as we can.
The CSA bus that Intel will be introducing with Springdale will be an optional interconnect for those motherboard manufacturers that will ship Gigabit Ethernet on their motherboards. The CSA bus offers 2Gbps of bandwidth between the Memory Controller Hub (MCH aka North Bridge) and an Intel Gigabit Ethernet controller. The obvious benefit of this design is that using Gigabit Ethernet will not saturate the 32-bit 33MHz PCI bus which only offers 1Gbps of bandwidth to begin with.
Not all manufacturers will take advantage of the CSA bus as they will have to use Intel's Gigabit controller, some will be using a Broadcom controller on the PCI bus. Once again, the biggest problem here is that if you max out your Ethernet controller then you also completely saturate the PCI bus.
As the title of this section implies, Springdale was up and running just fine in FIC's suite. It is quite impressive to see this sort of maturity from a chipset that's not going to be out until April or May of 2003. Intel is definitely turning up the heat on AMD and exerting their dominance in the chipset market.