This year's Fall Comdex is much different from what we're used to seeing; the show floor is dominated by a handful of major manufacturers, but the motherboard guys are nowhere to be seen. The Microsofts, Toshibas and Samsungs of the world occupied the majority of the show floor and were demonstrating everything from LCDs to Tablet PCs (which we will have coverage on in our newsletter tonight).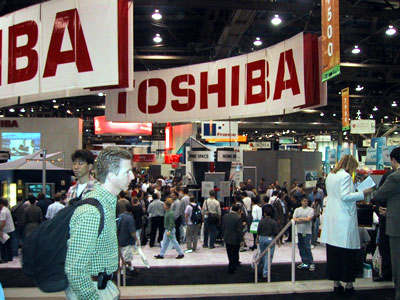 We were only able to count three motherboard manufacturers on the floor of the Las Vegas Convention Center this year - ECS/PC Chips, Soltek and Luckystar, although we may have missed one or two on our first day.
Where have all the motherboard manufacturers gone? The vast majority of them are in hotel suites up and down the Strip. Our own Evan Lieb will be bringing you coverage from his day at the Venetian hotel as he visited ABIT, ECS, Gigabyte and MSI so be sure to sign up for tonight's newsletter to review that.
While Matthew was off covering Tablet PCs, Evan was busy at the Venetian and Kris was looking at fans and cases I paid a visit to FIC to take a look at a few technologies we've obviously been following for a while.