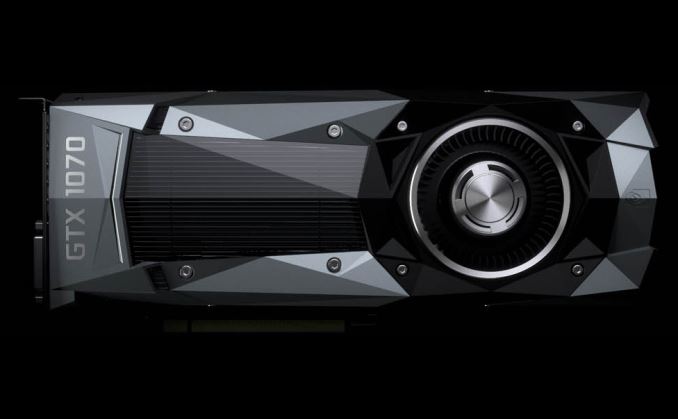 Back when NVIDIA first announced the GeForce GTX 1080 earlier this month, they also briefly announced that the GTX 1070 would be following it. The GTX 1070 would follow the GTX 1080 by two weeks, and presumably to keep attention focused on the GTX 1080 at first, NVIDIA did not initially reveal the full specifications for the card. Now with the GTX 1080 performance embargo behind them – though cards don't go on sale for another week and a half – NVIDIA has posted the full GTX 1070 specifications over on GeForce.com.
NVIDIA GPU Specification Comparison
GTX 1080
GTX 1070
GTX 970
GTX 770
CUDA Cores
2560
1920
1664
1536
Texture Units
160
120
104
128
ROPs
64
64
56
32
Core Clock
1607MHz
1506MHz
1050MHz
1046MHz
Boost Clock
1733MHz
1683MHz
1178MHz
1085MHz
TFLOPs (FMA)
8.9 TFLOPs
6.5 TFLOPs
3.9 TFLOPs
3.3 TFLOPs
Memory Clock
10Gbps GDDR5X
8Gbps GDDR5
7Gbps GDDR5
7Gbps GDDR5
Memory Bus Width
256-bit
256-bit
256-bit
256-bit
VRAM
8GB
8GB
4GB
2GB
FP64
1/32
1/32
1/32
1/24
TDP
180W
150W
145W
230W
GPU
GP104
GP104
GM204
GK104
Transistor Count
7.2B
7.2B
5.2B
3.5B
Manufacturing Process
TSMC 16nm
TSMC 16nm
TSMC 28nm
TSMC 28nm
Launch Date
05/27/2016
06/10/2016
09/18/14
05/30/13
Launch Price
MSRP: $599
Founders $699
MSRP: $379
Founders $449
$329
$399
Previously disclosed at 6.5 TFLOPs of compute performance, we now know how NVIDIA is getting there. 15 of 20 SMs will be enabled on this part, representing 1920 CUDA cores. Clockspeeds are also slightly lower than GTX 1080, coming in at 1506MHz for the base clock and 1683MHz for the boost clock. Overall this puts GTX 1070's rated shader/texture/geometry performance at 73% that of GTX 1080's, and is a bit wider of a gap than it was for the comparable GTX 900 series cards.
However on the memory and ROP side of matters, the two cards will be much closer. The GTX 1070 is not shipping with any ROPs or memory controller channels disabled – GTX 970 style or otherwise – and as a result it retains GP104's full 64 ROP backend. Overall memory bandwidth is 20% lower, however, as the GDDR5X of GTX 1080 has been replaced with standard GDDR5. Interestingly though, NVIDIA is using 8Gbps GDDR5 here, a first for any video card. This does keep the gap lower than it otherwise would have been had they used more common memory speeds (e.g. 7Gbps) so it will be interesting to see how well 8Gbps GDDR5 can keep up with the cut-down GTX 1070. 64 ROPs may find it hard to be fed, but there will also be less pressure being put on the memory subsystem by the SMs.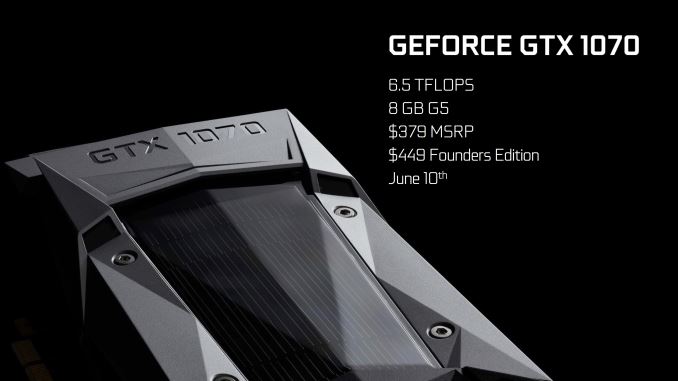 Meanwhile as is usually the case for x70 cards, GTX 1070 will have a lower power draw than its fully enabled sibling, with a shipping TDP of 150W. Notably, the difference between the GTX 1080 and GTX 1070 is larger than it was for the 900 series – where it was 20W – so we're going to have to see if GTX 1070 ends up being TDP limited more often than GTX 1080 is. In that sense TDP is somewhat arbitrary – its purpose is to set a maximum power consumption for cooling and power delivery purposes – and I'm not surprised that NVIDIA wants to stay at 150W or less for the x70 series after the success that was the GTX 970.
Like the GTX 1080, the GTX 1070 will be launching in two configurations. The base configuration is starts at $379 and will feature (semi) custom partner designs. Meanwhile as previously disclosed, NVIDIA will be offering a Founders Edition version of this card as well. The Founders Edition card will be priced at $449 – a $70 premium – and will be available on day one, whereas this is not guaranteed to be the case for custom cards.
The GTX 1070 Founders Edition card will retain the basic stylings of the GTX 1080, including NVIDIA's new angular shroud. However I have received confirmation that as this is a lower TDP card, it will not get the GTX 1080's vapor chamber cooler. Instead it will use an integrated heatpipe cooler similar to what the reference GTX 980 used.