Battlefield 4
One of the older games in our benchmark suite, DICE's Battlefield 4 remains a staple of MP gaming. Even at its age, Battlefield 4 remained a challenging game in its own right, as very few mass market MP shooters push the envelope on graphics quality right now. As these benchmarks are from single player mode, based on our experiences our rule of thumb here is that multiplayer framerates will dip to half our single player framerates, which means a card needs to be able to average at least 60fps if it's to be able to hold up in multiplayer.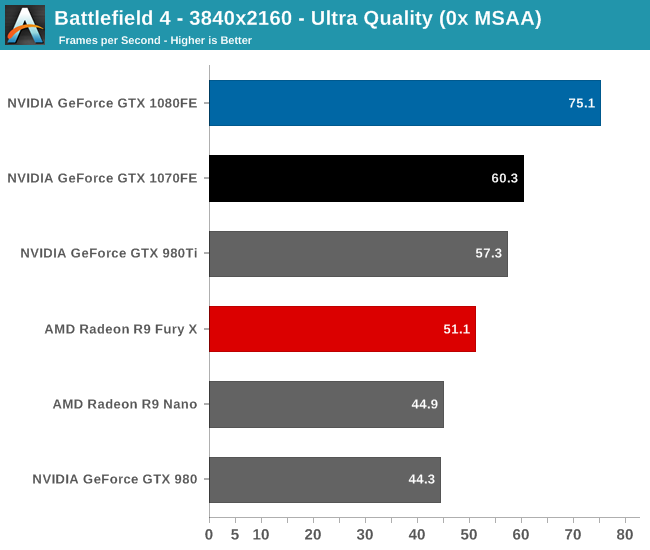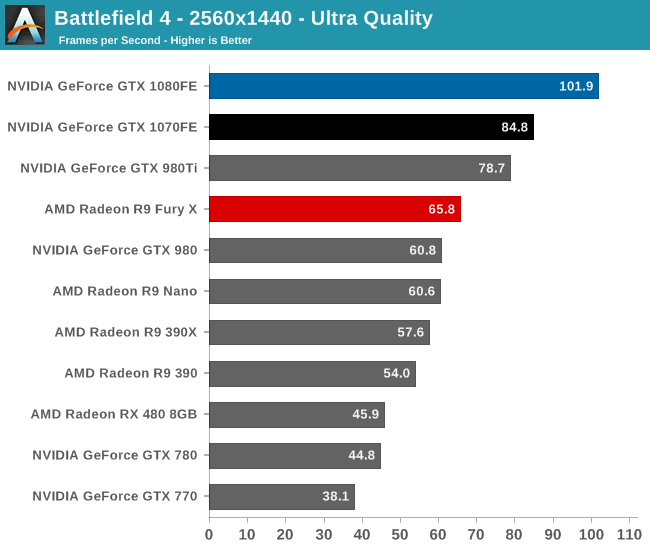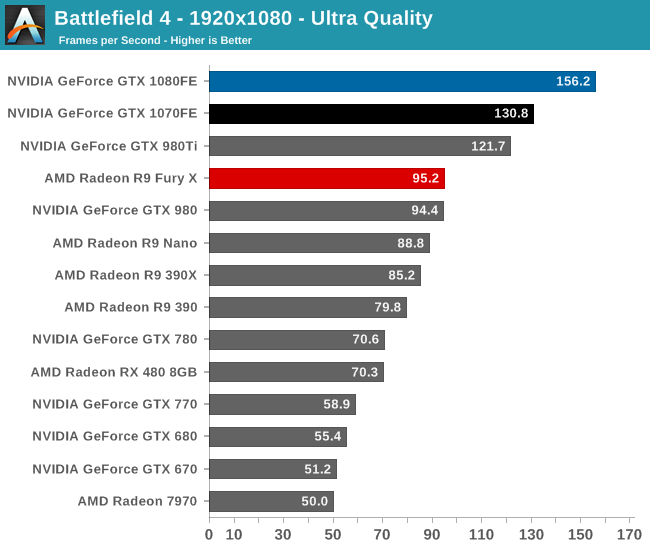 As a game that has traditionally favored NVIDIA, Battlefield 4 makes for a very clean sweep of the field. The GTX 1080 takes top honors with the GTX 1070 some distance behind it. Notably, the two Pascal cards become the first cards to cross 60fps at 4K, which means that they're the first cards we can be reasonably sure won't have framerate dips below 30fps in multiplayer.
Looking at our standard generational comparisons, both GTX 1080 and GTX 1070 improve upon their predecessors by about what we'd expect; 67% and 58% respectively. Or to see how GTX 1080 and GTX 1070 compare, we find that the GTX 1080 leads its cut-down sibling by between 20% and 25%, with the gap increasing with the resolution. This is consistent with what we know about GTX 1080, as its bandwidth advantage means that it's going to have an easier time pushing pixels at 4K, as the case is here.
Finally, to check in on the GTX 680, we find the GTX 1080 has only improved in performance by 2.8x, which is actually a bit less of a gain than the average. None the less we've gone from a card that can't quite muster 1080p with 4xMSAA to a card that can easily handle 4K without any MSAA.