Rise of the Tomb Raider
Starting things off in our benchmark suite is the built-in benchmark for Rise of the Tomb Raider, the latest iteration in the long-running action-adventure gaming series. One of the unique aspects of this benchmark is that it's actually the average of 4 sub-benchmarks that fly through different environments, which keeps the benchmark from being too weighted towards a GPU's performance characteristics under any one scene.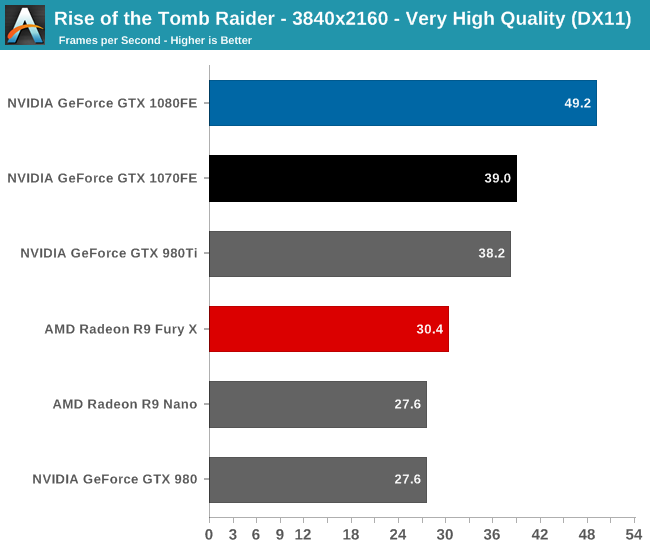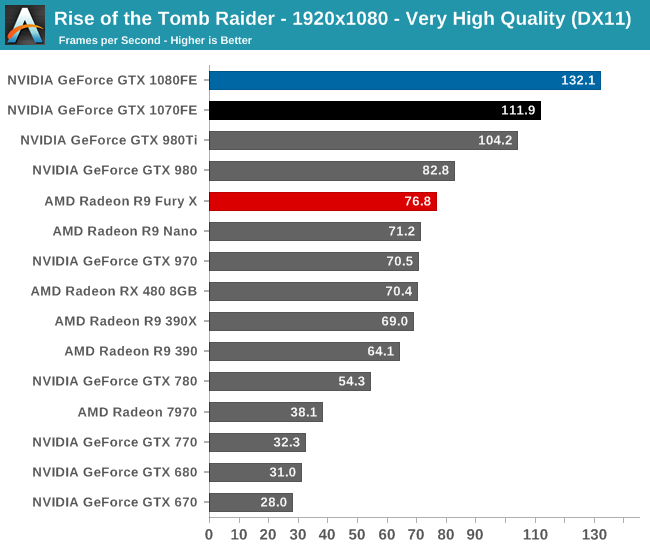 To kick things off then, while I picked the benchmark order before collecting the performance results, it's neat that Rise of the Tomb Raider ends up being a fairly consistent representation of how the various video cards compare to each other. The end result, as you might expect, puts the GTX 1080 and GTX 1070 solidly in the lead. And truthfully there's no reason for it to be anything but this; NVIDIA does not face any competition from AMD at the high-end at this point, so the two GP104 cards are going to be unrivaled. It's not a question of who wins, but by how much.
Overall we find the GTX 1080 ahead of its predecessor, the GTX 980, by anywhere between 60% and 78%, with the lead increasing with the resolution. The GTX 1070's lead isn't quite as significant though, ranging from 53% to 60#. This is consistent with the fact that the GTX 1070 is specified to trail the GTX 1080 by more than we saw with the 980/970 in 2014, which means that in general the GTX 1070 won't see quite as much uplift.
What we do get however is confirmation that the GTX 1070FE is a GTX 980 Ti and more. The performance of what was NVIDIA's $650 flagship can now be had in a card that costs $450, and with any luck will get cheaper still as supplies improve. For 1440p gamers this should hit a good spot in terms of performance.
Otherwise when it comes to 4K gaming, NVIDIA has made a lot of progress thanks to GTX 1080, but even their latest and greatest card isn't quite going to crack 60fps here. We haven't yet escaped having to made quality tradeoffs for 4K at this time, and it's likely that future games will drive that point home even more.
Finally, 1080p is admittedly here largely for the sake of including much older cards like the GTX 680, to show what kind of progress NVIDIA has made since their first 28nm high-end card. The result? A 4.25x performance increase over the GTX 680.