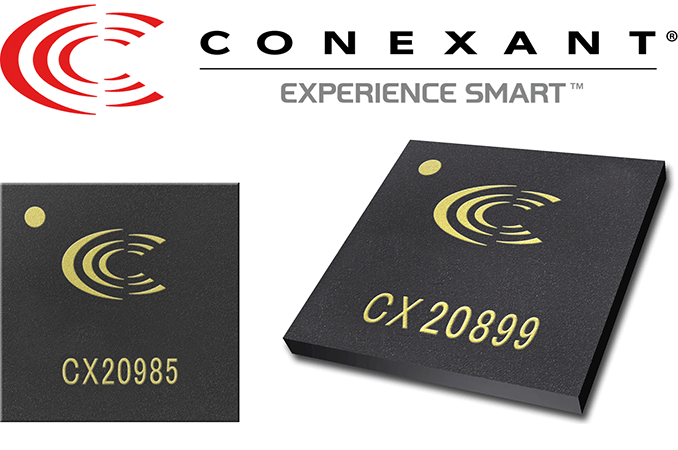 Just recently, Intel announced a proposal for its part in the USB-C Digital Audio specification, which is expected to be finalized in the coming weeks. Judging by our email, the first chips compliant with the new spec were announced on Tuesday by Conexant, and we asked for more information. These chips are about to hit mass production in mid Q2, therefore the first devices with USB-C Digital Audio might be expected to hit the market later this year.
Conexant introduced two new AudioSmart CODECs which are designed specifically for smartphone headsets and docking stations that use USB Type-C connection. We are told that the CX20985 and the CX20899 are to be compliant with the yet-to-be-released USB-C Digital Audio specification, and they support enterprise requirements for Skype for Business as well as meet the Android Wired Audio Headset specification. Both chips support USB 2.0 bandwidth of up to 480 Mbps, which should be enough for audio as well as additional functionality. Finally, the parts support four-conductor CTIA and OMTP headsets with up to eight buttons and can auto-detect and auto-switch between them. Since these are two very different chips with dissimilar capabilities, let's talk about them separately.
The Conexant CX20985 is specifically designed for headsets, but it could be used for other audio applications too. The chip integrates a stereo 24-bit DAC and stereo ADC for music and voice communication applications and supports sampling rates of up to 48 kHz. Besides this, the CX20985 has a built-in capless headphone driver that eliminates the cost and space of AC coupling capacitors. In addition, the chip sports a five-band parametric equalizer for playback, a two-band equalizer for recording, and adjustable microphone boost circuitry. The CX20985 is promoted with minimal power consumption: the specification sheets list the nominal idle current as 22.6 mA with a voltage between 4.35 and 5.25 V. The CX20985 is set to hit mass production in July and is projected to be available in 6×6 mm 50-pin QFN package.
While the CX20985 should be fine for mainstream headsets, Conexant does not expect it to be used for higher-end digital headsets. The chip does not support sampling rates higher than 48 kHz, something that their Hi-Fi audio partners and customers expect. By comparison, the CX20899 has improved DAC and power supply circuitries, which will effect the quality of analog audio.
The Conexant CX20899 is optimized for larger devices, such as docking stations, yet it could be used to build higher-end headsets as well. This chip is considerably more advanced than the CX20985: it features a fully-fledged digital signal processor (DSP), supports sampling rates up to 96 kHz (both on DAC and ADC) as well as stereo playback path with differential line-out or capless headphone driver. The DSP fully supports functions as acoustic echo canceling, noise reduction, a programmable equalizer, digital room correction, microphone AGC (automatic gain control), volume control, and a microphone boost. The CX20899 also supports PCM/I2S and S/PDIF digital audio interfaces which should help to build docking stations for mobile devices and subsequently connections to Hi-Fi audio equipment via USB-C. The power consumption of the CP20899 is listed as a nominal idle current is 1.8 mA with a voltage is between 4.35 and 5.25 V. The chip uses a 76-pin QFN package and is currently in mass production.
Conexant was one of the early adopters of the USB Audio technologies many years ago and it is not surprising that it is also among the first to support the USB-C Digital Audio technology. Going forward, Conexant intends to introduce more sophisticated USB-C Digital Audio-compliant chips, which will enable health-monitoring headsets as well, following the wearable/health trend in the market.
Conexant does not reveal pricing of its chips for digital headsets, but typically such chips are not very expensive. For example, Conexant's previous-generation USB Audio-compliant semiconductors for headsets cost around $1 per unit.
Source: Conexant