Conclusion
I always try to use every keyboard that we review as my personal keyboard for at least a week. My typical weekly usage includes a lot of typing (about 100-150 pages), a few hours of gaming and some casual usage, such as internet browsing and messaging. I personally prefer Cherry MX Brown or similar (tactile) switches for such tasks, but I do not consider linear switches to be inconvenient either. The Apex M500 was actually a little tiring for such use, not because of the switches but because the height of the keyboard and the lack of a palm rest place a lot of stress on the wrists. It does work just fine for the occasional typing of an essay/report or any other <10-page text with a couple of breaks, but I would not recommend it to professional writers and typists.
The intended market of the Apex M500 however is advanced and professional gamers. As far as gaming goes, assuming that the left wrist will require limited movement, the Apex M500 is highly responsive and very convenient to use. Even though it lacks a palm/wrist rest, the Apex M500 did not feel uncomfortable after an hourly gaming session for me.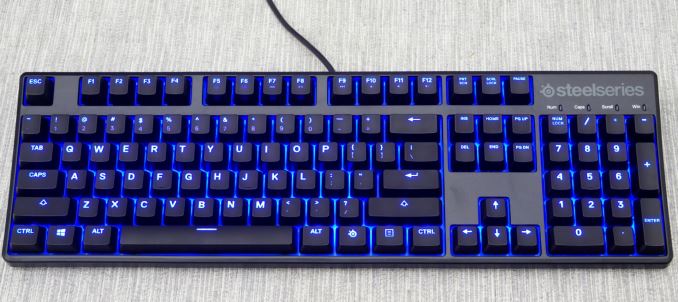 The software left me with mixed feelings. As I use a few complex macros that include mouse movements and button presses, I had to use a third party macro programming software, compile the macros to .exe files and program the keyboard to launch them as external applications. For simpler macros and layout changes however, the SteelSeries Engine works great. It is a very simple, smooth and stable piece of software that has great potential should the company decides to throw some more resources into it.
As a keyboard, the Apex M500 has a very specific market and design focus. It is minimalistic, without extra buttons, USB ports, or even custom keycaps. In terms of durability however, the Apex M500 is very solid and the high quality of Cherry's MX switches is widely known. Even though its external body is plastic, the Apex M500 does not feel "cheap" at all, yet it probably does lose in terms of visual prowess and prestige against aluminum-based models. The designer was truly focused on designing a simple, solid mechanical keyboard specifically for gaming.
In summary, the Apex M500 is a durable, no-frills mechanical keyboard that is an excellent choice for casual and advanced gamers alike. Although the macro recording capabilities of the supplied software are limited, it is smooth and very stable. Hopefully the company will invest more on it as they release more mechanical/programmable models, as it has great potential.
The only issue that the Apex M500 has is its very high retail price. SteelSeries suggests an MSPR price of $120 for the Apex M500, which is very steep and has virtually no hope against the competition. We found the Apex M500 currently retailing for $100 including shipping, a more reasonable price, and yet it still has many direct competitors retailing for significantly less. For example, the aluminum frame and Cherry MX based Cougar Attack X3 is currently retailing for just $70, a difference of about 30%. The Apex M500 is a very good choice for a gaming mechanical keyboard, but as keyboards are very much a commodity market, we feel that its retail price needs to be lowered if it is to stand a chance against the strong competition.