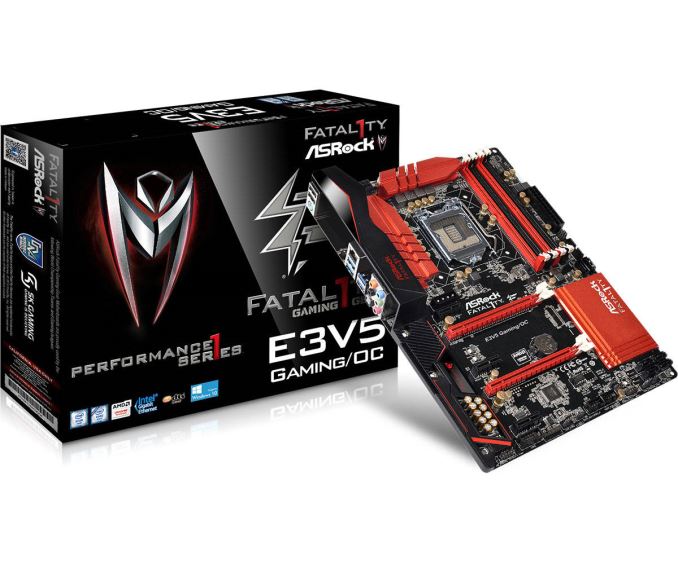 If you want to run a Skylake E3 Xeon, it needs to be placed in a motherboard with either the C232 or C236 chipsets. This is a change from the last generation, and as a result most of the motherboard manufacturers are bringing some of their consumer expertise to new products in order to get a slice of the casual Xeon user pie. We explored a server-like C236 based motherboard in the previous review, and in this review we're taking the latest edition from ASRock's Gaming range, based on the C232 chipset, for a spin.
Other AnandTech Reviews for Intel's 6th Generation CPUs and 100-Series Motherboards
Skylake-K Review: Core i7-6700K and Core i5-6600K - CPU Review
Comparison between the i7-6700K and i7-2600K in Bench - CPU Comparison
Overclocking Performance Mini-Test to 4.8 GHz - Overclocking
Skylake Architecture Analysis - Microarchitecture
Z170 Chipset Analysis and 55+ Motherboards - Motherboard Overview
Discrete Graphics: An Update for Z170 Motherboards - PCIe Firmware Update
Price Check: Intel Skylake i7-6700K and i5-6600K – Latest Skylake Price Check (3/29)
100-Series and C232/C236 Motherboard Reviews:
Prices Correct at time of each review
($500) The GIGABYTE Z170X-Gaming G1 Review
($500) The ASUS Maximus VIII Extreme Review
($370) The GIGABYTE Server MW31-SP0 Review (C236)
($250) The ASUS Maximus VIII Impact Review
($240) The ASRock Z170 Extreme7+ Review
($230) The MSI Z170 Gaming M7 Review
($208) The GIGABYTE Z170-UD5 TH Review
($165) The ASUS Z170-A Review
($143) The ASRock E3V5 Performance Gaming Review (C232) this review
($130) The MSI Z170A SLI PLUS Review
($125) The Supermicro C7H170-M Review
To read specifically about the Z170 chip/platform and the specifications therein, our deep dive into what it is can be found at this link.
A Brief Recap: The Skylake Xeon Story
Copied from our MW31-SP0 Review
From a PC-under-the-desk perspective, for several generations Intel has run consumer and server grade chipsets for mainstream processors side by side. Most motherboard manufacturers use a mix of both sets, saving the server grade ones for their B2B sales when dealing with large clients, and offering a few models to individuals that wanted to use both a Xeon processor with ECC memory and required additional support such as IPMI control via an additional network port or an onboard 2D graphics accelerator for quick access. We have reviewed a couple of these over the years, but ultimately they filled that sales niche that required business contracts and overriding stability for mission critical systems. Up until Skylake however, both the consumer and server grade chipset motherboards could use either consumer or server grade processors interchangeably.
This has changed with Skylake. The new Skylake Xeon E3-1200 v5 processor family is locked out of the 100-series chipset firmware. In order to run one of these processors, a user will have to buy a motherboard that supports either the C232 or C236 chipsets. These chipsets are ultimately offshoots of the consumer line, with C236 mirroring the Z170/Q170 platforms and C232 going down the B150 route.
Skylake Chipsets
C236
C232
Q170
B150
Supports Intel Core CPUs
Yes
Yes
Yes
Yes
Supports Intel Xeon E5-1200 v5 CPUs
Yes
Yes
No
No
SLI Possible
Yes
No
Yes
No
Chipset PCIe 3.0 Lanes for HSIO
20
8
20
8
USB 3.0 Ports
10
6
10
6
USB 2.0 Ports
4
6
14
12
SATA 6 Gbps Ports
8
6
6
6
M.2 PCIe Support in RST
Yes
No
3
No
vPro Support
Yes
No
Yes
No
Intel SIPP
Yes
?
Yes
No
Intel Small Business Advantage
Yes
?
Yes
Yes
TDP
6 W
6 W
6 W
6 W
Recommended Price
$49
$34
$47
$28
Most motherboards we've seen for sale to consumers are C232 based, and will be similarly priced to B150 motherboards. It should be noted that for SLI, only C236 motherboards are supported, and only if the manufacturer has paid the licensing fees to enable it and provided sufficient routing. At present, I've only seen two C236 motherboards for sale that are SLI capable.
The thing here is that server chipset based motherboards are unlike consumer motherboards. They are built for function over user experience, often with very consumer unfriendly features such as large complex BIOSes and wording more akin to IT professionals discussing the hardware than a casual buyer. This is going to change slightly as Intel has changed the rule set, and like this review we will see some of channel motherboard-like nature, software and aesthetics coming into the server chipset families.
ASRock E3V5 Performance Gaming Overview
As our first C232 review, and by extension our first 'B150-like' review, the E3V5 Performance Gaming is going to come across as a very cut down version of a typical Skylake motherboard that we review. Originally called the E3V5 Performance Gaming OC, before base clock overclocking was given a shiv and told to be quiet, this motherboard brings over a number of ASRock's Gaming motherboard feature set, with the focus being predominantly on single discrete graphics and the use cases therein.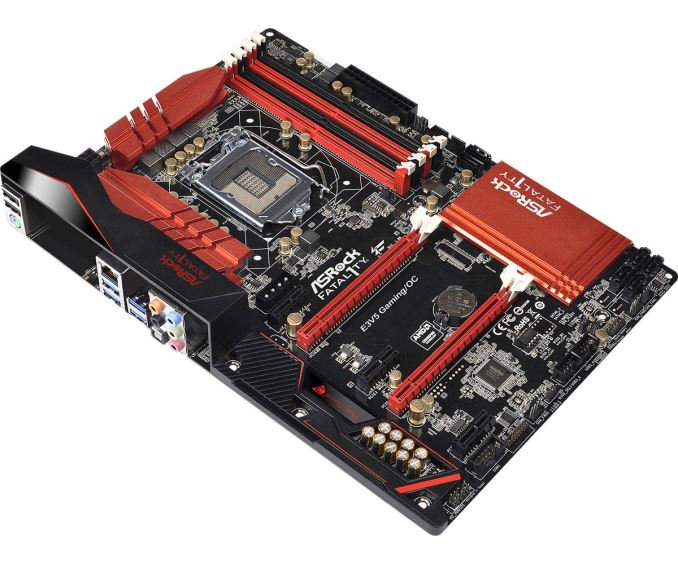 There are no onboard video outputs for example, which mirrors the fact that most Skylake E3-1200 v5 series Xeons do not have integrated graphics at all, but it means to use it as an active machine requires a discrete graphics card. The single PCIe slot from the CPU is a PCIe 3.0 x16 and it comes with a PCIe 3.0 x4 slot from the chipset. This means there is no SLI, but CrossFire is potentially capable via the PCIe 3.0 x4 slot. That x4 slot is also available for PCIe SSDs in RAID, or PCIe to M.2 converters, as the motherboard doesn't have an M.2 slot as part of the design.
Also in the list of things this motherboard doesn't have: SATA Express and USB 3.1. There are four USB 3.0 ports on the rear and a header to compensate, but similar to other products in this price range, the additional $4-$7 cost of a USB 3.1 controller is a bit too much. ASRock does equip the board with three open-ended PCIe 3.0 x1 slots though, allowing for add-in cards to provide needed ports.
The key element to ASRock's product is going to be the looks. The E3V5 Performance Gaming is a gaming motherboard with styled heatsinks and a rear IO cover that keeps the aesthetic. The audio comes in with Realtek's high-end ALC1150 codec and ASRock has used some of its Purity Sound branding to add in filter caps, EM shields, PCB separation and a headphone amplifier to improve the audio utility. On the networking, Intel's I219-V does the job rather a Realtek/Killer network chip which is what we normally see on a gaming product.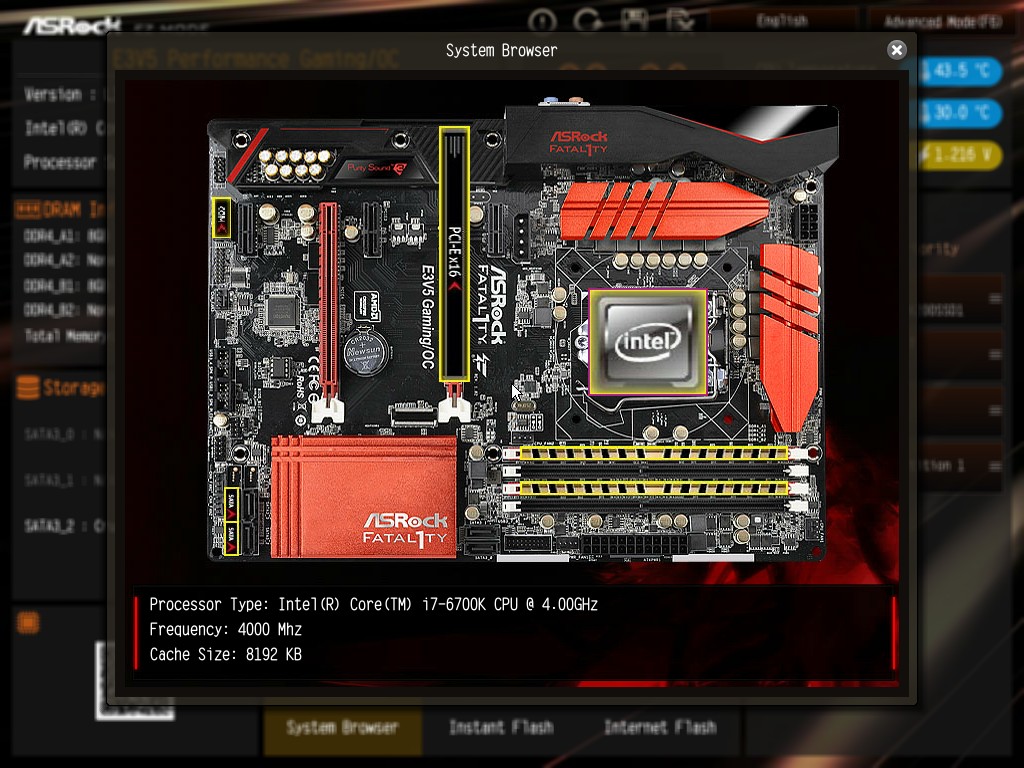 On the BIOS side we have updated visuals all around, with the BIOS getting the latest makeover from Z170. The software side is disappointing at best – ASRock's CD package only provides drivers and the APP Shop, requiring users to select which applications from ASRock they want to install: and there's not a handy 'quick install' feature either.
Performance is in the middle ground for a Skylake platform: no MultiCore Turbo means it sits in the lower half in out-of-the-box CPU performance. Our audio tests showed a much weaker ALC1150 implementation than expected, with performance more akin to a Realtek ALC892 or ALC889. USB 3.0 performance was also slower than expected. The plus sides on performance give the E3V5 Performance Gaming a better-than-average DPC Latency, a nice and low power consumption, and an average POST time.
Quick Links to Other Pages
P2: In The Box and Visual Inspection
P3: BIOS
P4: Software
P5: System Performance (Audio, USB, Power, POST Times on Windows 7, Latency)
P6: CPU Performance, Short Form (Office Tests and Transcoding)
P7: Gaming Performance 2015 (R7 240, GTX 770, GTX 980)
P8: Conclusions
Quick Board Feature Comparison
Motherboard Comparison
ASRock E3V5 Gaming (C232)
Socket
LGA1151
LGA1151
MSRP at Review
$143
$240
DRAM
4 x DDR4
4 x DDR4
PCIe Layout
x16
x8/x4/x4
BIOS Version Tested
1.11
1.4
MCT Enabled Automatically?
No
No
USB 3.1 (10 Gbps)
None
ASMedia ASM1142
1 x Type-A
1 x Type-C
M.2 Slots
None
3 x PCIe 3.0 x4
U.2 Ports
No
No
Network Controller
1 x Intel I219-V
1 x Intel I219-V
1 x Intel I211-AT
Audio Controller
Realtek ALC1150
Realtek ALC1150
HDMI 2.0
No
No
ASRock E3V5 Performance Gaming Overclocking
Even though this motherboard was originally called the E3V5 Performance Gaming OC, the latest motherboard BIOS removes the base frequency overclock options. We did get the motherboard with an earlier BIOS, although results were somewhat inconclusive, resulting in +15% overclock suitable for POST but for some reason only a single memory channel was working. We tried to adjust some settings and try a new processor, but somehow our OS image became corrupted. As a result, especially with the new BIOS policy, we decided not to extensively try and fix the issues.