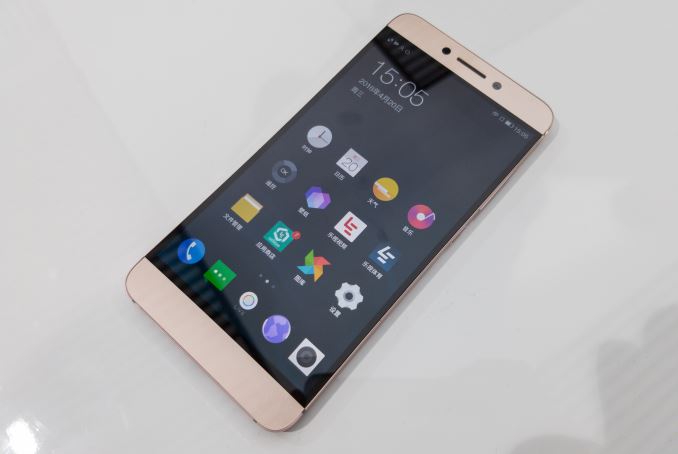 Today in Beijing we had the opportunity to attend LeEco's presentation event announcing their new flagship smartphone devices. LeEco has been a company we haven't had the chance to cover to date, yet the company is making a lot of noise and positioning itself against its competition in the smartphone space and beyond. Today's event was a 3 hour pandemonium where among other things we saw the launch of a new smart-TV as well as Le's first public demonstration of their electric car.
But getting to the topic at hand, LeEco has been making a concerted push into the smartphone space. And today they are updating their smartphone lineup with a trio of devices all appropriately suffixed as 2. These are the Le 2, the Le 2 Pro, and the LeMax 2.
LeEco Le 2, Le 2 Pro & LeMax 2
Le 2
Le 2 Pro
Le Max 2
SoC
Helio X20
2x A72 @ 2.3GHz
4x A53 @ 2.0GHz
4x A53 @ 1.4GHz

Mali T880MP4 @ 780MHz
Helio X25
2x A72 @ 2.5GHz
4x A53 @ 2.0GHz
4x A53 @ 1.4GHz

Mali T880MP4 @ 850MHz
Snapdragon 820
2x Kryo @ 1.59GHz
2x Kryo @ 2.15GHz


Adreno 530 @
625MHz
RAM
3GB LPDDR3-1866
4GB LPDDR3-1866
4/6GB LPDDR4-3733
NAND
32GB eMMC 5.1 NAND
32/64GB UFS 2.0
Display
5.5" 1080p LCD
5.7" 1440p LCD
Modem
2G/3G/4G LTE Cat 6
(Integrated MediaTek SoC Modem)
2G/3G/4G LTE Cat 12
(Integrated Snapdragon X12 Modem)
Dimensions
151.1 (h) x 74.2 (w) x 7.5 (d) mm
153g
156.8 (h) x 77.6 (w) x 7.99 (d) mm
185g
Camera
Rear Camera
16MP
w/ PDAF
Rear Camera
21MP IMX230
w/ PDAF
Rear Camera
21MP IMX230
w/ PDAF & OIS
Front Facing Camera
8MP 1.4µm pixels
Battery
3000mAh
3100mAh
Launch OS
Android 6.0 w/ EUI 5.8
Connectivity
802.11a/b/g/n/ac 2.4 & 5GHz
BT 4.2, GPS/GNSS
USB-C
no 3.5mm headphone jack
SIM Size
NanoSIM + NanoSIM
Launch MSRP
RMB ¥1099
(USD~170, ~150€)
RMB ¥1499
(USD~230, ~205€)
4GB + 32GB
RMB ¥2099
(USD~325, ~285€)

6GB + 64GB
RMB ¥2499
(USD~385, ~340€)
Starting at the flagship level, we have the LeMax 2. Based around Qualcomm's popular Snapdragon 820, the 5.7" phablet's spec sheet reads very similar to some of the other flagship phones we've seen launched this year. LeEco is pairing the 820 with 32 or 64GB of UFS 2.0 NAND, and as a first for any Android smartphone, up to 6GB of LPDDR4 RAM. To have the first 6GB phone show up here is admittedly unexpected, but given the prevalence of 3GB/4GB configurations elsewhere, it was only a matter of time until someone used higher capacity chips to get to 6GB.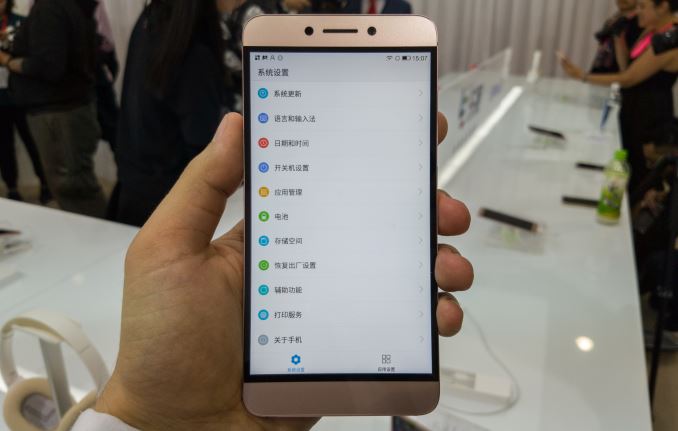 Shifting gears, the display for the phone is a 1440p LCD, which will put it in competition with the likes of the Samsung Galaxy Note5 and S7 series, and the LG G5. The display subjectively looked good with high brightness and good viewing angles. Otherwise for image capture purposes, LeEco has outfitted the phone with a 21MP OIS-capable rear camera, utilizing Sony's IMX230 sensor. As has been the case for a number of phones this generation, there is a sizable camera hump here to house the camera while keeping the rest of the phone relatively thin. Meanwhile front facing camera duties are handled by a 8MP camera with 1.4µm pixel pitch on the sensor.

Rounding out the package, LeEco is equipping the phone with a 3100mAh battery, and while we're still working to get the precise battery voltage, at typical voltages we'd be looking at around a total capacity of 11.9WHr. Of course you'll also find a full suite of wireless connectivity options enabled through the Snapdragon 820, including Qualcomm's integrated X12 LTE modem, and dual-band 802.11a/b/g/n/ac support.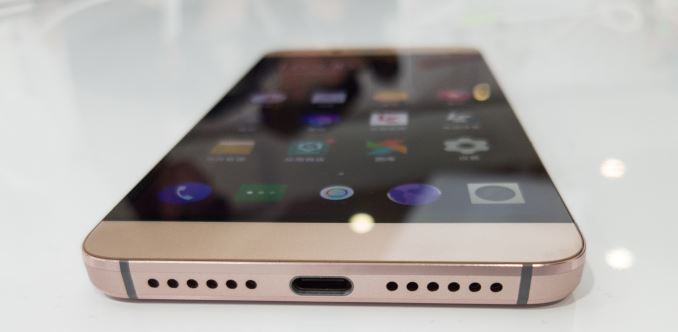 But perhaps the most notable aspect of this phone will be the I/O connectivity. That LeEco is using the increasingly common USB Type-C port is, if anything, to be expected. However what's unexpected is that this is the only port; a 3.5mm audio jack is not present. Instead the company is piping out audio over the USB port and including a USB Type-C to 3.5mm audio adapter to maintain compatibility with standard headsets. Underlying the USB audio connection in turn is a brand-new technology LeEco is calling CDLA (Continual Digital Lossless Audio).
At this point it's not entirely clear why LeEco went this route; the phone seems to be thick enough to accommodate the 3.5mm jack, so whether this was done for the purposes of giving the space to another feature (e.g. larger speakers) remains to be seen. What the company does claim though is that the audio quality through the CDLA headphones is vastly superior to the 3.5mm analog counterpart, and admittedly at first glance this claim is hard to buy into. I wasn't able to verify this and also unfortunately the devices come with no bundled stock headphones, making this a quite niche accessory.
LeEco will be offering two configurations of the LeMax 2. The 32GB NAND + 4GB RAM configuration will sell for ¥2099, or roughly $325. Otherwise the more spacious 64GB NAND + 6GB RAM configuration will sell for ¥2499 (~$385).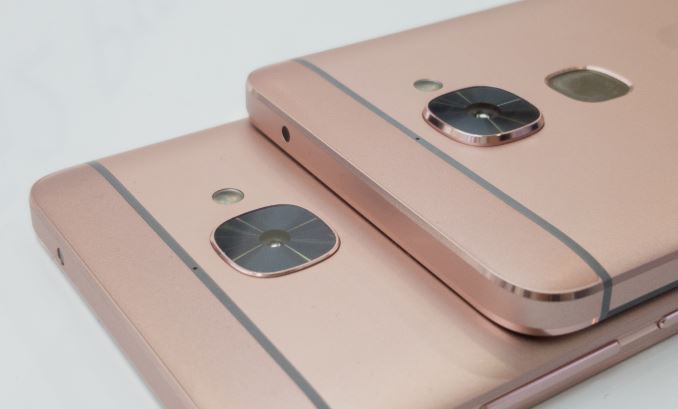 Le 2 (left) vs Le 2 Pro (right)
Below the LeMax 2 are the duo of Le 2 series phone, the Le 2 Pro and the simply named Le 2. Both of these phones share the same basic chassis and screen, incorporating a 1080p LCD in a 5.5" phablet form factor. The design is also the same as the LeMax 2 so except for the smaller camera bump on the basic Le 2 you wouldn't be able to tell the difference between the Le 2 Pro and the LeMax 2. The difference, as you might expect from the name, comes from the feature set and price.
Starting with the Le 2 Pro, this phone is based around MediaTek's Helio X25 SoC, which offers 3 clusters of ARM Cortex CPUs – 2 A53 quad core clusters at different performance/power levels, and a dual core A72 cluster. The X25 in turn is paired with 4GB of LPDDR3 and 32GB of eMMC 5.1 NAND. Also setting it apart from its more basic counterpart is the rear camera module, which like the LeMax 2 is a 21MP camera utilizing Sony's IMX230 sensor. However OIS doesn't seem to be available in this somewhat smaller phone.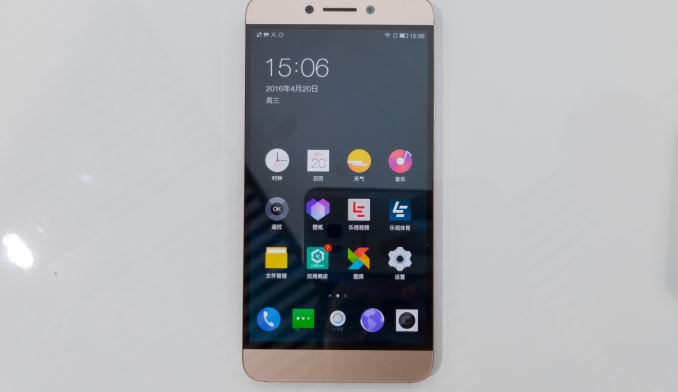 As for the basic Le 2, this sees LeEco dropping down to the lower performance Helio X20 SoC, which cuts down on both the A72 cluster and GPU clockspeeds. The Le 2 gets a smaller 3GB of LPDDR3 RAM and the same 32GB of eMMC 5.1 NAND, however the camera module is a simpler 16MP camera utilizing a hereto-unknown sensor.
Otherwise both phones share identical specifications as far as all other features are concerned. The Helio SoC offers its own integrated Category 6 LTE modem, and both phones incorporate a 8MP front facing camera. And since both phones share the same chassis, both phones also come equipped with a 3000mAh battery. Finally, for I/O and connectivity both phones share the larger LeMax 2's configuration: dual-band WiFi + Bluetooth 4.2 for wireless data, and the sole USB Type-C port for data and audio.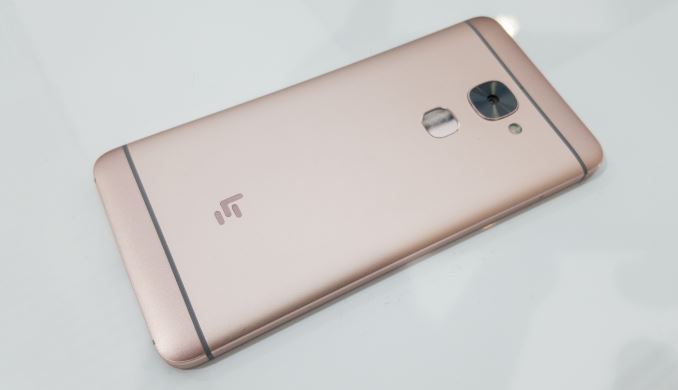 The Le 2 will be hitting the market at ¥1099 (~$170), while the more powerful Le 2 Pro adds another ¥400 to the price tag, bringing it to ¥1499 (~$230). Today's launch is a China-only launch, however LeEco is pointing out that in the future we'll be seeing focus on the US as its next target market outside of their established market in China and India with the possible introduction of derivative models with modifications to the specifications such as different SoC choices.