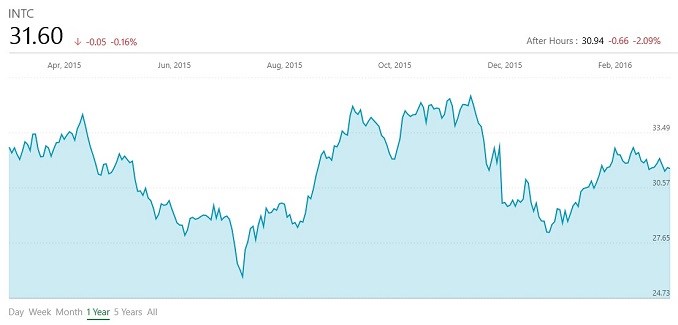 It was only last quarter that Intel reported record revenues for a Q4 in the company's history, and only three months later the company is making dramatic cuts to their workforce. With the job cuts only just announced, the company then released their first quarter results of fiscal year 2016.
On a GAAP basis, the news is not quite what you would expect for a company that is slashing its operating costs through employee reductions. Revenue for the quarter came in at $13.7 billion, which is up 7% year-over-year. Some of the gain though can be attributed to changes in Intel's reporting methods, as it has aligned its fiscal year with the calendar year, resulting in an extra week of time for this quarter compared to a typical quarter. Perhaps a more telling result is Intel's gross margin, which fell to 59.3% for Q1, down 1.2% from last year. Operating income was flat despite the gain in revenue, coming in at $2.6 billion. Net income was up 3% to $2.046 billion, and earnings per share were up 2% to $0.42.
Intel Q1 2016 Financial Results (GAAP)
Q1'2016
Q4'2015
Q1'2015
Revenue
$13.7B
$14.9B
$12.8B
Operating Income
$2.6B
$4.3B
$2.6B
Net Income
$2.0B
$3.6B
$2.0B
Gross Margin
59.3%
64.3%
60.5%
Client Computing Group Revenue
$7.5B
-13.8%
+1.74%
Data Center Group Revenue
$4.0B
-7.17%
+8.64%
Internet of Things Revenue
$651M
+4.16%
+22.14%
Non-Volatile Memory Solutions Group
$557M
-14.83%
-5.91%
Intel Security Group
$537M
+4.88%
+12.11%
Programmable Solutions Group
$359M
-
-
All Other Revenue
$50M
-15.25
-34.21%
Intel also reports Non-GAAP results which exclude certain factors such as acquisition costs, deferred revenue write-downs, inventory valuation adjustments, restructuring charges, and a few other factors. On a Non-GAAP basis, revenue was up 8% to $13.8 billion, gross margin was up 1.3% to 62,7%, operating income was up 13% to $3.3 billion, net income was up 19% to $2.6 billion, and earnings per share came in at $0.54, which is up 20% year-over-year. One of the big factors in the non-GAAP numbers are due to the acquisition of Altera, which was completed early in fiscal year 2016.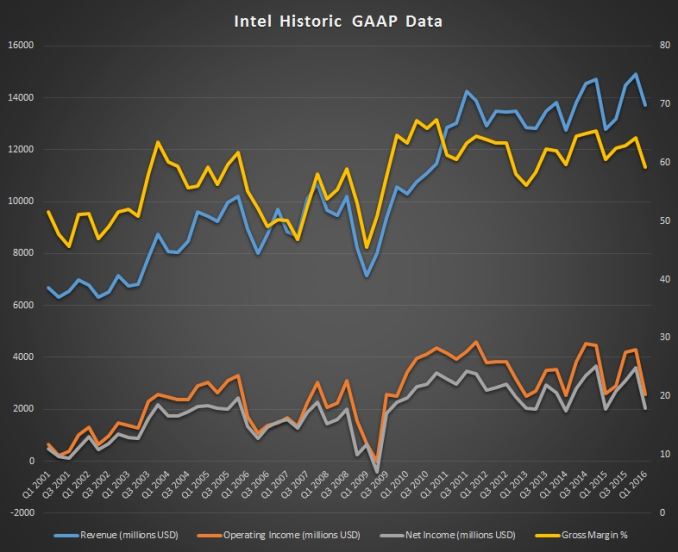 The Client Computing group is the largest part of Intel on a revenue basis, and is the one that is feeling the pressure of the declining PC market the most. This segment had $7.5 billion in revenue for the quarter, which is up 2% from the same time last year, but breaking down the numbers we see that there was a decrease in volume of sales of 15%, but the average selling price increase of 19% means there was a small gain year-over-year. Operating income for this segment was $1.9 billion, which is up from the $1.4 billion a year ago. Notebook chips had a flat average selling price, and saw a 2% decrease in volume, while desktop chips sales fell 4% but had a 6% increase in average selling price. Tablet sales saw the biggest hit, down 44% to 4 million units. The tablet market has not matured at the rate initially expected, and Intel has gotten rid of the contra-revenue plan to boost tablet sales, so this is not unexpected. With strong competition from ARM based designs in this segment, Intel is hoping design wins in 2-in-1 devices will help.
The Data Center Group was almost the opposite, with a strong growth in unit sales, up 13% from a year ago, but average selling price fell 3%. Revenue for this group was $4 billion, up from $3.7 billion a year ago, but with the decline in ASP the operating income was only up $65 million to $1.764 billion for the quarter.
Internet of Things posted revenue of $661 million, up from $533 million a year ago. The growth continues in operating income for this new segment of Intel, which saw a 41% gain over last year, and was at $123 million for the quarter.
Intel also has some new reporting segments this quarter. They have added Non-Volatile Memory Solutions, Intel Security Group, and Programmable Solutions Group. The latter is a new segment based on their acquisition of Altera and will be for their expanded FPGA business. The others are branching off from Software and Services and All Other.
Non-Volatile Memory had a drop in revenue of about 6%, to $557 million, and took a $95 million operating loss for the quarter, down from $72 million in operating income last year. The Intel Security Group had revenues up 12% to $537 million, and operating income up to $85 million for the quarter, which is an increase of 286% over the $22 million last year. The Programmable Solutions Group, being a new addition to Intel, only has results from this quarter, which were $359 million in revenue and $200 million in operating loss with the acquisition costs.
Finally, the All Other group had revenue of $50 million, and had an operating loss of $994 million for the quarter. Intel used to have quite a bit of technology under All Other, but with the new reporting groups much of that has been shifted out. It now features operations from the "New Technology Group" as well as restructuring charges, employee benefits, and other expenses.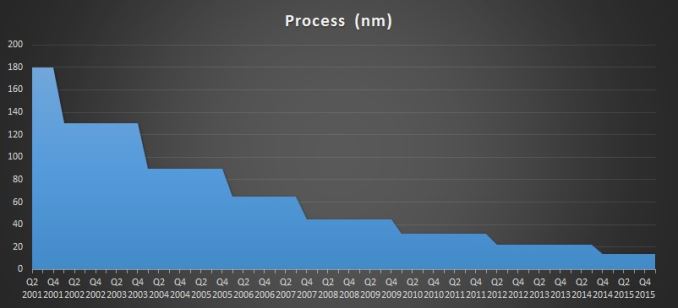 Clearly with the large layoffs announced today, Intel is trying to refocus its efforts on markets where it can continue to grow. Their success in the PC market has been quite pronounced, but with that major market shifting to slower upgrades and fewer unit sales, Intel is going to try again to go after markets where it sees opportunities. One such market was mobile, but Intel was very slow out of the gate to latch on to that, and we are only now seeing Atom parts on a regular update cadence with Goldmont announced for later in the year. Airmont cores never even found their way into a smartphone SoC, meaning that any Intel powered phones were still the older 22nm cores.
It's unlikely anyone but investors like to see companies shed so much of their workforce, and this could be a big impact on Intel in the future with fewer resources to throw at problems, but it could also mean a leaner, more agile company. Time will tell on that story.
Looking at the immediate future, Intel has forecasted revenue of $13.5 billion, plus or minus $500 million for next quarter, which will return to a 13-week quarter as well. Non-GAAP margin is expected to be 61%, plus or minus a couple of percentage points (and yes that's pretty vague), and with the job cuts they are expecting to take a one time charge of $1.2 billion.
I think Intel has weathered the slowdown in the PC market better than most companies, but they are not immune to the effects, and today we see them trying to offset those losses and move into new markets to win back some of their margin. We'll keep an eye on their results over the next several quarters and see how they do. They are already getting 40% of their revenue and 60% of their margin from non-PC segments, so they see a good opportunity here to expand that.
Source: Intel Investor Relations