At this year's CES Josh and I sat down with representatives of QD Vision to discuss their quantum dot display technology, along with where they see the television and monitor market moving in the next few years. QD Vision offers a quantum dot solution for displays, which is branded as Color IQ. The interesting proposition that QD Vision brings to the table with their technology is that it's not just usable in high end displays, but also in less expensive ones where it can be used to bring features that were traditionally limited to high end displays down to a lower price point.
After our meeting with QD Vision, we were informed that Philips would be launching a new line of monitors that use QD Vision's Color IQ technology. Given that these are some of the first computer monitors to come to market with quantum dot technology, I was quite interested in taking a look at it. The monitor in question is the Philips 276E6 monitor, which has a 27" panel and claims to cover 99% of the Adobe RGB color gamut. The full specifications of the Philips 276E6 can be found in the chart below.
Philips 276E6
Video Inputs
VGA, DVI-D, HDMI
Panel Type
IPS-ADS
Pixel Pitch
0.311 mm
Colors
16.7 million (8-bit)
Gamut
99% Adobe RGB
Brightness
300 cd/m2
Contrast Ratio
1000:1
Response Time
5ms GtG
Viewable Size
27-inch
Resolution
1920 x 1080 @ 60Hz
Viewing Angle
178°/178°
Backlight
W-LED + QD
Screen Treatment
Anti-Glare
Tilt
-5° to +20°
Dimensions
640 x 471 x 235 mm
Weight
5.33 kg
Accessories
VGA Cable
Power adapter
Before moving forward, there are obviously a few points to address about the Philips 276E6. The first is the resolution and pixel density. At 27", a 1920x1080 resolution is definitely on the lowest end of the spectrum. It's very important to keep in mind that the 276E6 retails for only $300, which really isn't enough to get you a 27" 2560x1440 sRGB monitor unless you can order from Korea and dodge import fees. With that in mind, you're certainly not going to find a 2560x1440 Adobe RGB monitor for $300, and with the purpose of monitors like the 276E6 being to drive down the price of wide gamut displays, this concession makes sense. However, it is true that the pixel density of a 27" 1080p monitor is quite low, and having used a 2560x1440 27" monitor for several years now it did take some adjustment to get used to.
One other point to consider regarding the 276E6 is that, as a wide gamut monitor, it's positioning itself as a product for photographers and other professionals who would like to be able to work in a wider color space. For those applications the relatively low resolution poses less of a problem than applications that involve looking at a great deal of text. The Philips 276E6 is also just the first of many displays that will come to market with this technology, and even for users who are interested in a smaller or higher resolution panel the 276E6 will provide insight into the level of quality that can be expected from this new generation of inexpensive wide gamut displays.
As for the design of the Philips 276E6, I think it's quite unique, but I'm not sure if I'm a huge fan of it. The chassis is definitely on the flimsy side, and the fact that it's made of white glossy plastic doesn't help the visual impression that it's not the sturdiest monitor. The panel has an AG coating, but it's not as heavy as the coatings I've seen on monitors that are really heavily targeted at office use.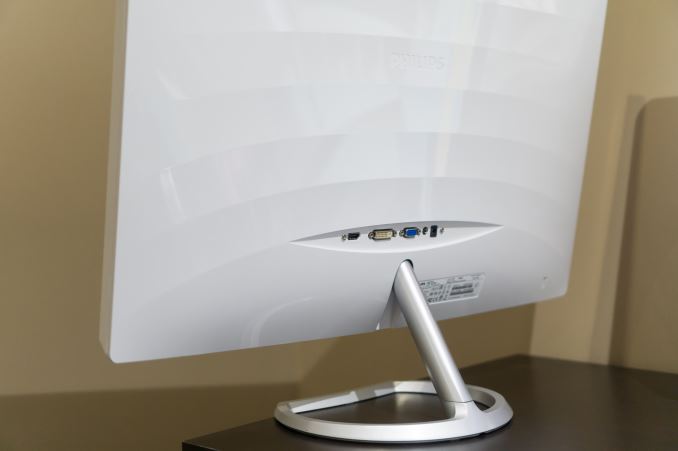 The back of the monitor is the same plastic as the front, although the chassis isn't a single component, so there is a gap between the two parts that runs around the edge. The back has a wave-like pattern, which I think looks sort of odd, but it's not really a problem since it's on the back of the monitor where it probably won't ever be seen. All the ports are back-facing rather than down-facing, and they include a port for the power adapter, a VGA port, a DVI-D port, and an HDMI port. There's also a jack for HDMI audio out.
As for the stand, it looks like a fairly study metal stand. However, that's only really true for half of it. The base of the stand is metal, and is removable, but the shaft is made of plastic and is permanently attached to the display. The stand has a degree of tilt, although tilting it too far worries me because the stand can be quite wobbly and I worry that any sudden shift or an impact on the desk may topple it.
One other thing I wanted to comment on is the OSD and the buttons for accessing it. To be quite frank, the buttons are horrible. The response is inconsistent, and you often end up hitting the wrong button by mistake and closing the menu. I wish manufacturers would just use physical buttons, as they're much easier to use and I really doubt that the impact on the bill of materials is significant.
For $300 you're not going to get an aluminum enclosure for your monitor, and in fact you don't really get that even for $1000 unless you buy Apple's Thunderbolt Display. However, I think darker matte plastic would have probably been a better option, and it should have been possible at this price point. Getting a stand with height adjustments and rotation is going to require buying a more expensive monitor, and the tilt range is as much as you'll need for a monitor of this size. Ultimately a monitor is going to be more about function than form, and that's what we'll get to next.