Visual Inspection
The first thing I noticed when I took the motherboard out of the box was the color. Plenty of gaming motherboards in the industry are red and black, and we've seen yellow, orange, green and combinations therein throughout the years. However in most circumstances a motherboard use two primary colors for the main components and areas, and it's a bit of luck what everything else is like power delivery, IC color, some of the ports, buttons and so on. Even the high-end ones have some trouble sticking to two, which leads to full covers over the power delivery, rear IO and audio sections in order to keep the look. MSI here has executed a black and dark grey dual color combination, with a basic element of white and aluminium, really well. The dark grey color on the power delivery chokes matches that of most of the rear IO panel, with the other rear IO panel aluminium color matching the PCIe guards, socket and pins. The onboard caps use the same dark grey as well as a full black which matches the base PCB color, the PCIe/DRAM slots and the heatsinks. It's a simple combination that works, and not something we see implemented at $130.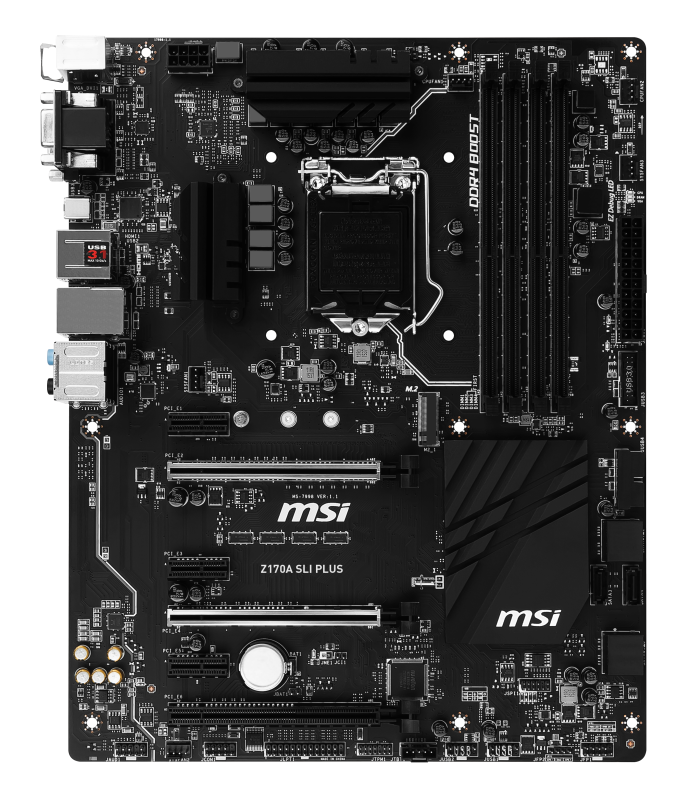 Typically a low-cost motherboard, even full ATX sized boards, are light due to fewer PCB layers and limited mass in the heatsinks, but the SLI PLUS feels as weighty and rigid as most of the mid-range priced products.
On the board itself, we start with the socket area. The two power delivery heatsinks are not joined but rest on the PWMs while still leaving space for large CPU air coolers. There are four 4-pin fan headers within easy reach for a cooler: a CPU header between the heatsink and the DRAM slots, a CPU and SYS header on the full right hand side above the 24-pin power connector, and a SYS header just above the first PCIe slot. The fifth and final fan header on the motherboard is at the bottom next to the front audio header.
I'll put a note about the DRAM slots here, just because it's an obvious difference between the four major motherboard manufacturers and the next tier down (or server motherboards): all four slots are equally spaced apart, the same width slots (thin ones are seen on some server boards, sometimes in combination with larger ones) and because the first main PCIe slot is moved slightly down the motherboard, there are dual sided latches. It's a simple thing to do, and makes it easier to implement different DRAM tracing topologies for stability and/or performance.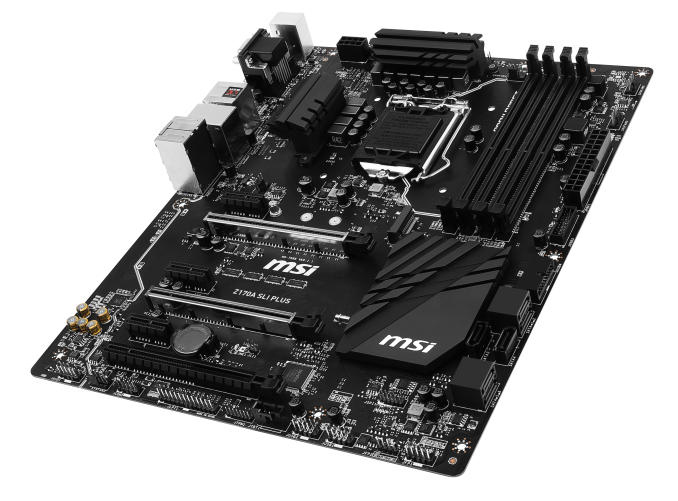 On the right hand side of the board, where we normally might see power/reset buttons and a debug on more expensive motherboards, we get a pair of fan headers followed by the 24-pin power and a USB 3.0 header sticking out of the board powered by the chipset. There is another USB 3.0 header below this, but at right angles like a standard SATA port: this is because it lies at the same horizontal as the first PCIe slot, and by being in this orientation it allows a large GPU and the header to be used without physical complications.
The six SATA ports on the right hand side come in three pairs, with the first and third pointing out the side of the motherboard and the middle pair sticking up (because it doesn't interfere with any potential PCIe card). This middle pair is also rotated individually by 180 degrees, allowing locking SATA cables to be removed individually. It's worth noting that there is no SATA Express here, but as far as most people are concerned it is a dead standard for consumers. I would like to see U.2 here in a future iteration of the SLI PLUS line, as it's as easy to implement as M.2.
On the bottom of the board, from left to right, we have the front panel audio header, a 4-pin fan header, a COM header, an LPT header, a TPM header, a Thunderbolt add-in card header, two USB 2.0 headers and the front panel header.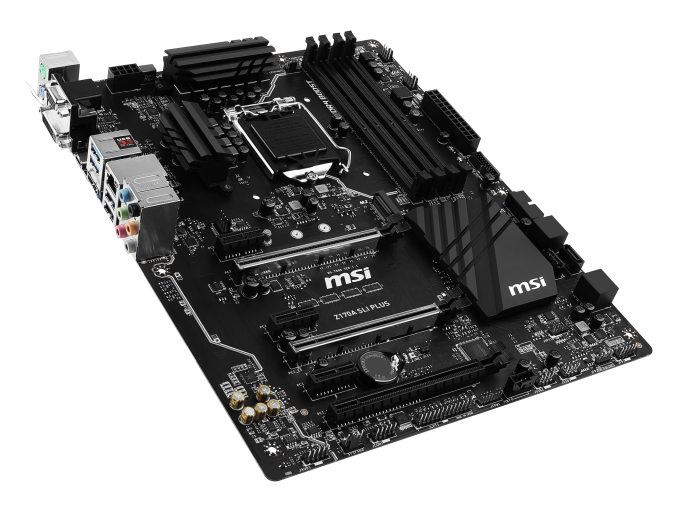 The PCIe layout gives an x16 or x8/x8 configuration for the main PCIe slots which are both given MSI's 'Steel Guard' treatment. The guard is a bonded metallic piece that enhances the rigidity of the PCIe slot. You may wonder why a PCIe slot needs this – it boils down to heavy weight graphics cards in transit. As a high-end graphics card can approaching a couple of pounds or over (>1kg), when a system is in transit the additional vibrations put extra stress on the PCIe slots. As a result they can be ripped out, often damaging the GPU as well. Some manufacturers see this as an issue, so to reduce potential RMA rates, this PCIe guard is used.
The other PCIe slots are from the chipset, with a PCIe 3.0 x4 at the bottom enabled for 3-way CrossFire, and three other PCIe x1 slots. These single lane slots are open ended, allowing larger x2 or x4 add-in cards to be used (albeit at reduced bandwidth).
The audio subsystem on the left-hand side uses PCB separation for analog and digital signals, as well as filter caps, to improve the quality of the audio. In a more mid-range motherboard we might see an EMI shield covering the codec to protect it from natural interference, however it is not used here (and the results are still ball-park for this configuration).

The rear panel is a little different than some other low cost motherboards. We only get four Type-A (the regular type) USB ports on the rear, whereas normally I would expect at least six if not more due to chipset support. This stems from the inclusion of USB 3.1 via a Type-C connector. On more expensive boards, this connector is usually paired with two USB ports in a tower, however not here. Similarly, we might see a combination PS/2 port with two USB type-A ports on the far left, but to save money we instead get separate PS/2 ports. On the rear we also get video outputs from the CPU via HDMI, DVI-D and VGA, as well as a network port (via Intel I219-V controller) and audio jacks. Again, on more expensive motherboards we might see dual network ports, or reset BIOS buttons, but to bring the cost of the motherboard down we get a fair minimum, plus USB 3.1-C.
Test Setup
MSI Z170A SLI PLUS
Warranty Period
3 Years
Product Page
Link
Price
Amazon US
Size
ATX
CPU Interface
LGA1151
Chipset
Intel Z170
Memory Slots (DDR4)
Four DDR4
Supporting 64GB
Dual Channel
Up to 3600 MHz
Memory Slots (DDR3L)
None
Video Outputs
HDMI at 4096x2160 @ 24 Hz
DVI-D at 1920x1200 @ 60 Hz
VGA at 2048x1280 @ 60 Hz
Network Connectivity
Intel I219-V
Onboard Audio
Realtek ALC1150
PCIe Slots for Graphics (from CPU)
2 x PCIe 3.0 (x16, x8/x8)
PCIe Slots for Other (from PCH)
1 x PCIe 3.0 x4
3 x PCIe 3.0 x1
Onboard SATA
Six, RAID 0/1/5/10
Onboard SATA Express
Two, RAID
Onboard M.2
1x PCIe 3.0 x4, RAID 0/1, NVMe via Turbo U.2 (not included)
Onboard U.2
None
USB 3.1 (10 Gbps)
1 x Type-C
ASMedia ASM1142 Controller
USB 3.0 (5 Gbps)
2 x Rear Panel
4 via headers
USB 2.0
2 x Rear Panel
4 via headers
Power Connectors
1 x 24-pin ATX
1 x 8-pin CPU
Fan Headers
2 x CPU (4-pin)
3 x CHA/SYS (4-pin)
IO Panel
1 x Mouse PS/2
1 x Keyboard PS/2
1 x USB 3.1 Type-C
2 x USB 3.0
2 x USB 2.0
1 x Network RJ-45 (Intel I219-V)
HDMI / DVI-D / VGA
Audio Jacks
Other Features
TPM Header
COM Port Header
LPT Port Header
Clear CMOS Header
Front Panel Header
Front Audio Header
Readers of our motherboard review section will have noted the trend in modern motherboards to implement a form of MultiCore Enhancement / Acceleration / Turbo (read our report here) on their motherboards. This does several things, including better benchmark results at stock settings (not entirely needed if overclocking is an end-user goal) at the expense of heat and temperature. It also gives in essence an automatic overclock which may be against what the user wants. Our testing methodology is 'out-of-the-box', with the latest public BIOS installed and XMP enabled, and thus subject to the whims of this feature. It is ultimately up to the motherboard manufacturer to take this risk – and manufacturers taking risks in the setup is something they do on every product (think C-state settings, USB priority, DPC Latency / monitoring priority, overriding memory sub-timings at JEDEC). Processor speed change is part of that risk, and ultimately if no overclocking is planned, some motherboards will affect how fast that shiny new processor goes and can be an important factor in the system build.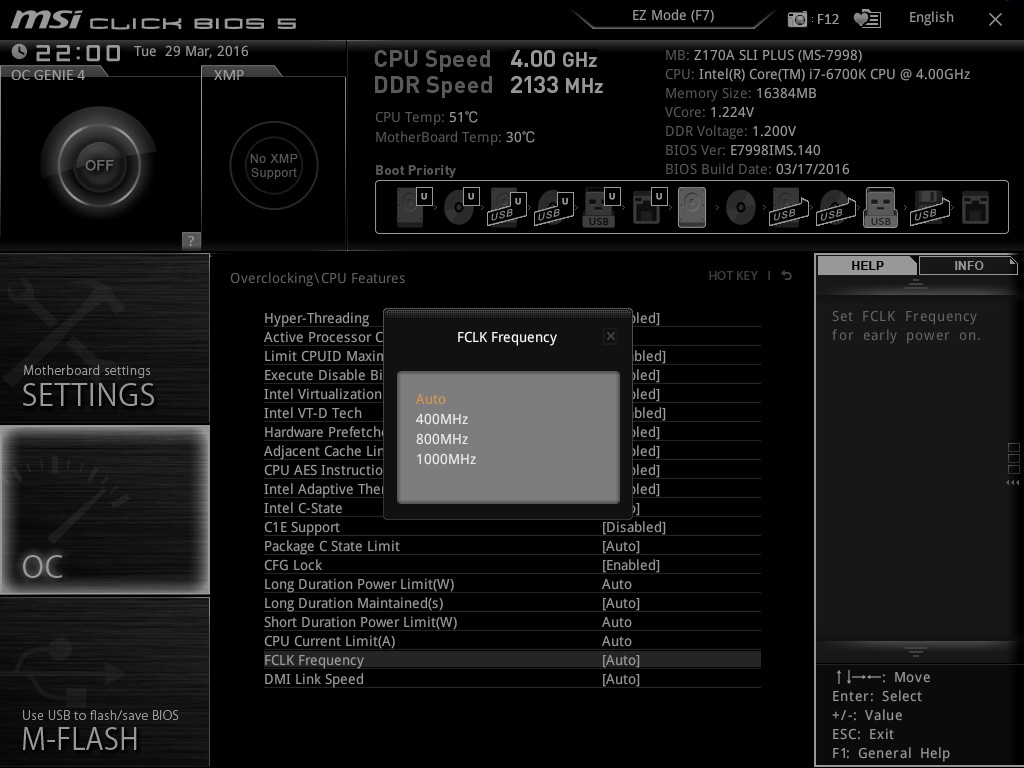 For reference, the MSI Z170A SLI PLUS, on our testing BIOS 1.4, MCT was not enabled by default. Also, the FCLK 10x ratio was present in the BIOS tested at the time of testing, which allows users to adjust PCIe performance by 1-3%. We leave it up to the motherboard manufacturer and keep FCLK at its default setting.
Many thanks to...
We must thank the following companies for kindly providing hardware for our test bed:
Thank you to AMD for providing us with the R9 290X 4GB GPUs.
Thank you to ASUS for providing us with GTX 980 Strix GPUs and the R7 240 DDR3 GPU.
Thank you to ASRock and ASUS for providing us with some IO testing kit.
Thank you to Cooler Master for providing us with Nepton 140XL CLCs.
Thank you to Corsair for providing us with an AX1300i PSU.
Thank you to Crucial for providing us with MX200 SSDs.
Thank you to G.Skill and Corsair for providing us with memory.
Thank you to MSI for providing us with the GTX 770 Lightning GPUs.
Thank you to OCZ for providing us with PSUs.
Thank you to Rosewill for providing us with PSUs and RK-9100 keyboards.