EpicGear EG MMS Switches
Since the company was kind enough to provide us with a sample kit of their switches, we went ahead and had a closer look at their construction and individual characteristics. Unfortunately, even after tearing the switches apart, we were unable to discern anything that would give us a hint as to who the manufacturer of these switches might be. Because of the body being a direct copy of Cherry's design, it is highly unlikely that these switches are being made by Kaihua/Kailh or Gaote, as they are using their own body designs. Their internal design of the straight gold-plated contact area does not match any Gateron, Alps or Trantek designs that we have seen to this date either. EpicGear claims that this design is proprietary and patented, therefore we expect that their manufacturer has an exclusive partnership with EpicGear and we are not going to see these switches on any other products.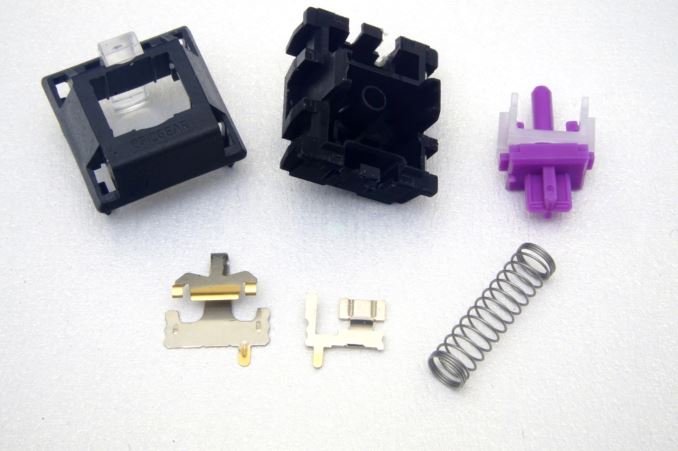 The actuation distance of these switches has been reduced to 1.5 mm and they can allegedly survive 70 million keystrokes. We have no means of actually testing that, but we feel that these figures are being greatly exaggerated. In order to reach 70 million keystrokes, a user would have to press one single key nearly 10.000 times every day for 20 years. Even Cherry's 50 million keystroke rating is absurd. The alloy that the switches are made of is most likely going to corrode much before the switches get destroyed from mechanical stress.
Since there are no travel/force diagrams available for these switches, we decided to use our analyser and composed them ourselves. The three following figures show the force/travel diagrams that we extracted, with the red dots showing the actuation/reset points. We can see that we usually get actuation points about 1.6 mm down the travel distance and force readings slightly lower than the 50 cN rating of the switches. Note however that the following diagrams were created by testing four of each switch type for 20 steps between 0 and 4 mm, which is the travel distance of the keys. As we know from our quality testing sections, real products have variations; therefore, these should be considered as indicative, not absolute.
The force diagram on the left shows the switch being depressed, and on the right is the switch being released. Click each image for a closer examination.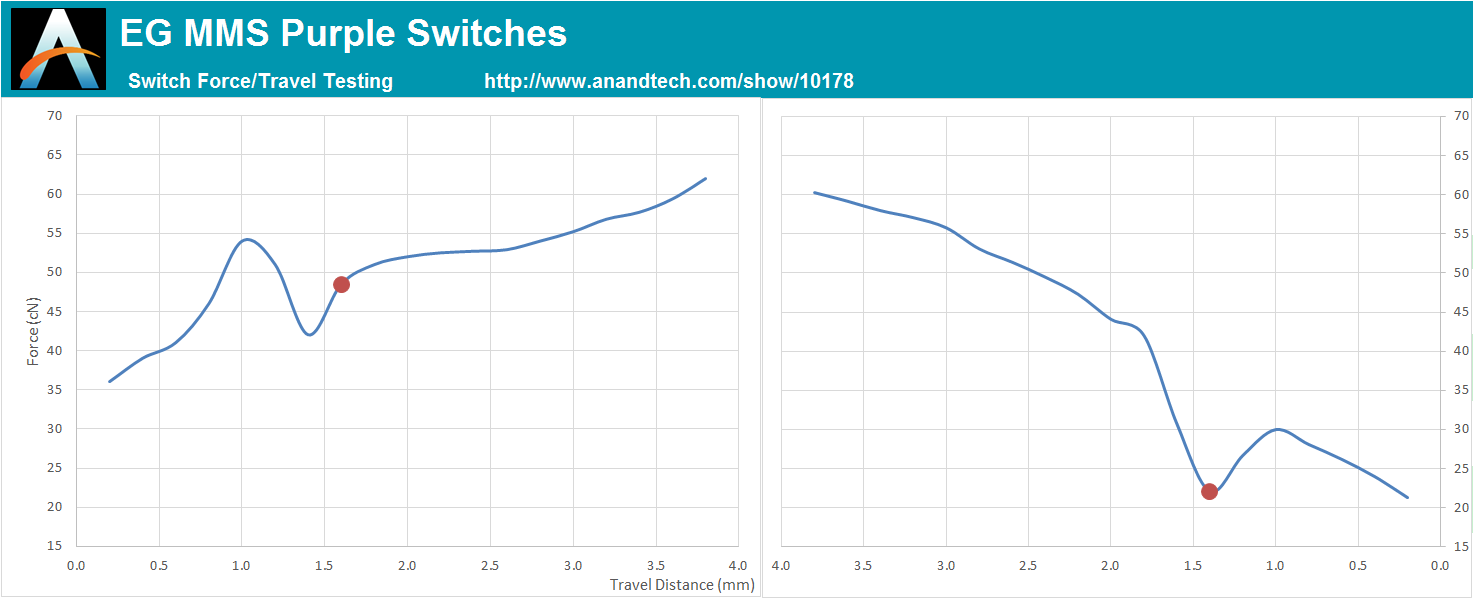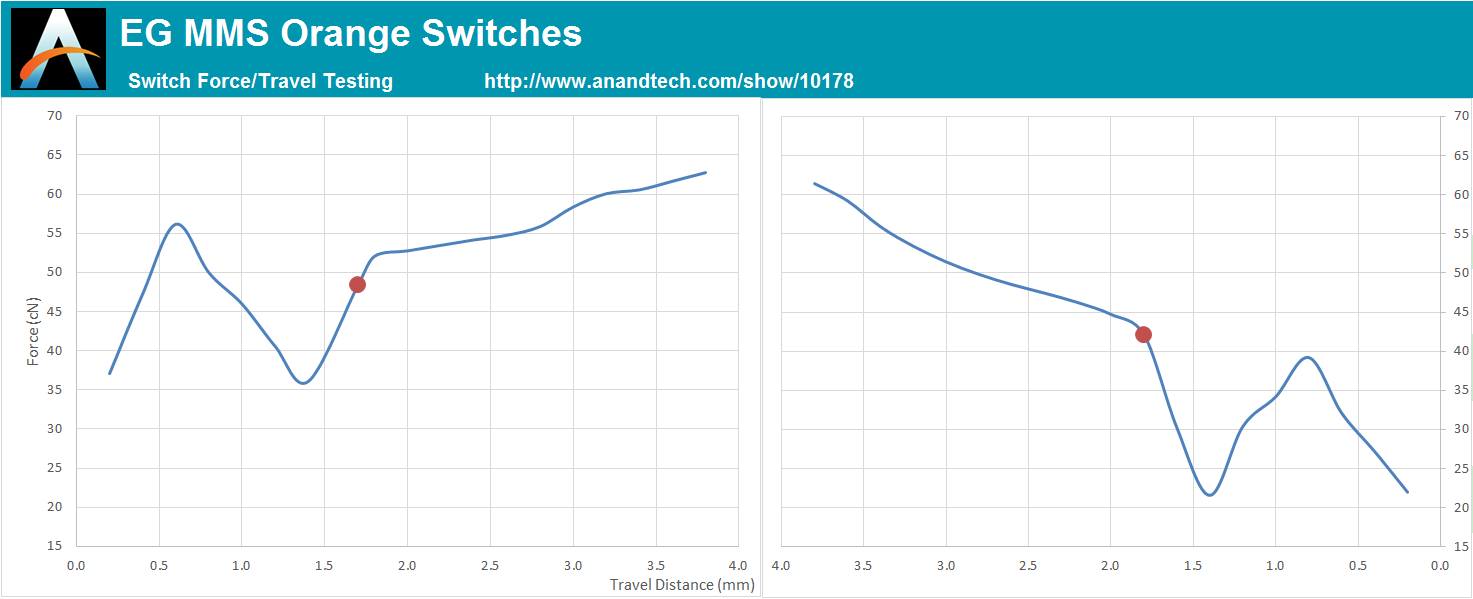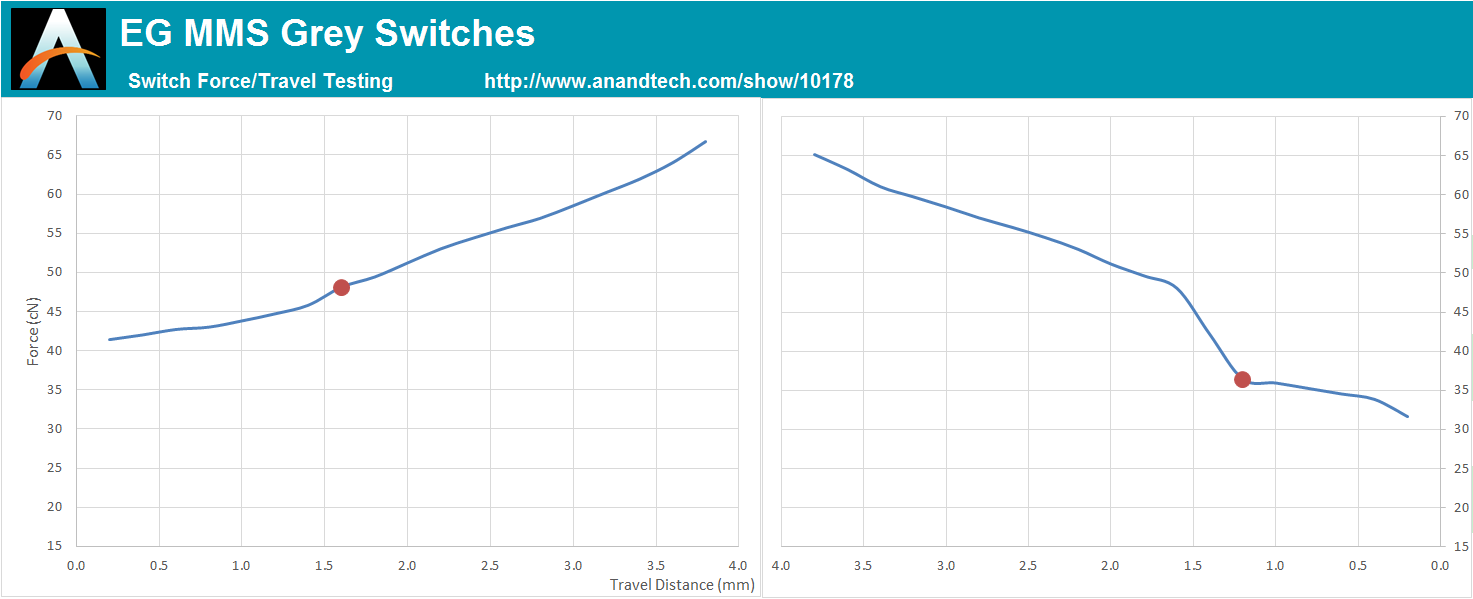 The orange and grey switches are effectively mirror images of each other for the depress and release, with a minor deviation in the release of the grey. The purple switch however gives a pair of profiles quite different, providing a sharp release point when the key feels light.