Multiple Inputs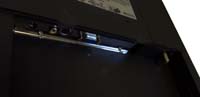 We mentioned earlier that the monitor did not come with a DVI input.  While this was definitely a blow to the monitors feature category, there is a higher Albatron model L17ATD that does support DVI input.  DVI aside, there were some very nice input features on the monitor.   First and most noticeable was the presence of a coaxial cable input (far right on the above picture).  At first, the practicality of a TV input seems fairly limited on a 17" monitor.  However, after about 20 min we were totally hooked on the idea.  During a severe case of writers block, we simply tapped 2 buttons on the remote and we were watching full screen Simpsons.  Even more entertaining was the soon discovered Picture-In-Picture (PIP)!  Considering a number of TVs out there don't even support PIP, we were definitely in for a shock when we found out this LCD did.  Is it practical?  … Yes and no… Obviously, writing important work documents while watching a cable TV feed of the Sopranos or Simpsons is not always the healthiest environment for production.  Keep in mind though; the PIP and Full Screen Video apply to any input on the device, which include Video RCA and S-Video.  Just browsing the web and watching a little TV is incredibly relaxing sometimes!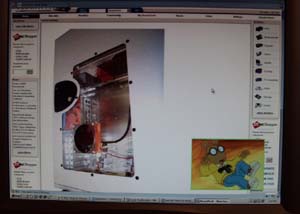 The TV tuner gives a real killer advantage over a conventional LCD.   Rather than buying a separate TV tuner, the TV tuner integrated into the L17AT provides similar functionality, with the advantage of a remote control, picture-in-picture and adjustable presets. Unfortunately, you cannot record off the TV tuner feed on the L17AT.  The other disadvantage the integrated TV tuner has is that it will not function as a DSS or Digital Cable decoder.  If you plan on hooking one of these up to the monitor, you will have to change the channels via the decoder box rather than the monitor's remote.
In small environments with no TV, the L17AT becomes a portable powerhouse.  For presentations the L17AT is perfect; Video can be prepared on a portable DVD-player, VCR, DV-Camera, and played back without the need for a computer!  While we can think of hundreds of uses for this type of versatility, maybe the L17AT is perfect for that one particular use your company or residence might have.