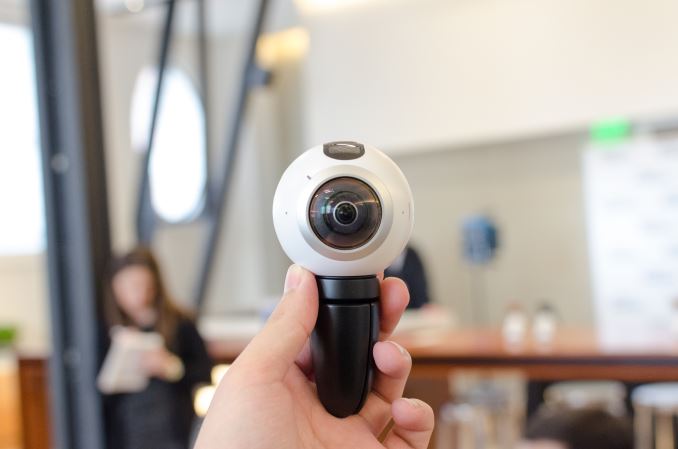 In addition to the Galaxy S7 and Galaxy S7 edge, Samsung is also announcing a camera for VR content. Rather than the extreme setups that we see with some of the current players in this space, Samsung is focusing on bringing VR content creation to the masses with the Gear 360.
In essence, the Gear 360 is a sphere slightly smaller than a tennis ball that can capture video and images from every angle around it with the use of two wide-angle f/2.0 15MP cameras to produce a 30MP image for stills, or 3840x1920 video. The Gear 360 has a 1350 mAh removable battery and microSD, a standard tripod mount, basic dust and splash resistance, and can pair to Galaxy smartphones with NFC and transfer data using WiFi Direct.
A companion app on Galaxy smartphones also allows for live preview of the footage, in addition to remote settings, transfer, and editing. For control of the device without a compatible smartphone, the Gear 360 has a 72x32 0.5" PMOLED display and some rudimentary buttons to control its settings.
Finally, Samsung has stated that the Gear 360 will be available starting Q2 2016.