Closing Thoughts
Wrapping up our second look at Ashes of the Singularity and third overall look at Oxide's Nitrous engines, it's interesting to see where things have changed and where they have stayed the same.
Thanks to the general performance optimizations made since our initial look at Ashes, the situation for multi-GPU via DirectX 12 explicit multi-adapter is both very different and very similar. On an absolute basis it's now a lot harder to max out a multi-GPU configuration; with reasonable quality settings we're CPU limited even up to 4K, requiring we further increase the rendering quality. This more than anything else handily illustrates just how much performance has improved since the last beta. On the other hand it's still the most unusual pairing – a Radeon R9 Fury X with a GeForce GTX 980 Ti – that delivers the best multi-GPU performance, which just goes to show what RTG and NVIDIA can accomplish working together.
As for the single GPU configurations, I'm not sure things as they currently stand could be any more different. NVIDIA cards have very good baseline DX11 performance in Ashes of the Singularity, but they mostly gain nothing from Ashes' DX12 rendering path. RTG cards on the other hand have poorer DX11 performance, but they gain a significant amount of performance from the DX12 rendering path. In fact they gain so much performance that against traditional competitive lineups (e.g. Fury X vs. 980 Ti), the RTG cards are well in the lead, which isn't usually the case elsewhere.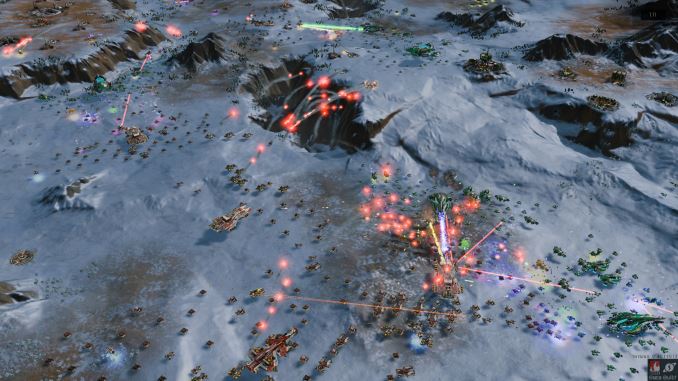 Going hand-in-hand with DX12, RTG's cards are the only products to consistently benefit from Ashes' improved asynchronous shading implementation. Whereas our NVIDIA cards see a very slight regression (with NVIDIA telling us that async shading is not currently enabled in their drivers), the Radeons improve in performance, especially the top-tier Fury X. This by itself isn't wholly surprising given some of our theories about Fury X's strengths and weaknesses, but for Ashes of the Singularity performance it further compounds on the other DX12 performance gains for RTG.
Ultimately Ashes gives us a very interesting look at the state of DirectX 12 performance for both RTG and NVIDIA cards, though no more and no less. As we stated at the start of this article this is beta software and performance is subject to change – not to mention the overall sample size of one game – but it is a start. For RTG this certainly lends support to their promotion of and expectations for DirectX 12, and it should be interesting to see how things shape up in March and beyond once the gold version of Ashes is released, and past that even more DirectX 12 games.