Final Words
With an in-depth look at the Lenovo Ideapad Y700, its time to look at the complete picture again. If you are in the market for a gaming laptop, and have around $1000 to spend, should the Y700 be on your list to look at?
Let's start with the design. Lenovo has built the Y700 out of a nice aluminum chassis, which adds a bit of premium feel right off the bat. The styling is smart but subtle, with just a couple of red accents to make the look pop a bit. It's a design that I like, and the size and weight of the chassis makes the Y700 something that wouldn't be too difficult to travel with. Lenovo offers a backpack as well, for those that want something that fits the same aesthetic.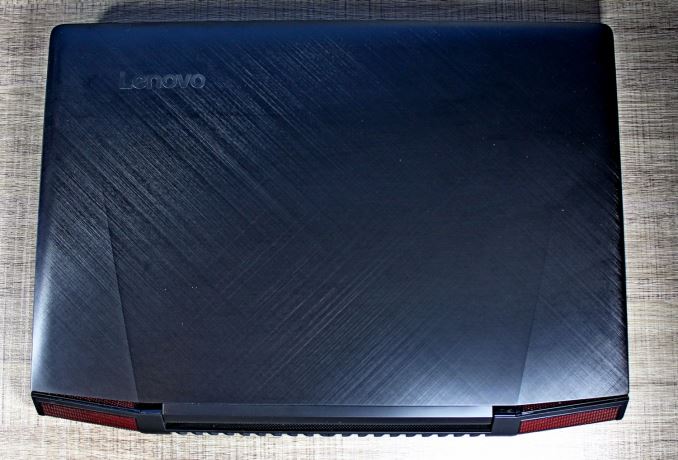 With the base model coming with a Core i5-6300HQ quad-core processor, and an optional Core i7-6700HQ model, there's quite a bit of performance on tap for day to day activities. Both of these processors are going to be plenty to keep the GPU fed for any gaming sessions. The base model comes with 8 GB of memory, but you can also get 16 GB of DDR4 as well, which is plenty for a notebook in this range, and because the Y700 uses DDR4 SODIMMs, you can always upgrade that on your own.
The GTX 960M inside the Y700 has proven itself to be fairly capable for gaming at 1920x1080, and its able to handle many of our gaming benchmarks with reasonable framerates even at maximum settings. For the newest and most demanding games, you will have to turn some of the settings down, but luckily NVIDIA's GeForce Experience software can easily handle all of this for most well known games on the market. If you're looking for more gaming performance, you'd have to step up to a more expensive card, and then you quickly get out of this price bracket.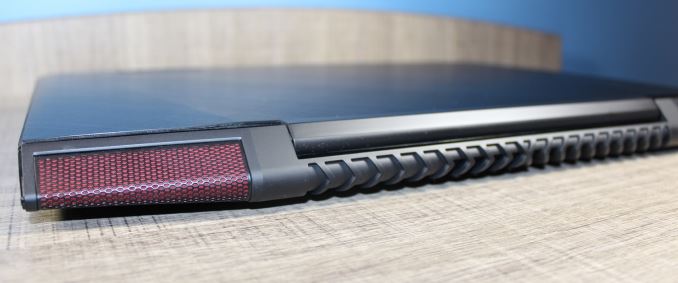 The display, at least the 1920x1080 touch model in the review unit, certainly leaves a lot to be desired. It's hard to say how the 3840x2160 offering would do, but on a notebook like this I would likely stick with the lower resolution model anyway, as the GTX 960M is certainly going to struggle with gaming at UHD resolutions. The backlight is the main issue with this display, and the narrow-band LED lighting makes it impossible for the Y700 to even come close to the sRGB color space. Blues, in particular, are very far from the deep blue you can get on a quality panel. Calibrated displays still seem to be something of an niche item, but the Y700 is pretty far from excellent out of the box. Gaming laptops from MSI, for instance, have a sRGB mode which is surprisingly accurate, so Lenovo could take a lesson from them for future models. Lenovo also offers a non-touch offering which will be a matte finish for those that prefer that.
The battery life was surprisingly good on the Y700. When it was first announced, I didn't expect very much from a quad-core system with a discrete GPU when it only had a 60 Wh battery, so I was pleasantly surprised to see how this notebook did on our battery life tests. The light test is very light, and likely an unrealistic goal for anyone actively using the notebook, but even the heavy test showed a decent result.
Lenovo also offers a great wireless option, although the base model only comes with a 1x1:1 802.11ac card, the optional 2x2:2 Intel Dual Band Wireless-AC 8260 is a great performer, and would be worth the increase in price. Intel cards have been dependable but below average in speed compared to Broadcom and other Wi-Fi chips, but with the latest model they seem to have kept their dependability while increasing their throughput.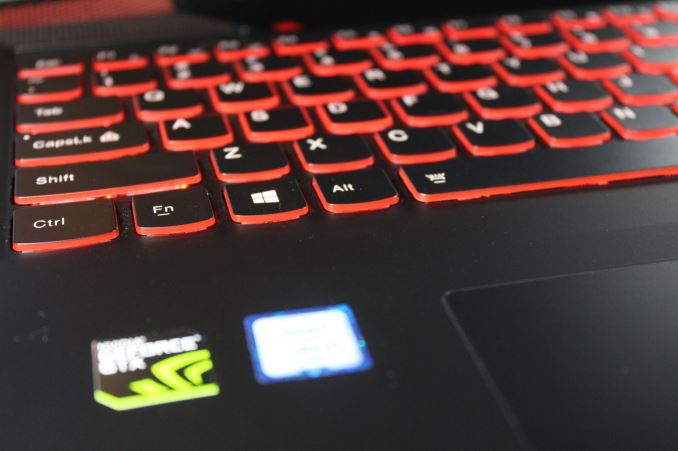 The one area that was a big disappointment for me was the keyboard. I've used Lenovo products with great keyboards many times in the past, but on the Y700 apparently that was sacrificed to hit their price point. The keys are mushy, and the layout is not as good as other devices. It does include a number pad, but it is compressed into the rest of the keyboard when there is plenty of space on the laptop deck to stretch it out a bit. I've never been a fan of the 0 key being cut off like it is here, because when I want to use the number pad for data entry, I want it to be standard. It's likely something you could get used to over time, but I use many keyboards so any time they stray from the norm, it can be an issue. The red backlighting is great, but not much else good can be said here.
All-in-all we need to look at the whole package. People who are in the market for a gaming notebook are going to struggle to find a device with this much performance for much less money. There are a couple of other devices on the market which are close, but the shortcomings of the Y700 are likely things that people in this market would be able to put up with. None of the shortcomings affect the actual experience of gaming on this system, and that's likely what matters most. For a starting price around $900, there is a lot of value here with a strong CPU and GPU combination, and a cooling system that can easily handle everything thrown at it without becoming overbearing. If you are looking for a gaming laptop and don't have a lot of money to spend, the Y700 needs to be on your list of notebooks to check out.