#5 The Lenovo Y700 (Carrizo, FX-8800P + R9 385MX)
The Y700 pre-release unit we had access to didn't have a battery, or a wireless module. But it did have a 'neat' trick compared to the other APUs in this test, in that it is the 35W model of the AMD FX-8800P, which adds a bit more frequency in exchange for some additional power draw. Moving to 35W affords some benefits we'll go into in a bit, although for some odd reason Lenovo didn't take them here.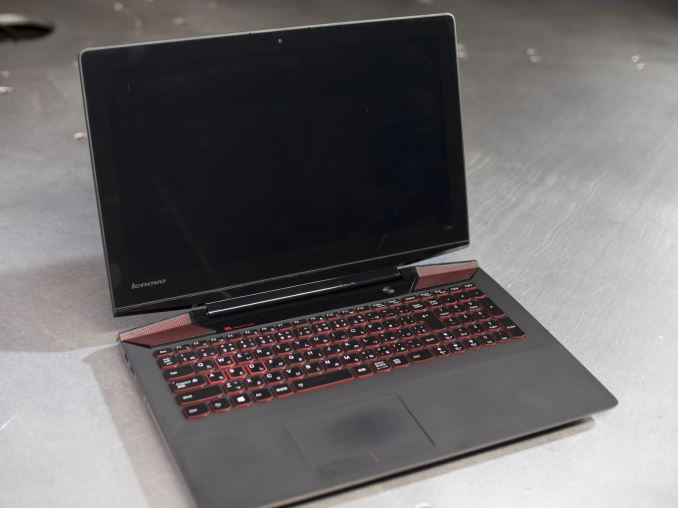 Lenovo Y700 (Carrizo) Specifications
Size and Resolution
15.6-inch, 1920x1080 IPS
Processor
AMD FX-8800P (35W)
Dual module, 4 threads
2.1 GHz Base Frequency
3.4 GHz Turbo Frequency
Graphics
Integrated R7
512 Shader Cores
800 MHz maximum frequency
GCN 1.2

AMD R9 385MX Discrete GPU with 2GB GDDR5
512 Shader Cores
900-1000 MHz Core, 1200 MHz Memory
GCN 1.2

Dual Graphics Not Available in Drivers
TDP
Chassis: 15W
CPU: 35W
Memory
16 GB in Single Channel Operation
2 x 8GB at DDR3L-1600 C11
Single Channel ONLY
Storage
256GB Sandisk
Battery Size
None in our model
80Wh with 4 cell Li-ion design otherwise
WiFi
None in our model
802.11ac M.2 otherwise
Optical Drive
Optional
Dimensions
15.24 x 10.91 x 1.02-inch
38.7 x 27.7 x 2.60 cm
Weight
5.72 lbs
2.6 kg
Webcam
1280x720 with array microphones
Ports
Memory Card Reader
HDMI
2 x USB 3.0 + 1 x USB 2.0
Ethernet
Operating System
Windows 10 Home
Website Link
link
The Y700 here is paired with a discrete graphics card, AMD's Radeon R9 385MX, which offers 512 streaming processors. The FX-8800P processor also has R7 graphics and 512 SPs at 800 MHz, and in theory one might think that these two automatically work with each other in dual graphics mode – but this design is not set up that way. So for this design, the user is paying for almost the same graphics design twice (though the discrete card has access to much faster memory), but one is essentially disabled or only comes on when the discrete card is shut off. Arguably one might postulate that the active idle power of the integrated graphics is lower than that of the discrete, but it seems expensive just for the sake of a few hundred mW. There could be another reason in display support, but it still seems odd. The user can however manually choose to invoke whichever graphics solution they wish from the Catalyst menu.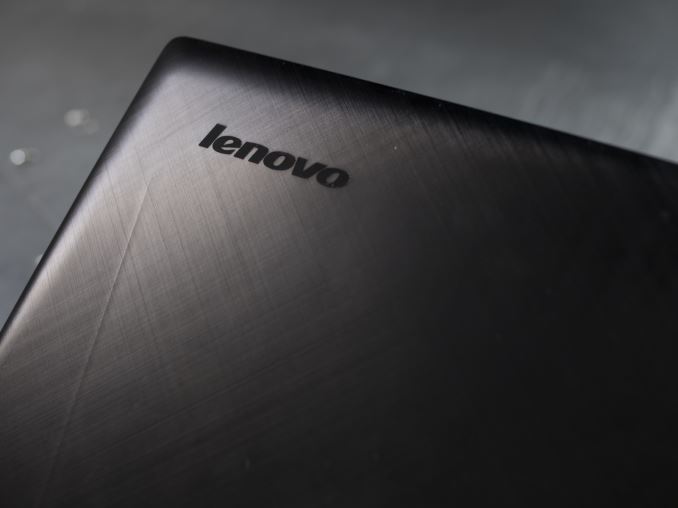 Another element of the design worth questioning is the memory. Carrizo as a platform does support dual channel memory, but it shares a design structure with Carrizo-L (Puma+) which is single channel only. As a result, a number of OEMs have designed one motherboard for both platforms, which means all Carrizo under that design are limited to single channel operation, reducing performance for the sake of some PCB design. This is an aspect we'll get on to later, but it means that the Y700 has access to 16GB of DDR3L-1600 CAS 11 but in single channel mode. The fact that it is DDR3L-1600, even though Carrizo supports DDR3-2133, is another angle to tackle on how such a design can have performance issues.
For the other specifications, the Y700 gets a 1920x1080 IPS screen, a 256 GB Sandisk SSD and some Wi-Fi in an M.2 form factor. I say 'some' Wi-Fi, purely because our pre-production unit didn't have any.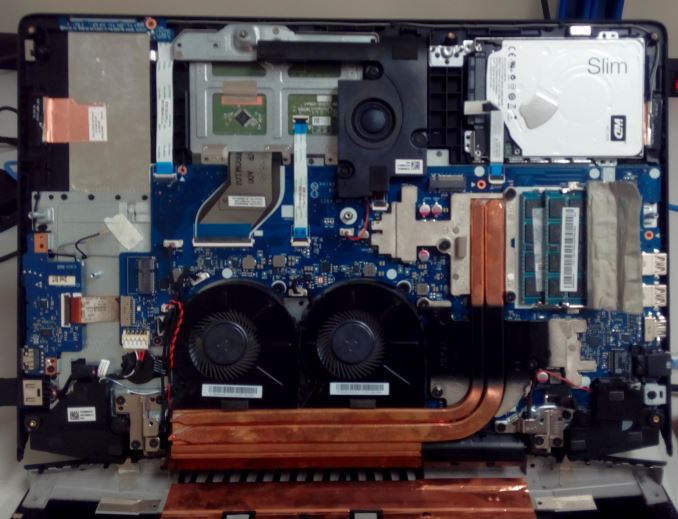 This low quality image of the insides shows the dual fan design for the 35W APU and discrete graphics, and we can confirm we didn't see any throttling during our testing. The two memory modules, despite being part of a single channel design, sit on the right below the slim hard drive which we replaced with the 256 GB Sandisk SSD. There is also an M.2 slot next to this, though I believe this is SATA only, supporting form factors up to 2280.
Next to the M.2 slot is the bass speaker. The Y700 has an extra vent at the bottom for better sound, rather than muffled in a chassis: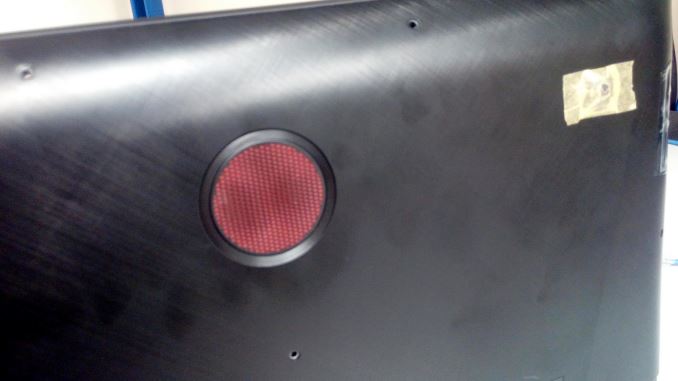 The keyboard we had in our model was a mix English/Japanese variant, though the red backlight was easy to see through.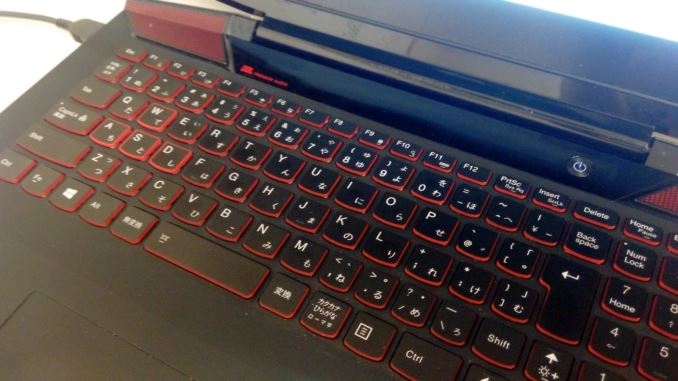 Brett actually has the Skylake variant in for testing, so I'll let him mull over the design a bit more, but on the sides:

The left gets a charging point, a USB 3.0 port, a multi card reader and a headphone jack. On the right are two more USB ports, a HDMI port, an expanding Ethernet port and a Kensington Lock hole.
Y700 Specific Testing
In the case of the display, out of those we tested it actually comes best in terms of color accuracy. While I don't have a spectrophotometer to show you exactly in numbers, the colorimeter graph does the business: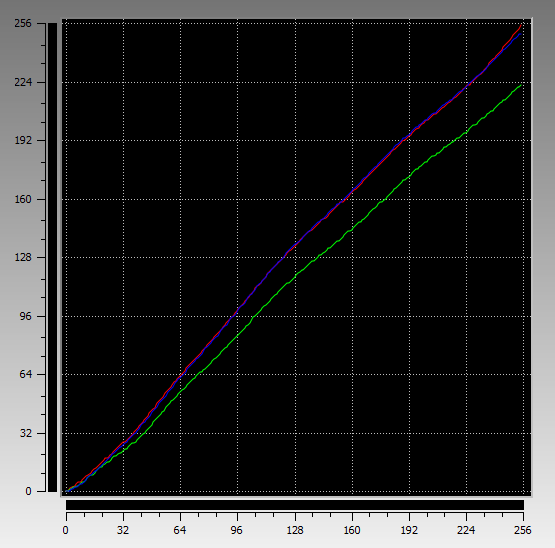 Here red and blue are pretty much dead on accurate, but green is straying too low. The panel gives a good 1032 contrast ratio, with 0.216 nits at low brightness and 223 nits at peak. The peak isn't very high, which might be a bit concerning in bright lights.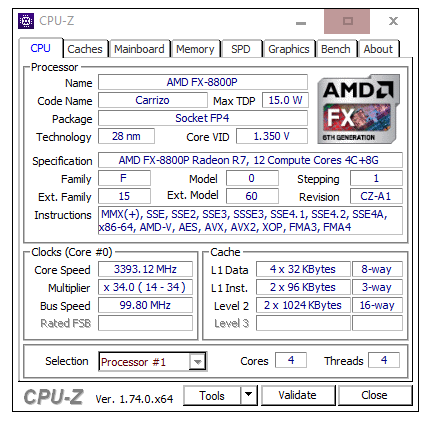 One of the downsides to these configurable TDP processors is that the 'max TDP' string doesn't change. It is up to the OEM to do the firmware adjustments, but chances are they won't open it up to regular users in case someone wants to put 35W through a chassis only designed to handle 15W. The way to tell is in the peak frequencies, and this one goes to eleven 3.4 GHz.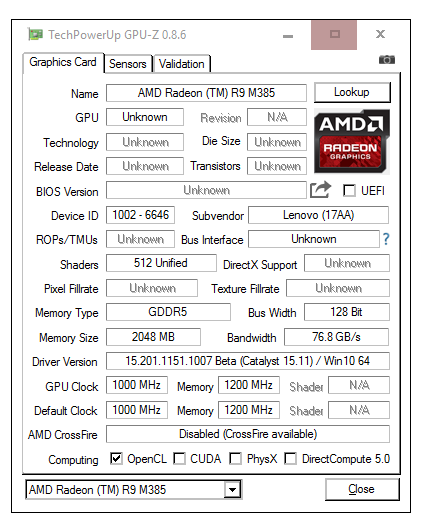 For the discrete GPU, we get 2 GB of dedicated memory and, thanks to the use of GDDR5, much greater bandwidth than just relying on DDR3 alone. The 'CrossFire available' message means that GPU-Z recognizes that the CPU and GPU can be both put to work together, but for whatever reason the drivers did not allow it when we tested.