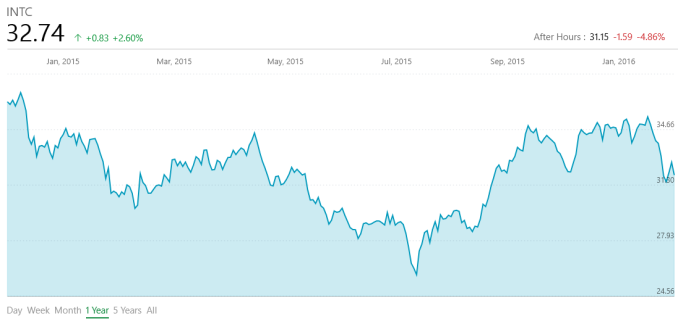 Today Intel announced their earnings for the fourth quarter of fiscal year 2015. The year ended strong, with record revenues of $14.9 billion. This is up 1% of Q4 of 2014, and up 3% over last quarter. Intel's margins did drop a 1.1%, but are still a healthy 64.3% for the quarter. Operating income for the last quarter of the year was $4.3 billion, and net income came in at $3.6 billion. These results are down 3$ and 1% respectively, compared to Q4 of 2014. Earnings per share was flat at $0.74 per share.
For the full fiscal year 2015, revenues were $55.4 billion, which is down 1% compared to 2014. Gross margin was down 1.1% to 62.6% for the year. Operating income was $14.0 billion, down 9% compared to 2014, and net income was down 2% to $11.4 billion.
Intel Q4 2015 Financial Results (GAAP)
Q4'2015
Q3'2015
Q4'2014
Revenue
$14.9B
$14.5B
$14.7B
Operating Income
$4.3B
$4.2B
$4.4B
Net Income
$3.6B
$3.1B
$3.6B
Gross Margin
64.3%
63.0%
65.4%
Client Computing Group Revenue
$8.8B
+3%
-1%
Data Center Group Revenue
$4.3B
+4%
+5%
Internet of Things Revenue
$625M
+8%
+6%
Software and Services Revenue
$543M
-2%
-3%
All Other Revenue
$682M
flat
+11%
For the full year, Intel's largest division, the Client Computing Group, was down 8% in revenue to $32.2 billion, but for Q4 2015 the group was down just 1% year-over-year. Intel is currently shipping 14 nm parts based on Skylake, and as of November, 14 nm parts made up over 50% of the Client Computing Group's unit sales. The move to 14 nm has been pretty slow by Intel's standards, and even many of the Skylake chips are in short supply still, but Intel did say that yields have improved to the point where they feel they have an oversupply at the moment so hopefully some of the high demand parts find their way to retailers for stock. With the drop in the overall PC market, it's not too surprising that this group has dropped, but although total device numbers have dropped, average selling price has increased.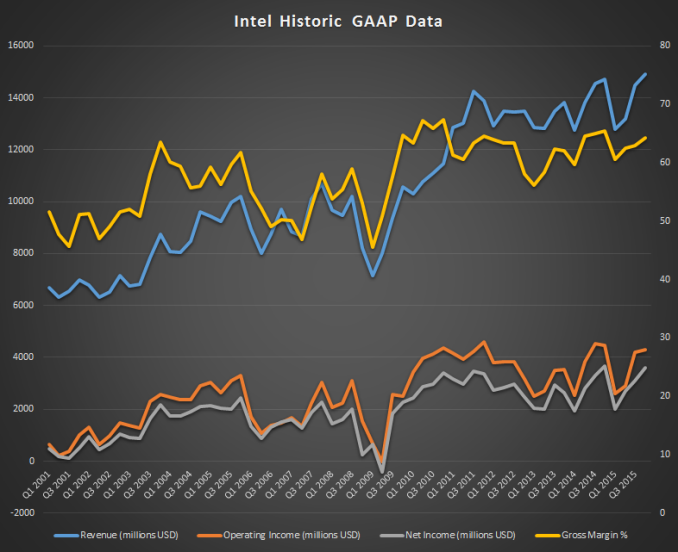 Intel's record revenue came from the Data Center group, which had record revenue for FY 2015 of $16.0 billion, up 11% compared to 2014. For the quarter, Data Center revenue grew 5% year-over-year to $4.3 billion. The move to cloud computing is going to drive some growth here, and offset some of the weakness in the PC market for companies like Intel. Margins are generally better in this group, so it is less difficult to offset the PC drop with a high margin area like Data Center. Intel is pretty much unchallenged in this space for a lot of computing needs, at least at the moment. There was some struggle in China's market, but the overall market was enough to overcome this.
Internet of Things also had record revenue for the fiscal year. For FY 2015, this segment's revenue was up 7% to $2.3 billion. It's still pretty small potatoes compared to the other segments of Intel, but this is one area where they are keen to not fall behind ARM like they did in the mobile space. There is a lot of room for growth here, although it's going to be at a much lower margin than Intel is accustomed to. For Q4, this division grew 6% year-over-year to $625 million.
Software and Services, which consists of products like McAfee Antivirus, was down 2% for the full year to $2.2 billion. For Q4, revenues were down 3% compared to Q4 2014, coming in at $543 million.
The final segment is Non-Volatile Memory Solutions, and for 2015 this segment had record full-year revenue, up 21% compared to 2014. Unfortunately, Intel does not break this out individually, but it on the conference call they announced revenues of $2.6 billion for FY 2015. Intel announced their 3D X-Point memory, and shipments should start later this year.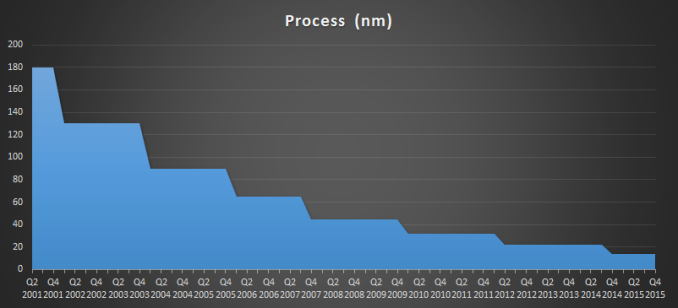 For the full year, Intel paid $7.6 billion back to shareholders, with $4.6 billion in dividends and $3.0 billion used to repurchase stock. Intel has announced an increase in dividends to $1.04-per-share on an annual basis.
Intel also announced that they have completed the acquisition of Altera and they took on about $9.5 billion in debt to finance this.
Looking towards FY 2016, Intel is expecting mid to high single digit revenue growth as a percentage compared to 2015, which is an increase over their guidance issued in November. This increase is being attributed to the FPGA business which they have just acquired through Altera. Gross margin is expected to be 63%.
Source: Intel Investor Relations