GPU Performance
Shifting gears, let's take a look at GPU performance. As we mentioned earlier, Qualcomm isn't disclosing much about this GPU other than that it packs quite a bit more computational power than its predecessor and should be quite a bit faster in the process. This points to a potentially significant architectural shift, but that determination will have to wait for another time.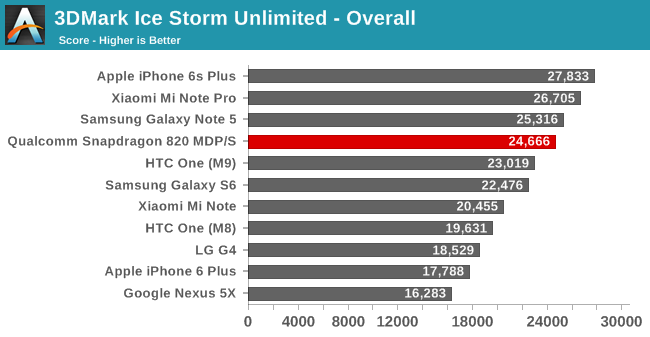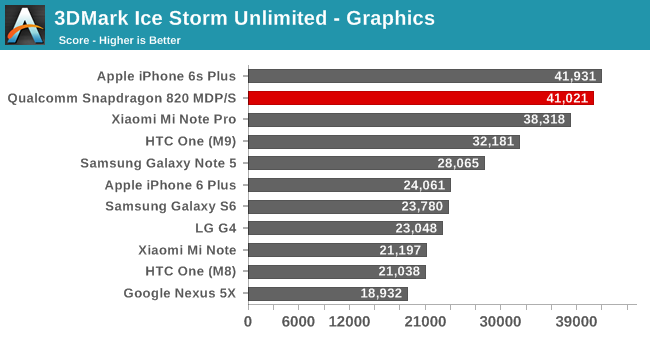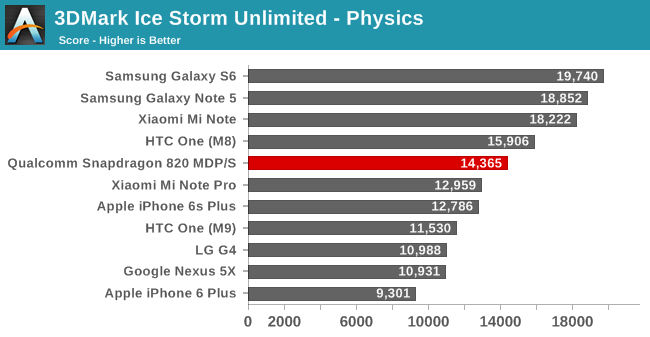 Starting with 3DMark Ice Storm Unlimited, the performance honestly doesn't start out great. The overall score is significantly influenced by the physics score, which in turn is more concerned with the number of cores and their throughput on simple code than the ability to extract complex IPC. As a result the 4 CPU core 820 simply can't catch up with the likes of the Samsung devices and their high-clocked big.LITTLE configurations. On the other hand the graphics score makes this the fastest Android phone to date, though relative to the 810 Mi Note Pro, perhaps not by a ton. Ultimately as this is an OpenGL ES 2.x test it's not the most strenuous of tests these days, and comments from Qualcomm indicate that it may be a CPU-limited test on 820.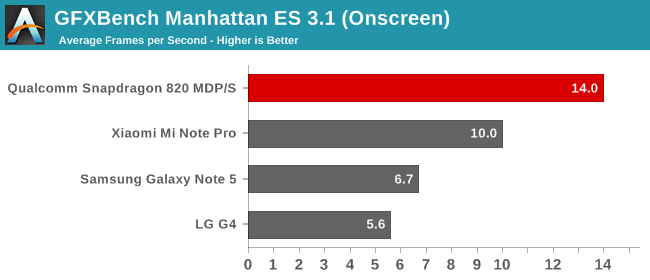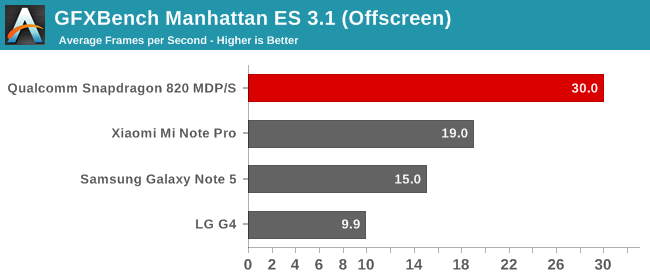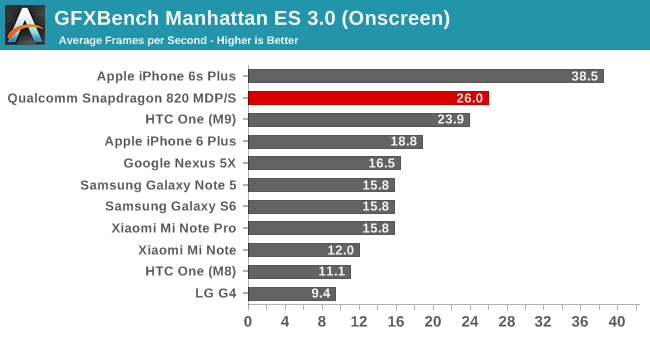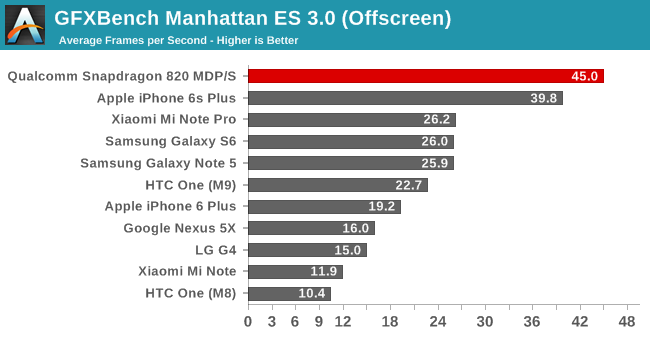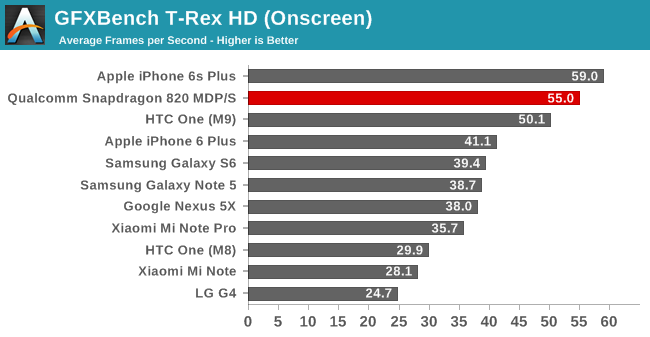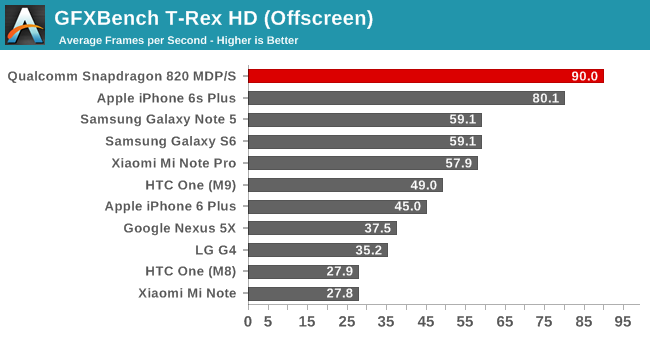 GFXBench on the other hand shows some massive gains for the 820 relative to any other Android device. In offscreen rendering mode, all 3 game tests – Manhattan ES 3.1, Manhattan ES 3.0, and T-Rex HD – put the 820 MDP/S as being 52% (or more) faster than the next-fastest Android device, either the 810 based Mi Note Pro or the Exynos 7420 based Samsung Galaxy Note 5. The single biggest jump we see is with Manhattan ES 3.0 at 72%, while the ES 3.1 version dials that back down to 52%. Even the iPhone 6s Plus, well known for its powerful GPU, is handily and consistently surpassed by the 820 here. Only due to the 6s Plus's lower rendering resolution of 2208x1242 does it surpass the MDP/S in onscreen tests, as the latter needs to render at 2560x1600 (~50% more pixels). Qualcomm was aiming for some big GPU performance gains here and so far they are delivering.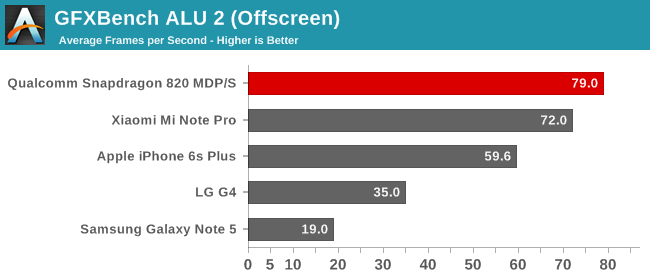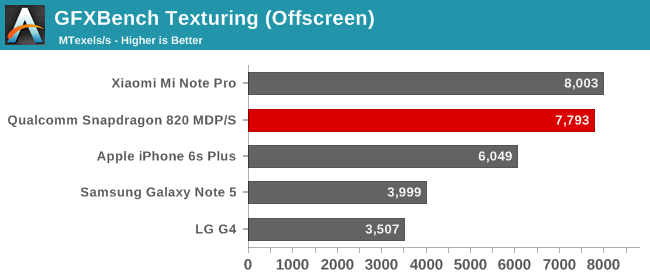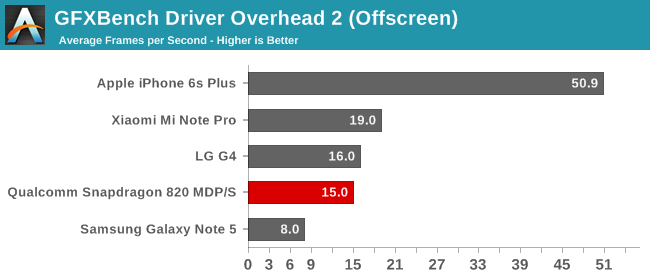 Curiously, GFXBench's synthetic feature tests don't show the same gains. Offscreen ALU performance is only slightly improved over the 810 (10%) or in the case of texturing is an outright regression. None-the-less full gaming performance is clearly in the 820's favor. I've long suspected that the Adreno 430 GPU in the 810 had some kind of architectural bottleneck – perhaps an ALU/texture array that was difficult to fully utilize – and what we're seeing here would back up that claim, as if that was the case then correcting it would have allowed Qualcomm to significantly boost their rendering performance while only barely changing their synthetic performance. Otherwise I find it a bit surprising that the driver overhead score is a bit worse on 820 than 810, which may be a result of the immature GPU drivers on this early device.