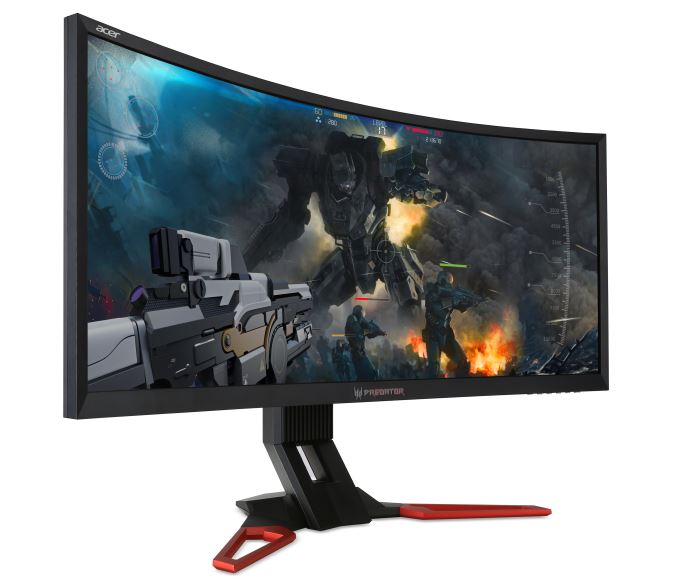 Today at IFA Acer has announced a number of new products relating to gaming. Among the product launches was a new display aimed firmly at gamers. It's a very large curved 35" panel with a native refresh rate of 144Hz. BenQ has actually already released a gaming monitor with these specs. What makes the Acer Predator Z35 stand out is Acer's claim that it can be overclocked to 200Hz. You can check out all of the Predator Z35's known specs in the chart below.
Acer Predator Z35
Resolution
2560x1080
Refresh Rate
144Hz native, 200Hz overclock
Panel Size
35"
Panel Type
AMVA
Response Time
12ms, 4ms (G2G)
Viewing Angle (H/V)
178° / 178°
Color Depth
16.7 million colors (8bit)
As 35" with a resolution of 2560x1080, the Predator Z35 isn't as sharp as the 34" 3440x1440 curved displays on the market. Its refresh rate makes it clear that it's first and foremost a monitor for gaming. Like I noted above, the native refresh rate of the panel is 144Hz, with Acer claiming it can be overclocked up to 200Hz. It's not clear whether Acer expects a large number of panels to reach this figure, or if the overclocking procedure voids your warranty, but like most other overclocking I would assume that it does. As a gaming display, the Predator Z35 comes with support for NVIDIA's G-SYNC adaptive refresh rate as well as NVIDIA's Ultra low Motion Blur backlight strobing feature.
Something else worth noting is that this is an AMVA panel from AU Optronics. While the viewing angle for AMVA panels is still advertised as 178 x 178 degrees like an IPS panel, they're still known to have a greater shift in contrast than modern IPS displays. For gamers this isn't likely to pose an issue, but it would for any sort of color critical work. On that note, Acer advertises the Predator Z35 as covering 100% of the sRGB gamut. While this is probably true, it's worth noting that covering sRGB doesn't guarantee any level of accuracy when rendering the colors inside the gamut. All that being said, the AMVA panel is still going to be miles ahead of the TN panels that used to be inside essentially every single display with a native refresh rate above 60Hz.
The Acer Predator Z35 gaming monitor will be coming to North America in December with a price of 1199.99 USD. It will be launching in the EMEA region at the same time with a price starting at €1,099.