Testing results, low fan speed (7 Volts)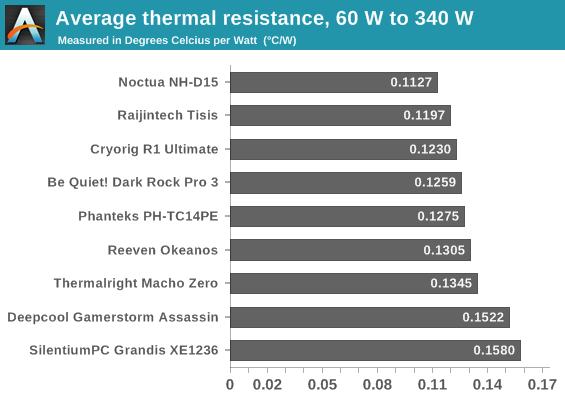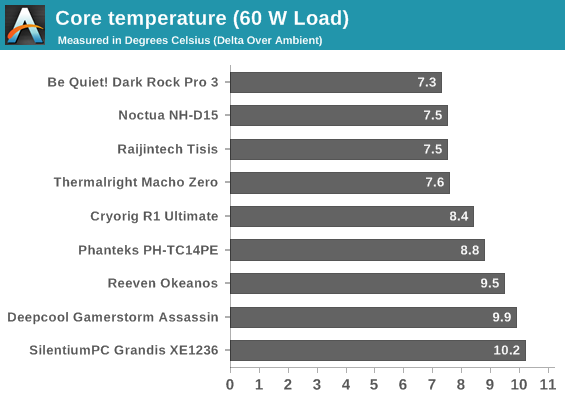 Core Temperature, Constant Thermal Load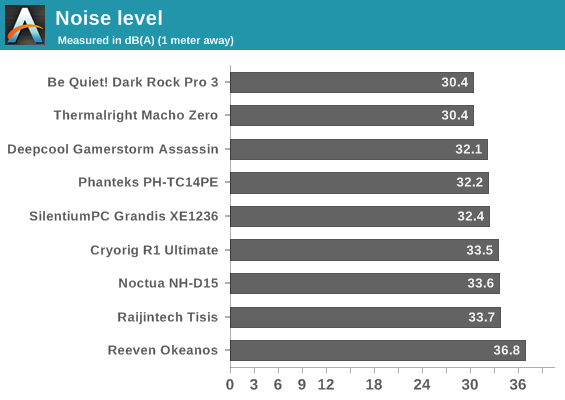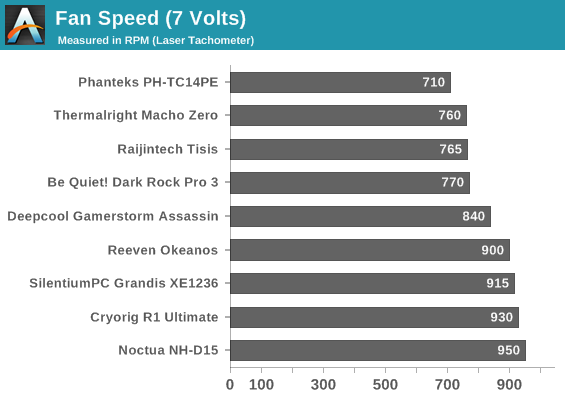 *Note: When the cooler has two different fans, the fan speed of the faster fan is recorded.
**Note: Some of this review's PWM fans will not start if simply powered from a 7 Volts power source. Electronic supervision is required to start the fan and then reduce the voltage down to 7 Volts, or a PWM source.
Reducing the fan voltage down to 7 Volts shifts the thermal performance charts a little but brings all of the coolers down to virtually inaudible levels. The sole exception is the Okeanos, which definitely improved vastly in comparison to having its fans running at maximum speed, but remains audible.
With the Okeanos losing its advantage of brute force, the Noctua NH-D15 and the Raijintek Tisis now lead the thermal performance charts, closely followed by Cryorig's R1 Ultimate. The Phanteks PH-TC14PE is a bit more complicated, displaying that it can do much better at lower loads than with high loads, hinting that the airflow of the fans is simply not enough for this design to cope with very high loads. Be Quiet!'s Dark Rock Pro 3 is now showing thermal performance comparable to that of the aforementioned coolers, especially when the thermal load is low. Still, the Dark Rock Pro 3 technically loses its acoustics performance advantage. It may be dead-silent, with our equipment unable to record anything about the room's noise floor level, but the rest of the coolers are virtually inaudible as well.
The Thermalright Macho Zero is at advantage in these tests, as the cooler is optimized for low airflow situations. With the TY147A at a dead-quiet operating level, the Macho Zero offers very good thermal performance, especially at lower loads.
The two coolers with the worst overall thermal performance at this test were the Deepcool Assassin and the SilentiumPC Grandis. As far as the Grandis is concerned, the company will definitely not worry about their product not being able to compete directly with the best air coolers available, as it can still offer very good performance for the price of the cooler. The Assassin on the other hand fails to compete as well as it should, falling behind all other similarly sized products and even behind the Grandis during most of these tests.