Web Infrastructure Power consumption
Next we tested the system under load.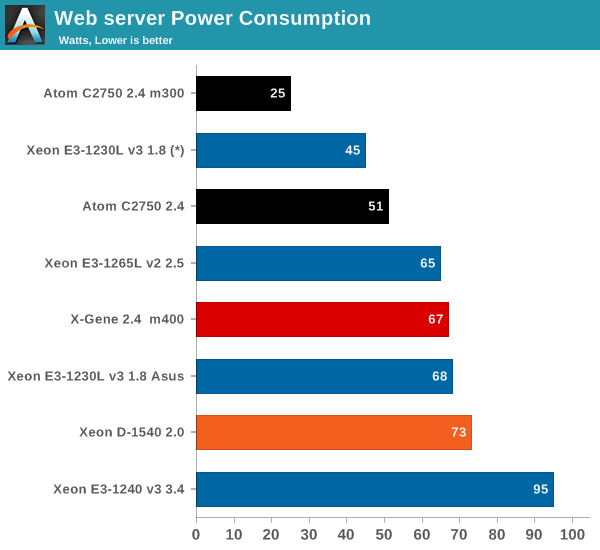 (*) measured/calculated to mimic a Xeon-E3 "m300-ish" board.
Let us entangle the results by separating the power that goes to the SoC and the power that goes to the system. We did a similar though experiment in our X-Gene 1, Atom C2000 and Xeon E3 comparison.
Power Consumption SoC Calculations
SoC
Power Delta =
Power Web -
Idle (W)
Power SoC =
Power Delta +
Idle SoC +
Chipset (W)
Xeon E3- 1240 v3 3.4
95-42 = 53
53+3+3 = 59
Xeon E3-1230L v2 1.8
68-41 = 27
(45-18 = 27)
27+3+3 = 33
Xeon D-1540
73-31 = 42
42+2+0 = 44
Atom C2750 2.4
25-11 = 13
13+3+0 = 16
Now let us combine our calculated SoC power consumption and the power measurements in the graph above. The Atom C2750 still make sense in a micro server if CPU performance is not a priority: think static webservers and caching servers. You can fit an Atom C2750 server inside a power envelop of 25W as HP has proven. Based upon our own experience, such a Xeon D system would probably require more like 55 - 60 W.
If CPU performance is somewhat important, the Xeon D is the absolute champion. A Xeon E3-1230L server with similar features (2x 10 Gb for example) will probably consume almost the same amount of power as we have witnessed on our Asus P9D board (68 W). Given a decently scaling application with enough threads or some kind of virtualization (KVM/Hyper-V/Docker), the Xeon D server will thus consume at most about 1/3 more than an Xeon E3-1230L, but deliver almost twice as much performance.