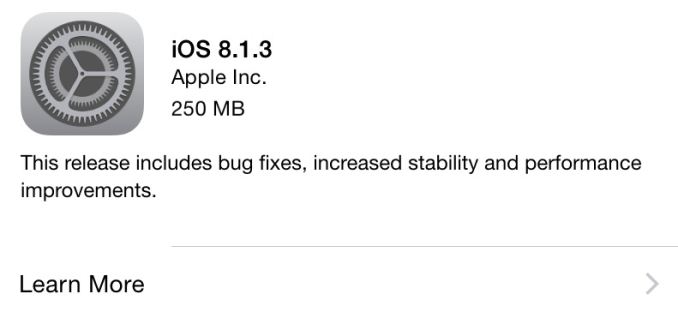 Today Apple sent out the newest version of iOS to all devices capable of running versions of iOS 8. This update brings iOS to version 8.1.3, and like the 8.1.2 patch before it, this update is aimed at squashing bugs that still remain after the major iOS 8.0 and 8.1 updates from last year. Apple's changelog for the update is below, although there are often small bug fixes that don't get put on the list of changes.
Reduces the amount of storage required to perform a software update
Fixes an issue that prevented some users from entering their Apple ID password for Messages and FaceTime
Addresses an issue that caused Spotlight to stop displaying app results
Fixed an issue which prevented multitasking gestures from working on iPad
Adds new configuation options for education standardized testing
As you can see, the number of changes isn't massive. However, users with 8GB and 16GB devices will definitely appreciate the reduced storage requirements for updating to iOS 8. The OTA version of the update had previously required users to have 5GB free on their devices, which was almost impossible for users with 8GB devices to accomplish. Apple has not quantified how much they have reduced these requirements, so we'll have to wait for reports from users who are still on iOS 7 before we know how much Apple was able to reduce the storage required. The fix for multitasking gestures on the iPad is long overdue, and it's something I've been experiencing on my iPad since iOS 8 launched. One fix that doesn't seem to be included is one for the audio drop outs that some Apple users are still experiencing with Bluetooth headphones and speakers.
In addition to bug fixes, iOS 8.1.3 includes a number of security improvements which can be viewed in detail on Apple's security page for the update.
The update weighs in at around 250MB and it's rolling out now. As stated earlier, it's available on any Apple device that can run iOS 8, which includes any device with an A5 processor or newer.