Conclusion
ROCCAT markets the Ryos MK Pro as the "most advanced, most customizable mechanical keyboard ever". This certainly may not be true anymore, as there are a number of more advanced products available from other manufacturers, but the Ryos MK Pro was released nearly a year ago and remains an excellent product. Despite the all-plastic body, ROCCAT uses high quality materials and the assembly job is immaculate. That and the use of Cherry MX switches eliminate all of our quality concerns. As for aesthetics, the futuristic design of the keyboard stands out without being extravagant and the backlighting is even and strong, making the Ryos MK Pro a nice decoration for a gamer's desktop.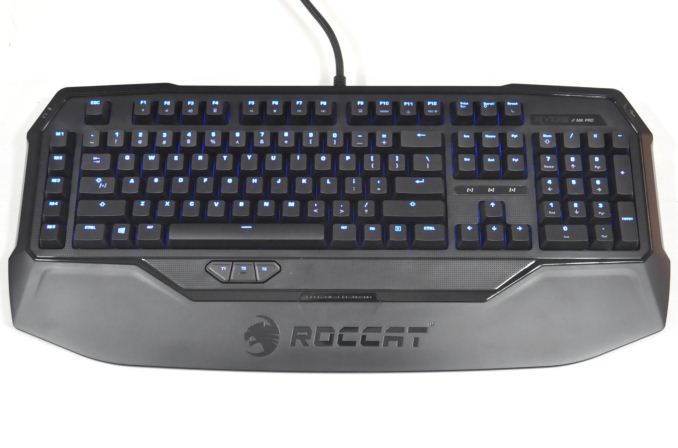 Even though the Ryos MK Pro is a very good keyboard, we have very mixed feelings about it. The reason is that several of its features might be advantageous for some users but problematic for others. For example, the integrated wrist rest and thumb keys are likely to be appreciated by FPS gamers, but the extreme bulk that they add to the overall size of the keyboard is likely to annoy pretty much everybody else. Also, there are no dedicated multimedia keys and the use of the FN combination keys to control the volume is not going to be appreciated by users that want quick access to audio controls.
The issue here with the Ryos MK Pro is that it is a great product but it is also dated. At the time of its release, the implementation of per-key illumination and a fully programmable layout was a big deal. However, today many keyboards feature per-key illumination and even RGB lighting, as well as superior programmability. A year ago, finding a keyboard with software as well written as the Ryos MK Pro utility was not an easy task. The software remains very stable and well written, but it is outdated and lacks options that will lead serious gamers to seek third-party software.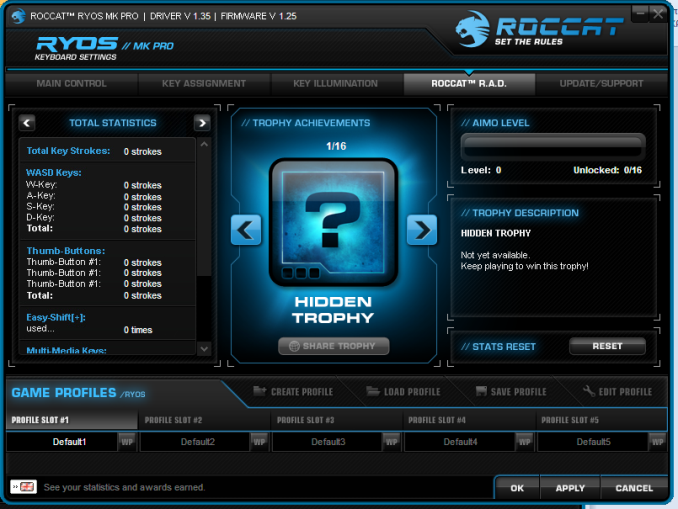 The true problem is that the price of the ROCCAT Ryos MK Pro remains at the same level as when it was first introduced, while its features are becoming increasingly common. With a retail price of $156, the Ryos MK Pro is one of the most expensive mechanical keyboards available and thus it's trying to take on the very best other companies currently offer. It is difficult for us to recommend the purchase of the Ryos MK Pro for this price at this point in time, especially considering that its layout is strongly tailored towards FPS gamers. Perhaps a good deal or a sale will change that however and we feel that the Ryos MK Pro remains a very good gaming-focused mechanical keyboard that will not disappoint its audience.