MSI GT72 Dominator Pro General Performance
General performance isn't nearly so exciting, as mostly we're gated by the performance of the CPU and/or SSD. The GT72 is still plenty fast, but there haven't been any major jumps in CPU performance for quite some time, especially when speaking of notebooks. Perhaps Broadwell will shake things up a bit next year, but for now the Haswell Core i7 processors continue to be plenty fast for all but the most demanding of users. Here's a quick look at our standard CPU and system benchmarks, along with 3DMark for reference. Also note that we have WiFi performance at the bottom of the page.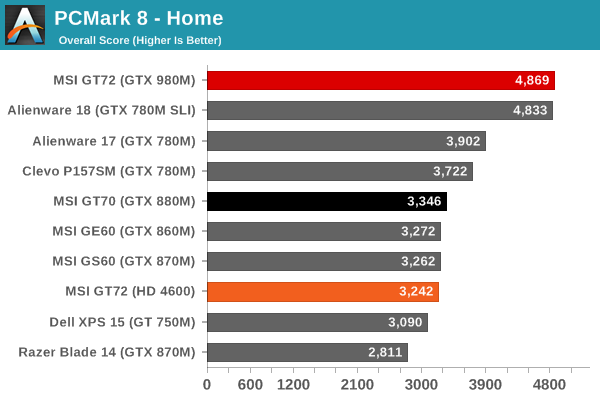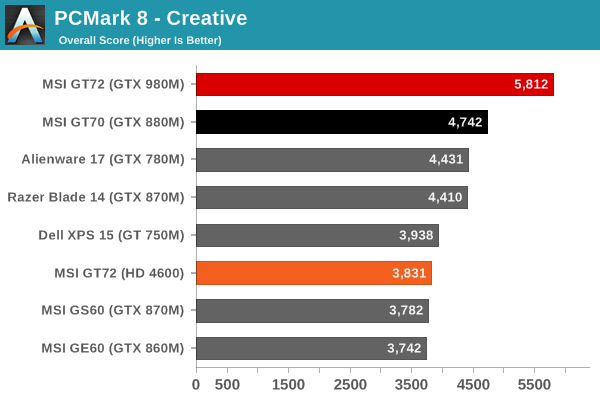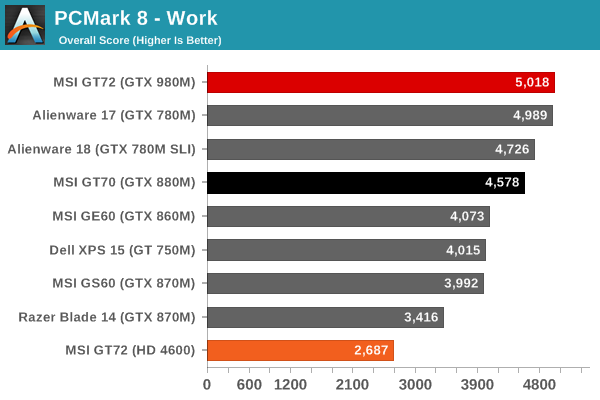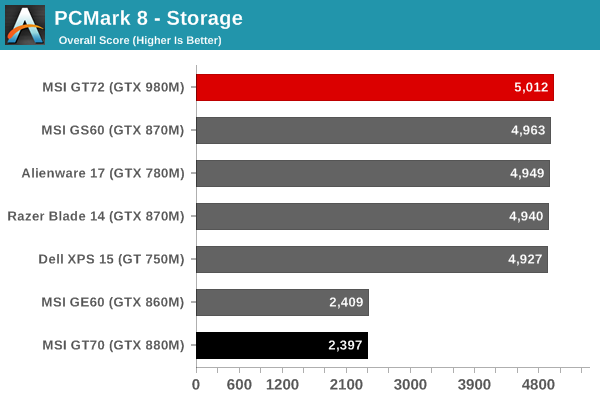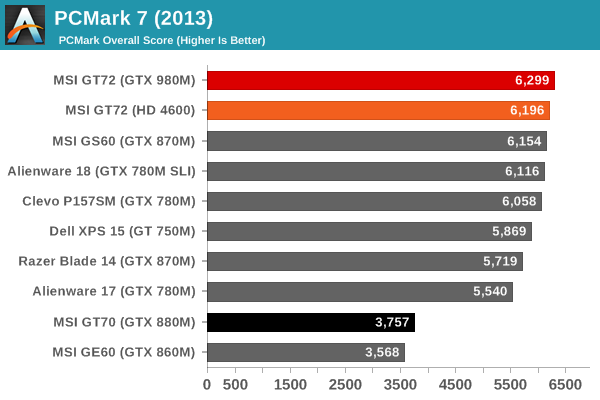 Starting with PCMark, I ran the GT72 with both the GTX 980M and the HD 4600 Graphics. With Optimus laptops, you generally get the best of both worlds in that some tests use the discrete GPU while others use the Intel GPU (and the Computation and to a lesser extent Creativity subtests in PCMark 7 benefit greatly from Quick Sync). What's interesting is that where Intel's Processor Graphics were typically more than sufficient to post good results in PCMark 7, with PCMark 8 and the support of OpenCL acceleration the difference between the two GPUs suddenly becomes far more apparent.
The quad SSD RAID 0 array does prove potent as well, pushing our PCMark results about as high as we've ever seen on a notebook, but again it's a case of diminishing returns. While PCMark 7's Storage test showed more of a difference between the various SSDs, in PCMark 8 all of the SSD-equipped laptops are basically tied.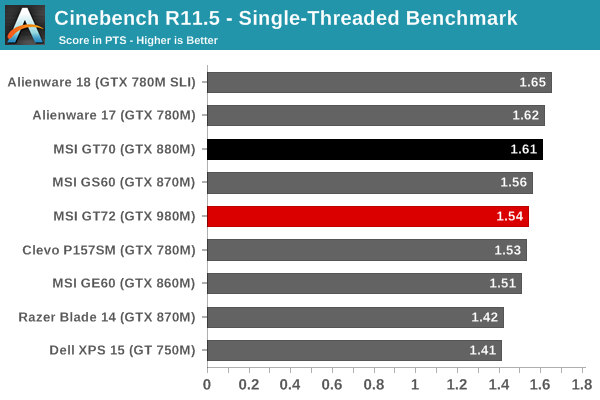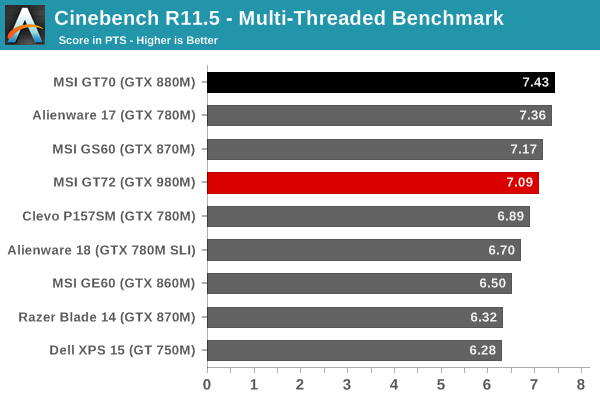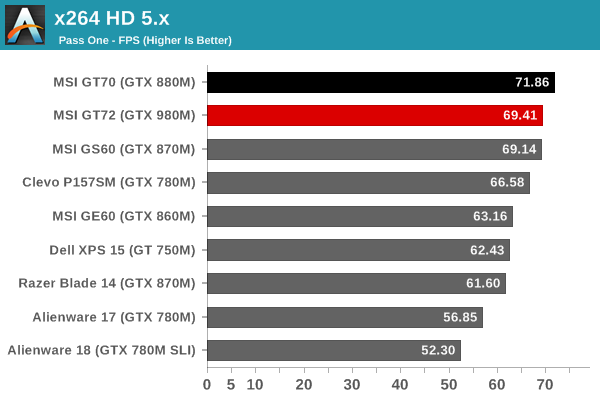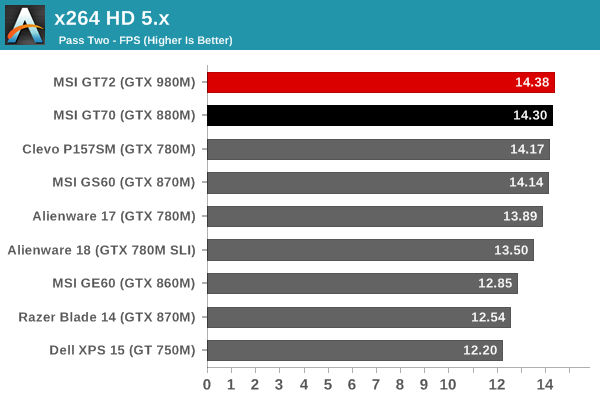 There are no real surprises in our CPU tests: the GT72 with a Core i7-4710HQ is fast, though there are times where other notebooks with faster CPUs take the lead. The upgraded model with i7-4980HQ should improve performance by another 12-15%, but I'm not sure it would be worth the additional cost. Interestingly, the GT72 places at the top of the x264 HD second pass; it's possible the storage subsystem is a contributing factor, but the GT70 only has a hard drive so whatever the cause MSI 17.3" gaming notebooks do well in that test.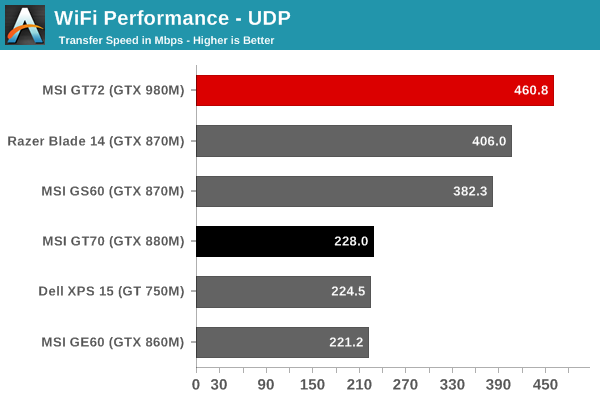 As for wireless performance, the dual-band Killer 1525 802.11ac solution worked well during testing. I didn't notice any unusual drops or loss of connectivity, which is actually better than what I've experienced with many laptops using Intel's 802.11ac solutions. (Many of those laptops need to have WiFi disabled/enabled every week or so in order to stay on a 5GHz connection, at least in my experience.) I can't say much as to WiFi performance in crowded wireless locations, though; all I can report is that within the confines of my home and a few trips to public WiFi access didn't create any issues. The raw throughput is also higher than any other WiFi solution we've tested in recent times, though as always there's plenty of variance between runs.
As a side note, the GT72 also supports Killer Double Shot Pro with Smart Teaming (TM!), which basically allows the system to load balance between two connections. One example given is using the Gigabit Ethernet for gaming while you stream the video via Twitch over WiFi (or vice versa).
As for 3DMark, I include these charts mostly as a point of reference; it's far more useful to look at the performance of games you actually care about, but the results from 3DMark are more or less in agreement with our gaming scores.