MSI GT72 Dominator Pro Gaming Performance
We've already covered the GT72's gaming performance with our preview article, so this is mostly a rehash. Simply put: the GTX 980M is screaming fast. I also find it a bit ironic that the notebook GTX 980M has 8GB VRAM while the desktop GTX 980 is currently still a 4GB part, even though you're less likely to need the extra RAM on a notebook (especially one equipped with a 1080p display).
Depending on your desired FPS, the GT72 is either fast enough to handle just about everything at maximum detail (30+ FPS at 1080p), or you might need to drop a few extras like SSAA on titles like Metro: Last Light to get closer to 60FPS. Oh, and if you happen to use the GT72 with an external display that supports G-SYNC, that's also supported. Here are the gaming results at our Enthusiast settings; Mainstream and Value are mostly not worth discussing as the GTX 980M makes short work of those, but you can view additional performance results in Notebook Bench.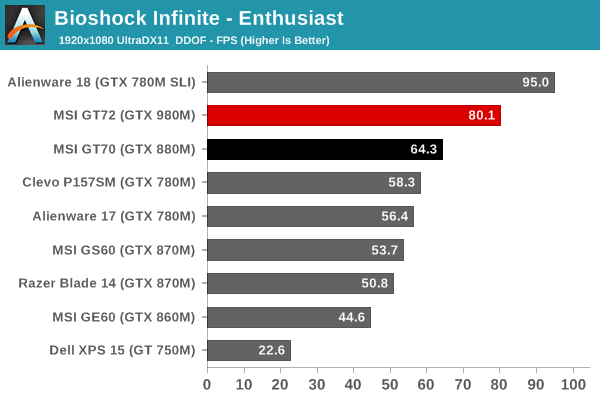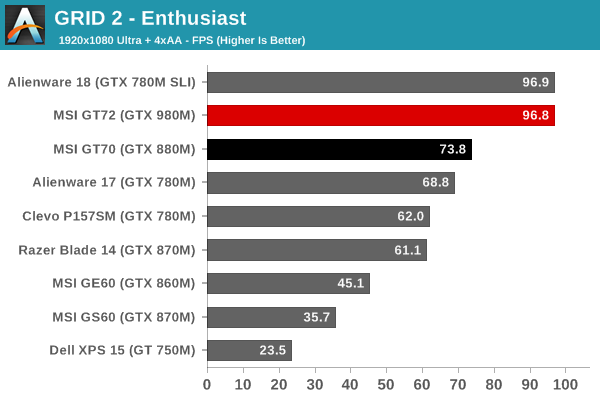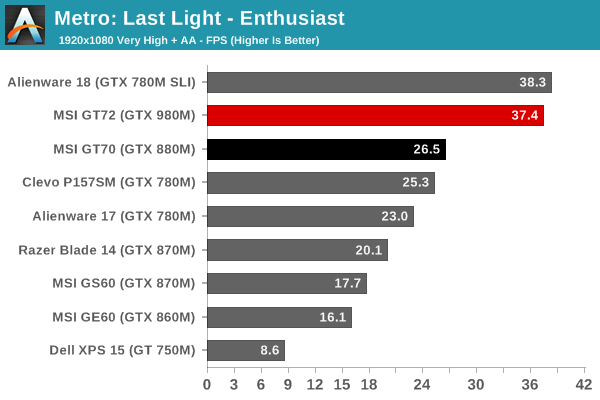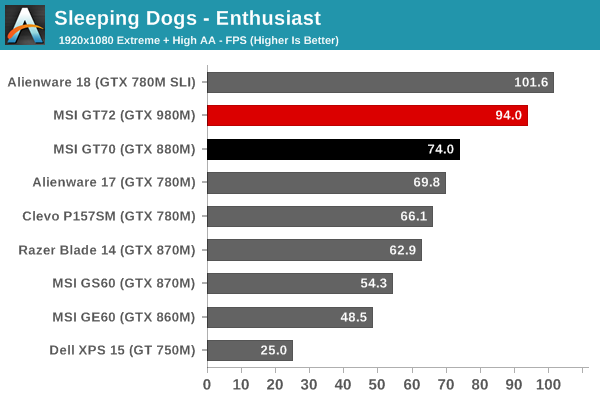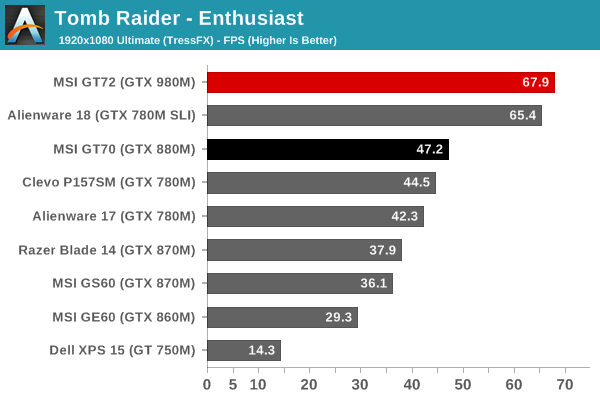 Our current suite of gaming tests for notebooks consists of just five titles, but I've run benchmarks on quite a few other games just for good measure. Metro: Last Light is the one game where the GTX 980M struggles at times, but it still manages to break 30FPS, which is the first time we've had a notebook with a single GPU accomplish that feat. There are other games where performance also struggles, but generally it's with games that use SSAA, and if you turn off SSAA performance is usually much higher.
A noteworthy point of comparison is the Alienware 18, which has SLI 780M. While it's technically faster in most of the games, the single GTX 980M often comes dangerously close, and in at least one title it actually scores a win. In fact, the only game where the SLI configuration proved to be noticeably faster is BioShock Infinite, and considering we're well above 60FPS with maxed out settings the only reason you'd need SLI for BioShock is if you were using a higher resolution external LCD.
To help put performance of NVIDIA's latest GPUs in perspective, I've run a larger collection of 15 gaming benchmarks on the GT72 and GTX 980M. I've also run the same tests on the GT70, GS60, and GE60. Using maximum quality settings at 1080p, here's what the performance breakdown looks like: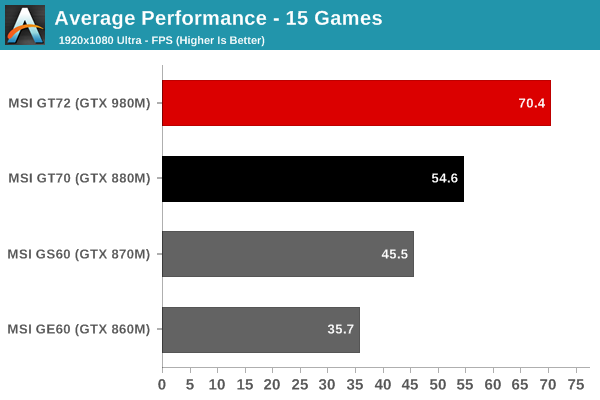 Some games easily break 60FPS and others are closer to 30FPS, but none of the games I tested had average frame rates fall below 30FPS on the GT72 and the average FPS sits at 70. In comparison, the previous generation GT70 with GTX 880M – and it has the benefit of a slightly faster CPU – averages 55 FPS, so the GTX 980M ends up being nearly 30% faster on average. The GTX 870M comes in at 46 FPS while the GTX 860M comes in at just 36 FPS, so all told the GTX 980M is a solid doubling of performance from the GTX 860M. Perhaps more telling is that the GTX 860M falls below 30FPS average in half of the games I tested (though dropping AA and reducing the graphical detail to High is usually enough to get it back above 30).
Simply put, if you're looking for a gaming notebook that can run everything currently out there at maximum (or nearly maximum) quality without the need to pack around a 12 pound behemoth like the various SLI notebooks, the GT72 – and more importantly the GTX 980M – is the first notebook we've tested in quite some time that meets that requirement. It's a gamers dream notebook, with performance that's typically equal to (and perhaps a bit faster than) the desktop GTX 770. While that's no longer the fastest desktop GPU, it's still more than sufficient for most users, especially for 1080p gaming.