GPU Performance
Following along the same lines, we can also take a look at the GPU performance of Tegra13x in the Nexus 9. This really shouldn't change too much though as the same GPU is used at the same maximum clock speed of 852 MHz. For those that are unfamiliar with the GPU in the Tegra K1, this is effectively a scaled-down version of their desktop Kepler GPUs.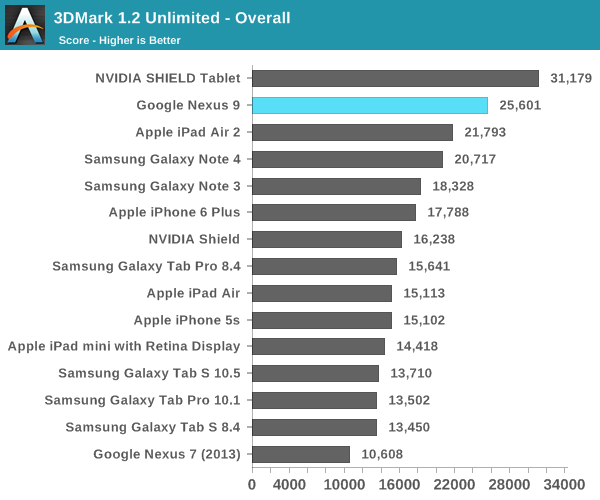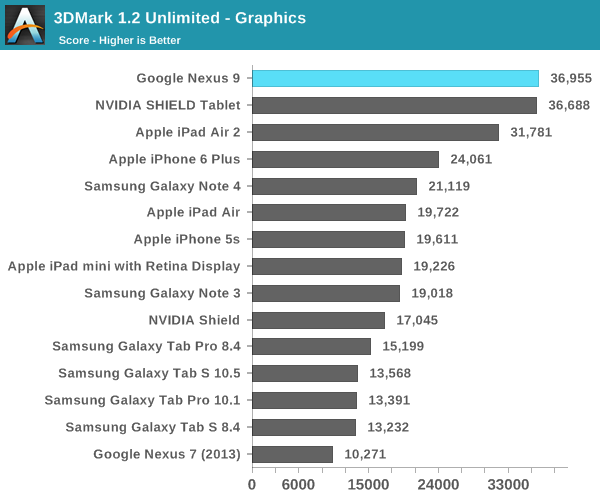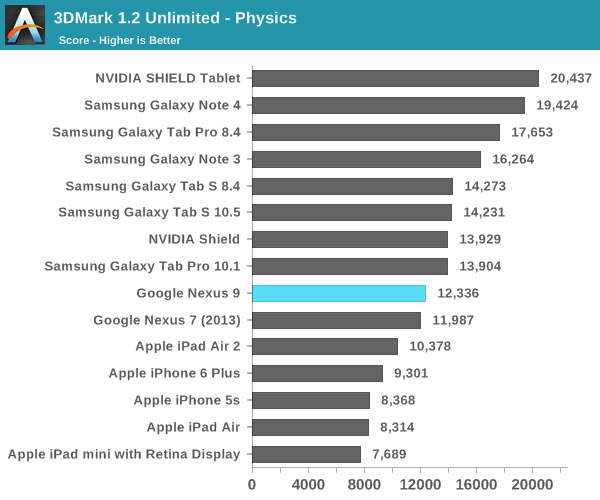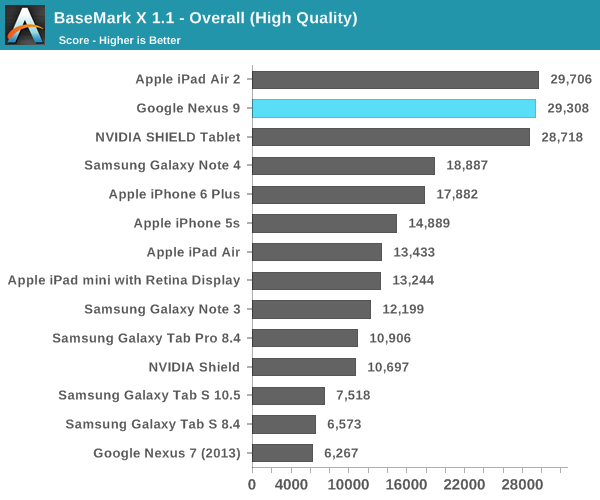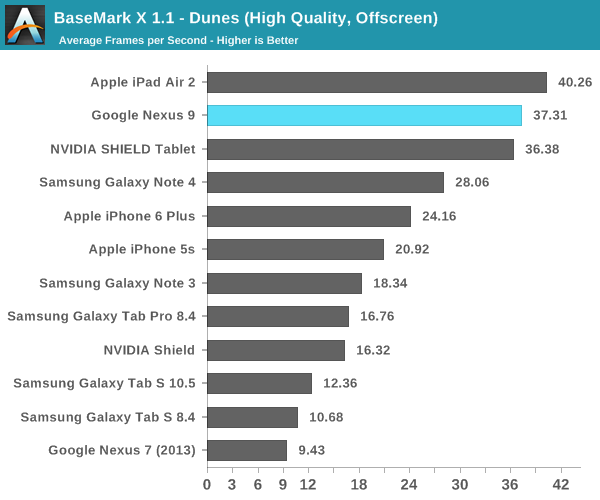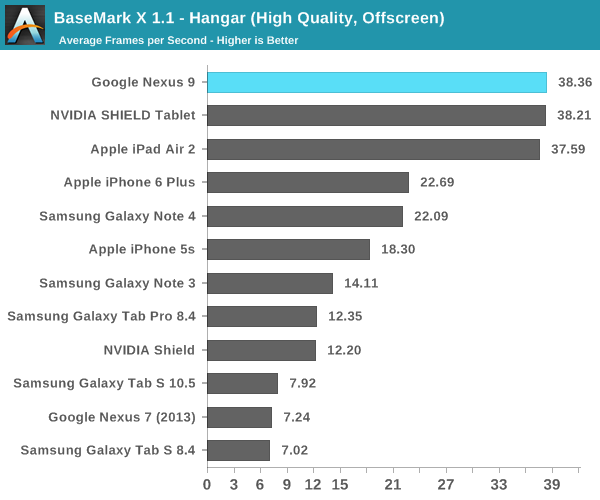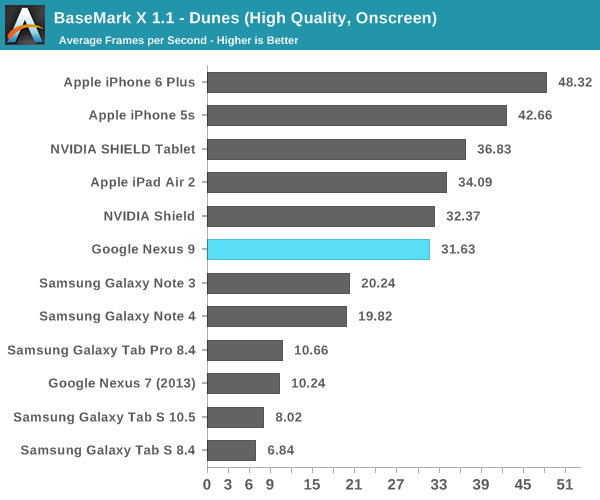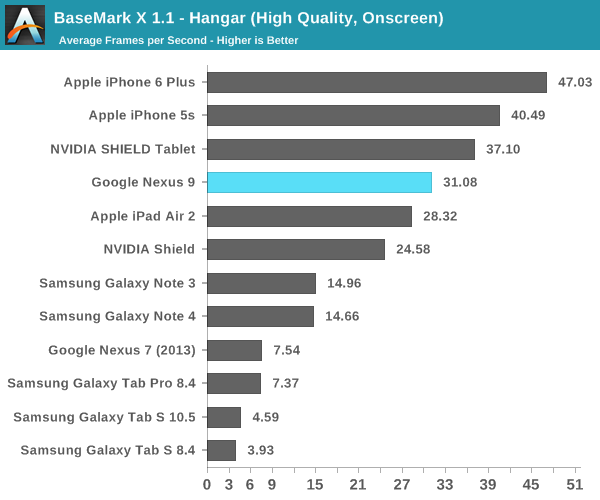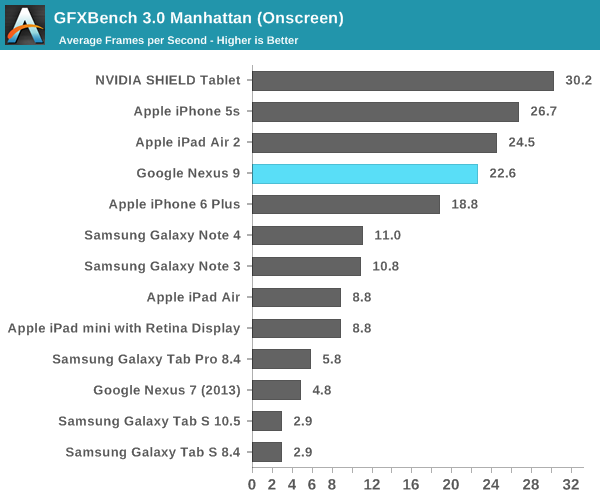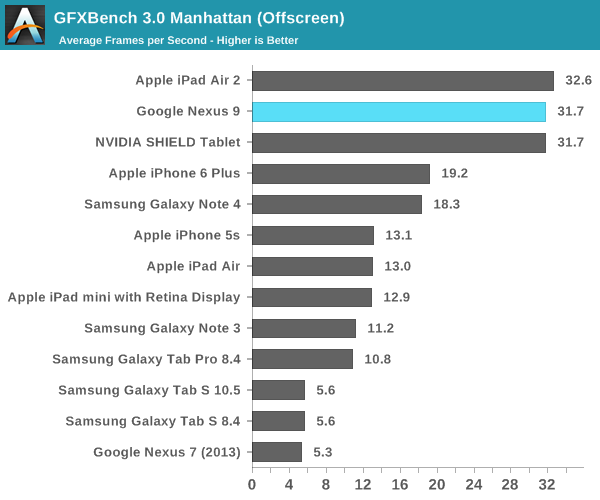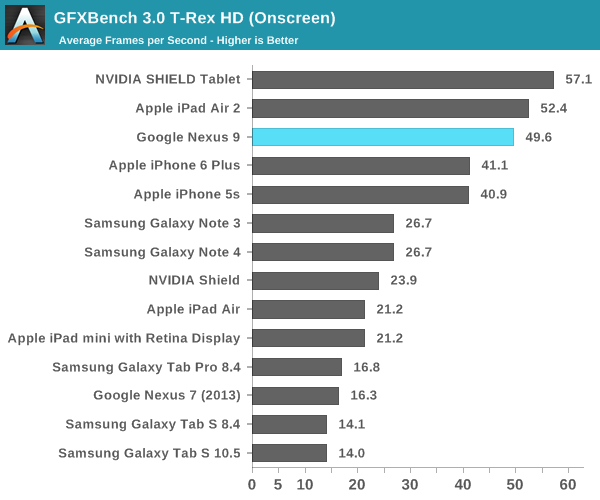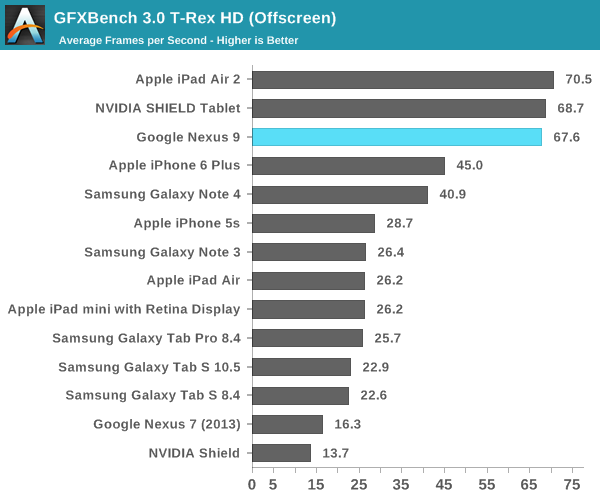 As one can see, the Nexus 9 is effectively equivalent to the SHIELD Tablet in GPU performance. The one anomaly here is 3DMark, which seems to be mostly due to differences in CPU. It's likely that this isn't representative of performance though, as 3DMark's physics test seems to perform better on CPU configurations that rely on larger numbers of cores and higher clock speeds. In the purer GPU tests like Basemark X and GFXBench performance across the board is effectively identical to the Cortex A15 variant of the Tegra K1.
Initial Conclusions
For the most part, the Nexus 9 shows some level of promise as a tablet. While Denver in NVIDIA's Tegra K1 is a bit bimodal in performance, with sufficient optimization it has immense promise from a sheer performance aspect. While the SoC alone makes the Nexus 9 a fascinating device to look at, the rest of the package has a great deal of potential. The minimalistic design of the device, combined with good material design and stereo front-facing speakers really shows the high-end aspirations of this tablet. While we haven't received anything in the way of accessories, the keyboard folio case seems to be a way of pushing the tablet formfactor in a new direction. This is especially evident when seeing the focus on previous Nexus tablets which seemed to assume touch-only input.
While only a first look, there's definitely a lot to be impressed by here. However, it will take a full review to really determine whether the Nexus 9 can compete with the iPad Air 2 as a tablet is more than just a function of battery life and SoC performance. In addition, it's hard to draw any real conclusions about this tablet quite yet as the software we received in no way represents a shipping build. Even if inactive, loggers and debug tools generally reduce performance, and it's likely that a great deal of optimization has occurred in the two months since this software build was completed. Once again, we haven't been able to get a newer build, but the full review should be done with shipping firmware.