Company of Heroes 2
Our second benchmark in our benchmark suite is Relic Games' Company of Heroes 2, the developer's World War II Eastern Front themed RTS. For Company of Heroes 2 Relic was kind enough to put together a very strenuous built-in benchmark that was captured from one of the most demanding, snow-bound maps in the game, giving us a great look at CoH2's performance at its worst. Consequently if a card can do well here then it should have no trouble throughout the rest of the game.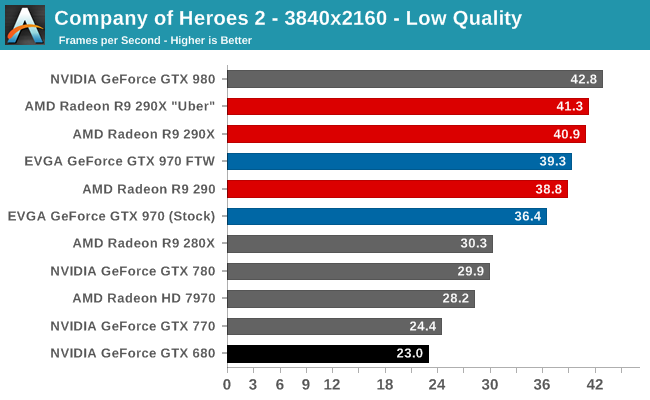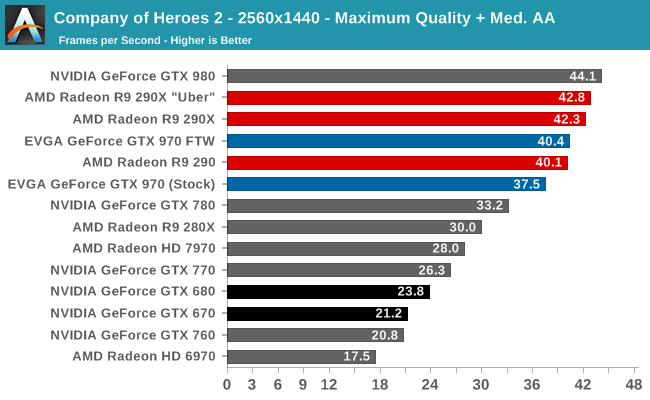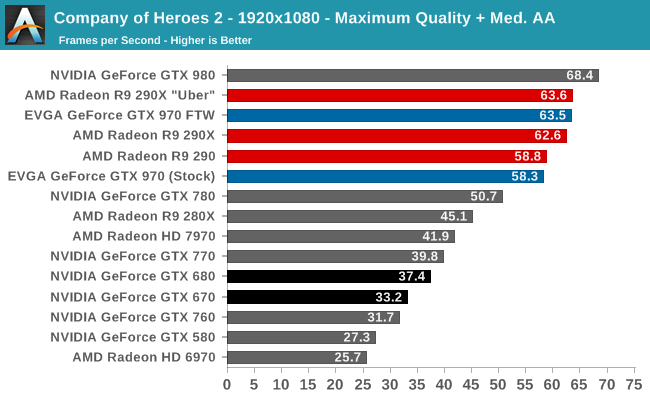 Company of Heroes 2 was one of the only games that the GTX 980 didn't take a significant lead in, and consequently it's one of the few games that GTX 970 will lose by a significant margin. With the exception of 1080p the stock GTX 970 can't keep pace with the R9 290, let alone the R9 290XU. Overall NVIDIA's second-tier card will trail the AMD flagship by 12%, which in the grand scheme of things is still going to be much narrower than the price difference.
In this case Company of Heroes 2 seems especially fond of shader performance. So the GTX 970 drops off by a bit more than in most other games, coming in at just 85% of the performance of GTX 980.
With AMD already doing well on minimum framerates against the GTX 980, against the GTX 970 NVIDIA ends up further behind. When push comes to shove in this game's hardest scenes, the GTX 970 buckles a bit more than the competition.