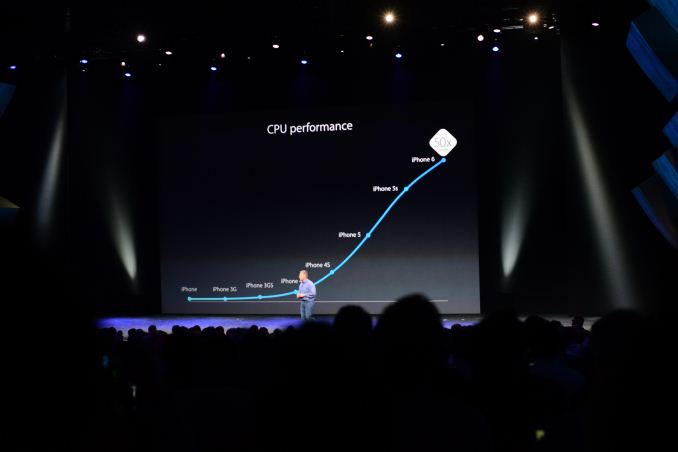 As expected from this year's iPhone keynote, Apple has announced a new member of their internally developed family of ARM SoCs.
The latest SoC, dubbed A8, is Apple's first SoC built on the 20nm process, and among the first SoCs overall to be built on this process. Apple notes that it has 2 billion transistors and is 13% smaller than the A7, which would give it upwards of twice as many transistors as the A7 and would put the die size at about 89mm2.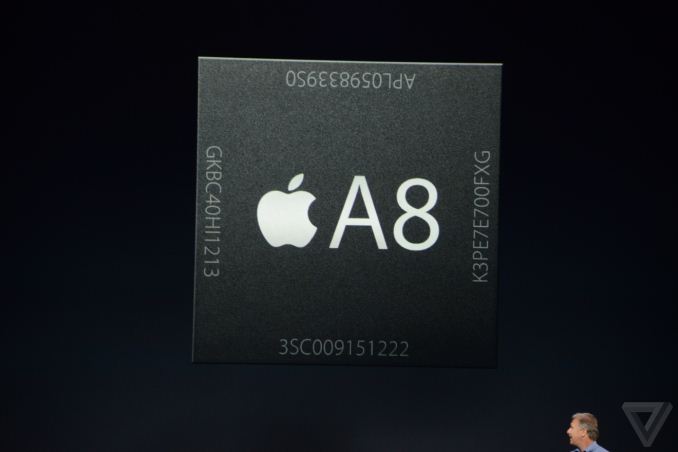 Image courtesy The Verge
From a performance perspective Apple is promising 25% faster CPU performance than A7. As is usually the case with Apple, they aren't talking about the underlying CPU core – though this is a problem we're working to rectify – so it remains to be seen how much of this is due to CPU architectural upgrades and how much is from clockspeed improvements afforded by the 20nm process. Apple just introduced their 64bit Cyclone core last year, so it stands to reason that just a year later and with the transition to 64bit already completed, A8 packs a CPU that is similar to Cyclone.
Apple SoC Evolution
CPU Perf
GPU Perf
Die Size
Transistors
Process
A5
~13x
~20x
122m2
<1B
45nm
A6
~26x
~34x
97mm2
<1B
32nm
A7
40x
56x
102mm2
>1B
28nm
A8
50x
84x
89mm2
~2B
20nm
Meanwhile Apple is being even less specific about the GPU, but from their published baseline performance comparisons against the iPhone 1, the A8 is said to be 84x faster on graphics. This compares to a published figure of 56x for the A7, which implies that the A8's GPU is 1.5x faster than the A7's. Given Apple's conservative stance on clockspeeds for power purposes and the die space gains from the 20nm process, it seems likely that Apple has upgraded from a 4 core PowerVR GPU to a 6 core PowerVR GPU, likely the flagship GX6650, which would account for the 50% performance gain right there.
Finally, Apple notes that the A8 is designed to be 50% more energy efficient than the A7. Some of these efficiency gains would come from gains due the 20nm process, however this large of a gain would indicate that Apple has done additional work at the architectural level to improve efficiency, as smaller manufacturing nodes alone do not see these kinds of gains.
Update: We have posted our initial A8 analysis here