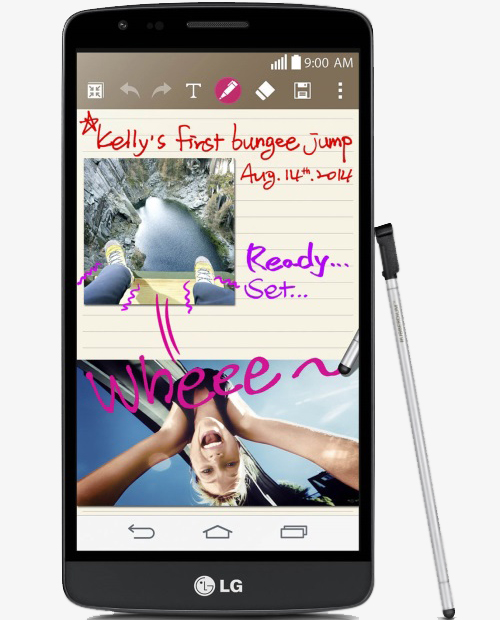 The IFA trade show is scheduled to take place a couple of weeks from now, but LG is already giving details about their upcoming LG G3 Stylus ahead of the event. The G3 Stylus joins the original G3, the G3 Beat, and the G Vista in LG's lineup of similarly named devices for 2014. LG is only releasing limited information but we've put together all the specifications that they have detailed in a chart below. LG will be displaying the device at IFA with more detailed information about its specifications and details about pricing.
LG G3 Stylus
SoC
Unknown 1.3GHz Quad Core
Memory and Storage
8GB NAND + MicroSD, 1GB RAM
Display
5.5" 960x540 IPS LCD
Dimensions
149.3 x 75.9 x 10.2mm, 163g
Camera
13 MP Rear Facing, 1.2MP Front Facing
Battery
Removable 3000 mAh (11.4Whr)
Network
3G
Operating System
Android 4.4.2 KitKat
As you can see, it's not the most comprehensive specification sheet. Based on the display resolution and amount of RAM and NAND, this looks to be a fairly mid-range device. The display resolution may be problematic at that screen size, as 960x540 at 5.5" amounts to a pixel density of only 200ppi. A smaller display may have been preferable for sharpness, but LG is likely trying to find a balance to maintain stylus usability,
The size and mass of the device are both slightly greater than the LG G3. Despite being the same display size and battery capacity, the price point and the addition of the stylus necessitates changes to the device's chassis.
The G3 Stylus will be launched in Brazil in September, with other countries in Africa, Asia, and the Middle East to follow afterward. Pricing is currently unknown, and LG gave no details about a possible US launch, but there will definitely be more information about the G3 Stylus at IFA.
Source: LG Newsroom