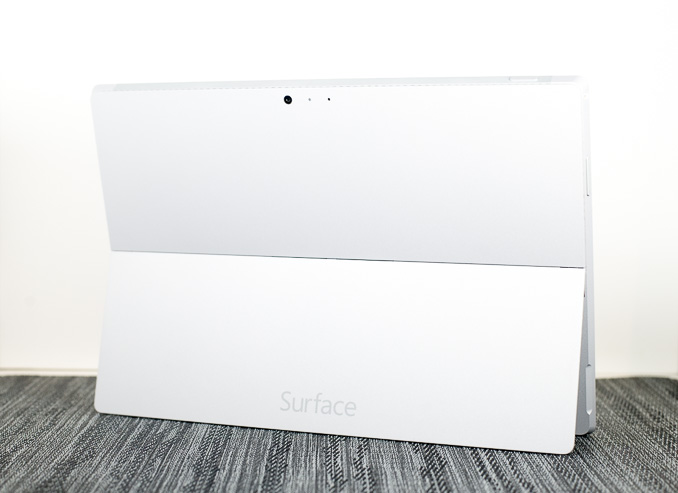 A couple of weeks ago I offered a brief performance preview of the $799 entry level Surface Pro 3 with an Intel Core i3-4020Y. The performance hit in going down to the $799 model is significant but compared to an upgraded ARM tablet you do get substantially more functionality/performance. The big unknown at the time was battery life. Going down to a Y-series part comes with a reduction in TDP (15W down to 11.5W), which could have power implications.
I spent the past week running and re-running battery life tests on the Core i3 model of the Surface Pro 3. For the most part, battery life hasn't changed. As you'll see from our laptop results, the Core i3 Surface Pro 3's battery life shows a slight regression compared to our Core i5 results but not significantly so: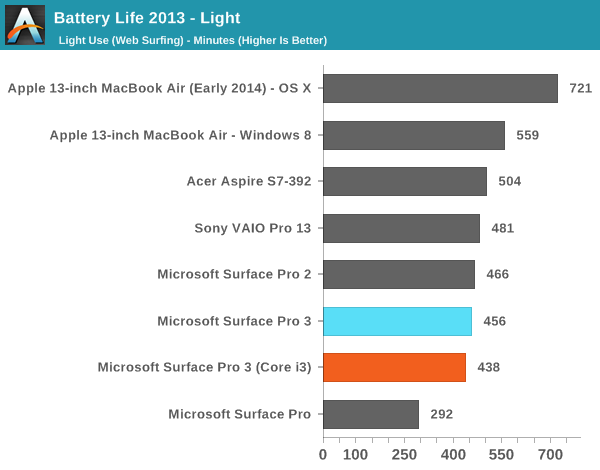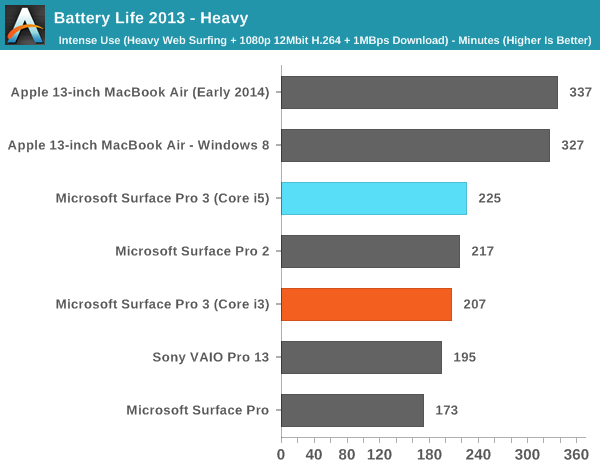 Although our laptop tests didn't show any gains, our tablet workload showed a substantial increase in battery life for the Core i3 version vs. the Core i5 Surface Pro 3: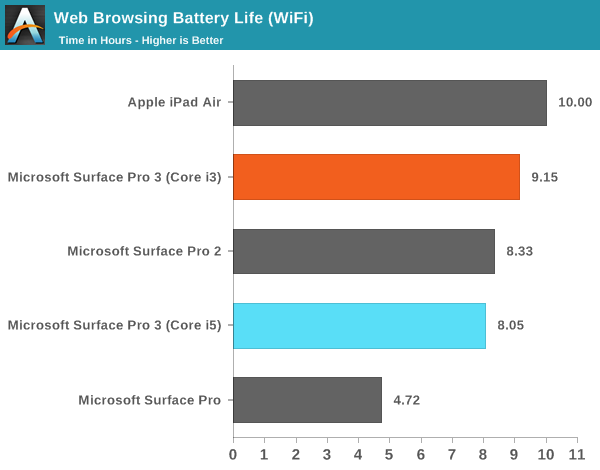 An 11% increase in battery life is likely due to the lower power binned Y-series Haswell ULx part. It's interesting to me that the gains are exclusively in our lightest workload and don't appear to be present under any of the more active workloads. The decrease in TDP would imply a reduction in peak active power consumption but perhaps that's more a function of the reduced clocks. What we see at lighter/more idle workloads is a reduction in leakage thanks to the Y-series part.
I still feel like the best overall balance of battery life, storage, performance and price is going to be a Surface Pro 3 equipped with a Core i5. I think where the $799 Core i3 makes sense is if you're budget limited and left with the choice between a 64GB ARM based tablet or the entry level Surface Pro 3. The problem is typically users who stretch their budget to get a 64GB ARM based tablet want the storage space, which is something you sacrifice when you move to a 64GB Windows 8.1 device (roughly 21GB free on a new install). I don't see the $799 Surface Pro 3 necessarily catering to the same market as a high end ARM device, but I think the entry level SP3 does embody Microsoft's mission better than any of the more expensive configurations. There's very little cross shopping between a $499 ARM based tablet and a $1200+ Surface Pro 3, but the entry level SP3 can serve as an in-between device if you want some of both worlds.