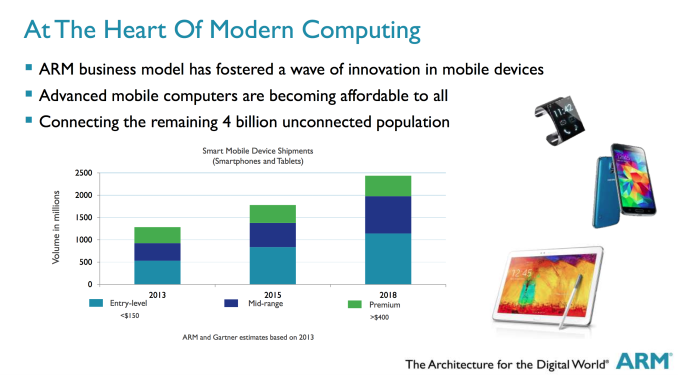 When we first started covering mobile, nearly every silicon vendor I spoke with issued the same statement: eventually, all phones are smartphones. Continued scaling on process technology, combined continued development of small/power efficient CPU cores, will ensure that even the lowest cost mobile devices will be smartphones.
At its second ever Tech Day, ARM shared some data about how the smartphone market is evolving. We often mention that the growth in the smartphone industry will shift from high-end devices to mid-range and entry level devices. The graph above shows just that. By 2018 ARM expects over a billion entry level (< $150) smartphone shipments per year, around 2x what it is today.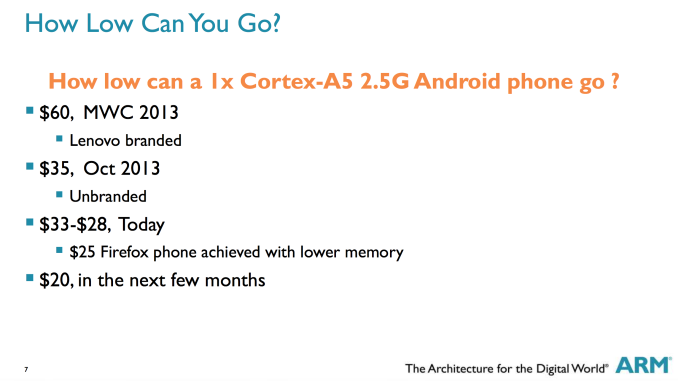 Two factors will drive entry level shipments: the performance of entry-level devices, and their overall cost. ARM believes the floor for an entry level smartphone running Android (today with a single-core Cortex A5 based SoC) is $20, and that we'll see the first devices on sale at that price point in the next few months. Manufacturing limits will likely prevent cost scaling below $20. Keep in mind that a single Cortex A5 is faster than the ARM11 in the original iPhone, which retailed for $599 in 2007.