Single Client Performance - CIFS and iSCSI on Windows
The single client CIFS performance of the WD My Cloud EX2 was evaluated on the Windows platforms using Intel NASPT and our standard robocopy benchmark. This was run from one of the virtual machines in our NAS testbed. All data for the robocopy benchmark on the client side was put in a RAM disk (created using OSFMount) to ensure that the client's storage system shortcomings wouldn't affect the benchmark results.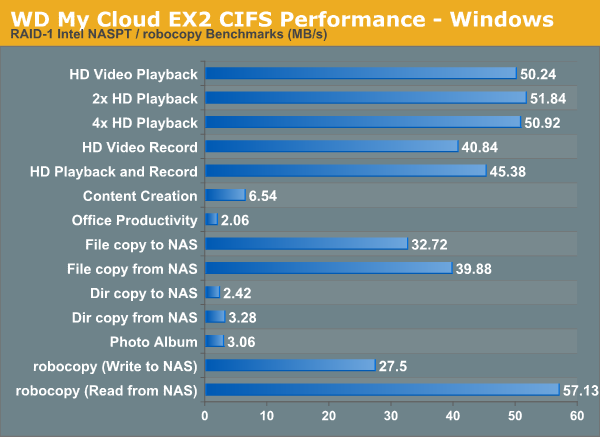 We created a 250 GB iSCSI target and mapped it on the Windows VM. The same benchmarks were run and the results are presented below.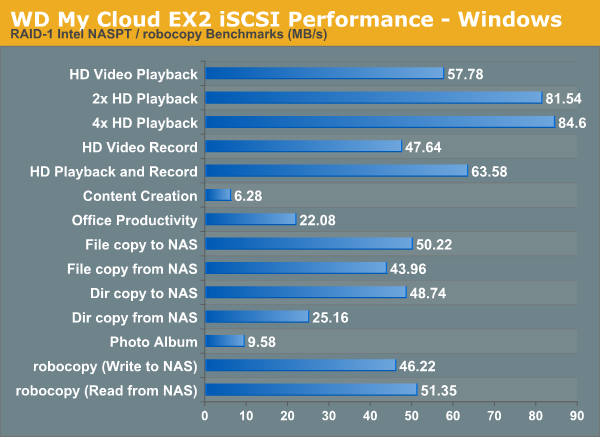 Encryption Support Evaluation:
Consumers looking for encryption capabilities can opt to encrypt a iSCSI share with TrueCrypt or some in-built encryption mechanism in the client OS. However, if requirements dictate that the data must be shared across multiple users / computers, relying on encryption in the NAS is the best way to move forward. Most NAS vendors use the industry-standard 256-bit AES encryption algorithm. One approach is to encrypt only a particular shared folder while the other approach is to encrypt the full volume. Some NAS vendors have support for both approaches in their firmware, but Western Digital only opts for the latter.
On the hardware side, encryption support can be in the form of specialized hardware blocks in the SoC (common in ARM / PowerPC based NAS units). The ARMADA 370 has a 1 Gbps security engine which should accelerate AES operations, but the benchmark numbers below don't point to the utilization of any available hardware acceleration. We enabled encryption on a volume and created a CIFS share to repeat our Intel NASPT / robocopy benchmarks. The results are presented in the graph below (with the unencrypted volume numbers for comparison purposes).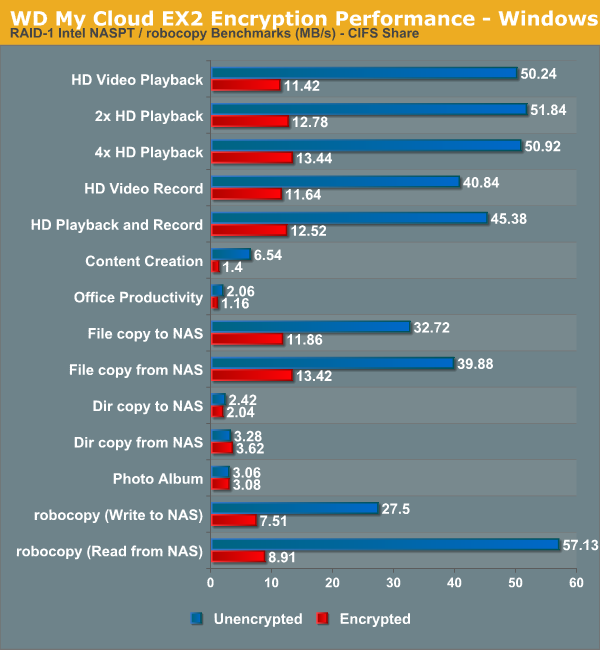 Encryption carries a very big performance penalty (about 5x slower, which is much more than what we saw for the EX4). It looks like there is some scope for improvement in this aspect, particularly if the current firmware is not taking advantage of the security engine in the SoC.