SAP S&D Benchmark
The SAP SD (Sales and Distribution, 2-Tier Internet Configuration) benchmark is an interesting benchmark as it is a real-world client-server application. It is one of those rare industry benchmarks that actually means something to the real IT professionals. Even better, the SAP ERP software is a prime example of where these Xeon E7 v2 chips will be used. We looked at SAP's benchmark database for these results.
Most of the results below all run on Windows 2008/2012 and MS SQL Server (both 64-bit). Every 2-Tier Sales & Distribution benchmark was performed with SAP's latest ERP 6 Enhancement Package 4. These results are not comparable with any benchmark performed before 2009. We analyzed the SAP Benchmark in-depth in one of our earlier articles. The profile of the benchmark has remained the same:
Very parallel resulting in excellent scaling
Low to medium IPC, mostly due to "branchy" code
Somewhat limited by memory bandwidth
Likes large caches (memory latency)
Very sensitive to sync ("cache coherency") latency
Let's see how the quad Xeon compares to the previous Intel generation, the cheaper dual socket systems, and the RISC competition.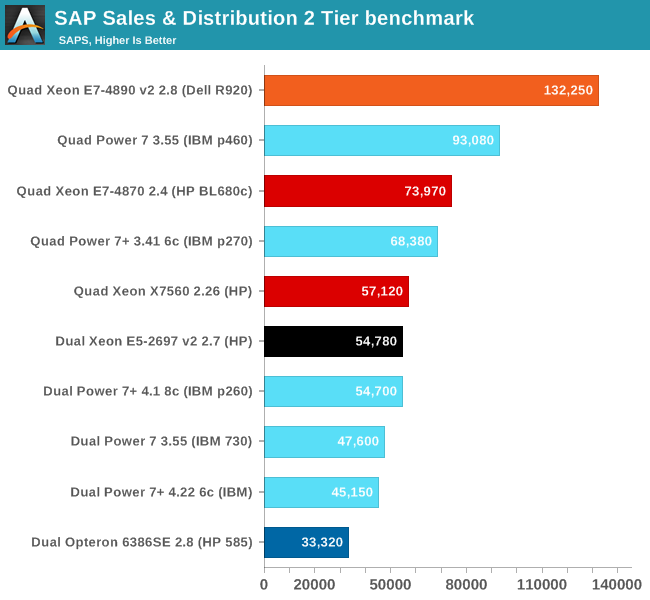 The new Xeon E7 v2 is no less than 80% faster than its predecessor. The nearest RISC competitor (IBM Power 7 3.55) is a lot more expensive and delivers only 70% of the performance. We have little doubt that the performance/watt ratio of the Xeon E7 v2 is a lot better too.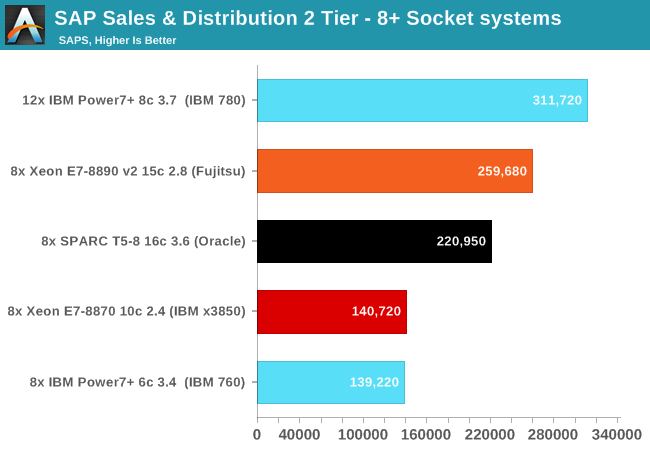 Intel delivers a serious blow to the RISC competition. For about 11 months, the Oracle SPARC T5-8 delivered the highest SAPS of all octal-socket machines. This insanely expensive machine, which keeps 1024 threads in flight (but executes 256 of them) is now beaten by the Fujitsu PRIMEQUEST 2800E. The 240 thread octal Xeon E7-8890 v2 outperforms the former champion of Oracle by about 18%. The SPARC comeback is still remarkable, although we are pretty sure that the Fujitsu server will be less expensive. Even better is you do not have to pay the Oracle support costs.