Loading the Server
The server first gets a few warm-up runs and then we start measuring during a period of about 1000 seconds. The blue lines represent the measurements done with the Xeon E5-2650L, the orange/red lines represent the Xeon E5-2697 v2. We test with three settings:
No heating. Inlet temperature is about 20-21°C, regulated by the CRAC
Moderate heating. We regulate until the inlet temperature is about 35°C
Heavy heating. We regulate until the inlet temperature is about 40°C
First we start with a stress test: what kind of CPU load do we attain? Our objective is to be able to test a realistic load for a virtualized host between 20 and 80% CPU load. Peaks above 80% are acceptable but long periods of 100% CPU load are not.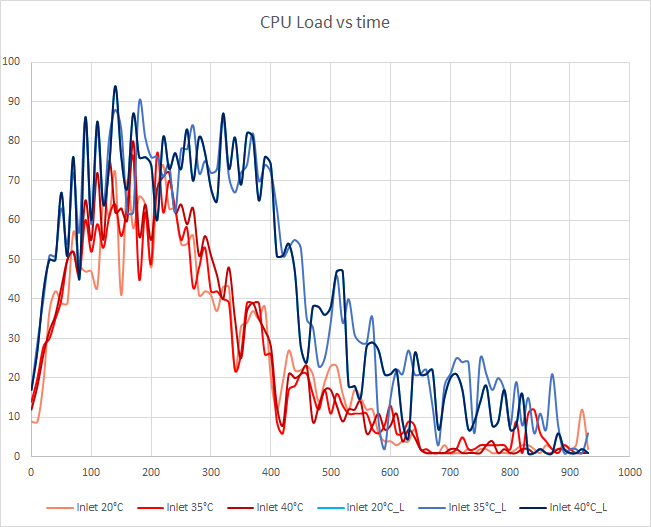 There are some small variations between the different tests, but the load curve is very similar on the same CPU. The 2.4GHz 12-core Xeon E5-2697 v2 has a CPU load between 1% and 78%. During peak load, the load is between 40% and 80%.
The 8-core 1.8GHz Xeon E5-2650L is not as powerful and has a peak load of 50% to 94%. Let's check out the temperatures. The challenge is to keep the CPU temperature below the specified Tcase.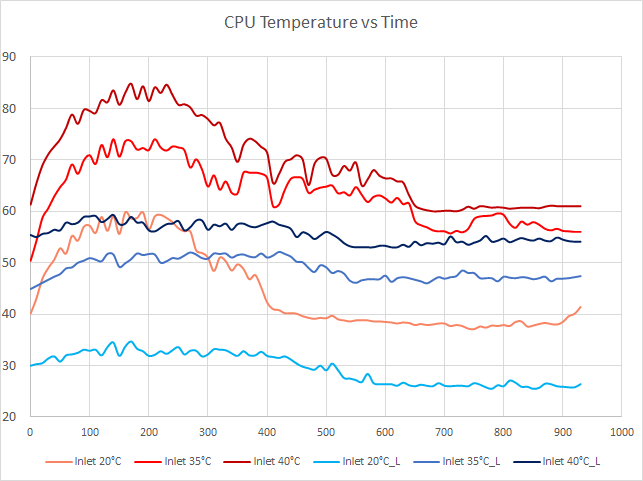 The low power Xeon stays well below the specified Tcase. Despite the fact that it starts at 55°C when the inlet is set to 40°C, the CPU never reaches 60°C.
The results on our 12-core monster are a different matter. With an inlet temperature up to 35°C, the server is capable of keeping the CPU below 75°C (see red line). When we increase the inlet temperature to 40°C, the CPU starts at 61°C and quickly rises to 80°C. Peaks of 85°C are measured, which is very close to the specified 86°C maximum temperature. Those values are acceptable, but at first sight it seems that there is little headroom left.
The most extreme case would be to fill up all disk bays and DIMM slots and to set inlet temperature to 45°C. Our heating element is not capable of sustaining an inlet of 45°C, but we can get an idea of what would happen by measuring how hard the fans are spinning.