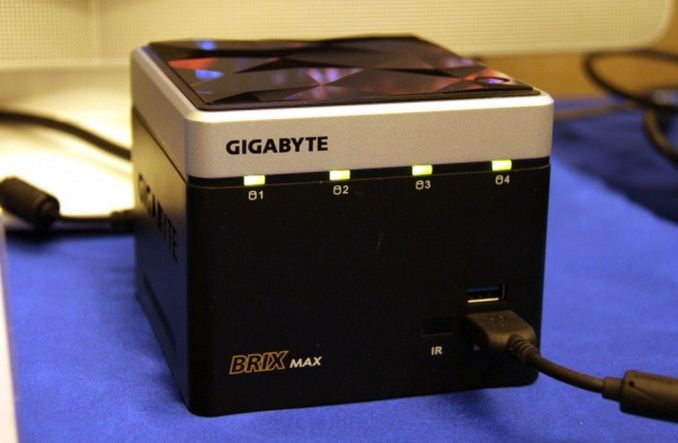 GIGABYTE is attacking the NUC sized form factor with seemingly every idea on the market. This is a good thing in a market that loves innovation. We have seen the original BRIX, BRIX 2 updated with newer processors, and Ganesh published part one of this BRIX Pro review earlier this week, part two coming shortly. So while I am not at CES, I have been monitoring the airwaves for information and one of the units that stood out is the BRIX MAX, a Haswell based BRIX running Android aimed at being a NAS Server for the home.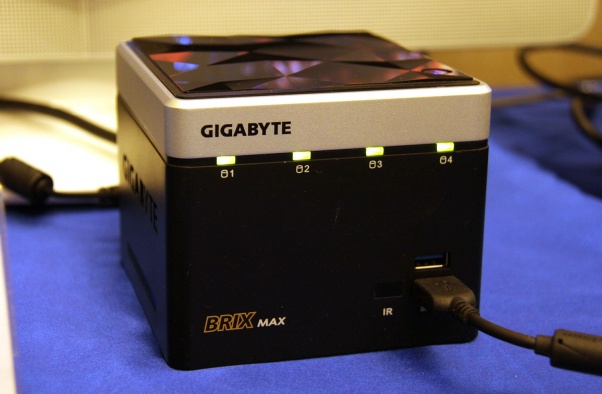 Image courtesy of PC Perspective
The BRIX MAX is a large BRIX, with space adjustable for four 2.5" drives. Colin from GIGABYTE stated that the BRIX can enable four 1TB drives, although 2.5" drives now come in 2TB versions, so I would be interested if it can fit the larger size drives. Reports vary on what CPUs are going to be available inside, but GIGABYTE is saying they will come equipped with IRIS Pro graphics solutions. Interestingly enough, the chipset is also a discussion here, as in order for GIGABYTE to fit four drives in they would have to be using either SATA ports on board or a backplane to fit the drives into, similar to what some chassis do.
From other images we can see an IR receiver on the front, gigabit Ethernet and HDMI on the back, as well as a variety of USB ports. The fact that GIGABYTE are quoting Iris Pro graphics means that the system seems overly powerful for what it needs to do, which can suggest many things: users can install another OS and use the device as a normal PC, users can use the BRIX to transcode if needed, there is scope for HTPC duties and so on. Along with Ethernet, the unit is quoted as supporting 802.11n, although I might imagine that could be bumped up to dual band 802.11ac by the time it hits the market.
GIGABYTE is using this initial demo model at CES to gauge the reaction of media and of readers alike, and are welcome to suggestions/opinions and requirements that any AnandTech readers have. I know Ganesh mentioned something about making the drives hot-swappable would be good, which I can see the point of! Personally I would make sure that it is able to fit the slightly taller 2TB 2.5" drives, and RAID 5 and 6 should be standard options in my opinion. Perhaps an eSATA with port multiplication should be here as well. GIGABYTE would love to hear your comments!