The presence of the Core i7-4770R in such a small form factor / chassis left us worried initially. We were wondering whether the unit would be able to properly cool down a 65W TDP processor within those constraints. Due to the size of the system, the fan had to be pretty small and rotate at high speeds for effective cooling. With a maximum speed of 4090 rpm, the sound from the unit was similar to what one would expect in a mini-server room (matching the noise from the Netgear GSM 7352S that we have running in our NAS testbed). While running various benchmarks, the speed topped out around 3900 rpm.
To stress the unit to the maximum, we unleashed our Prime 95 + FurMark stress test and recorded the following numbers.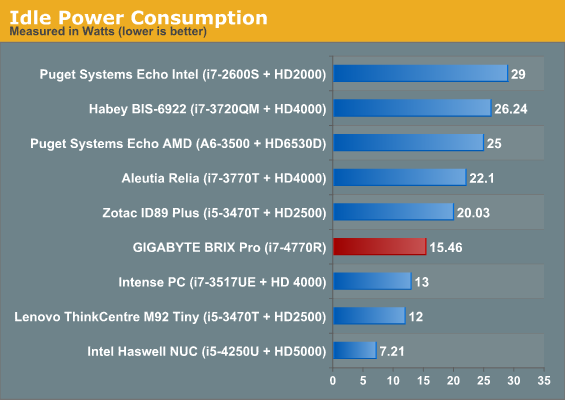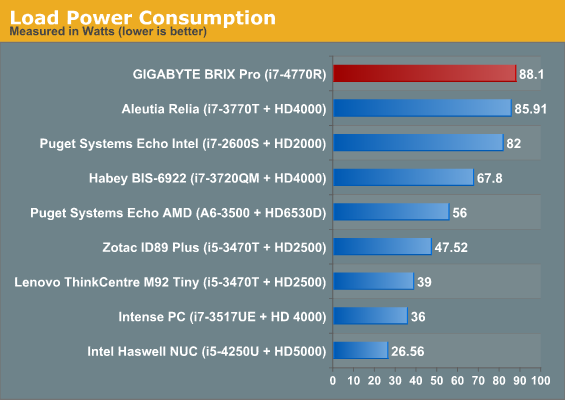 At the outset, the idle numbers are impressive for a system with a 65W TDP desktop processor. Note that this is not a ULV CPU like what we had in the Intel NUC. The load numbers indicate a maximum power consumption of approximately 88W. I did see the instantaneous power consumption shoot up to 92 - 93W initially and attributed this to the Core i7-4770R's turbo mode (where the CPU clock can go up to as high as 3.9 GHz compared to the nominal 3.2 GHz). A look at the temperatures and HWiNFO throttling information, however, confirmed what we had feared.
The unit does seem to throttle under full load of both the CPU and GPU (an unrealistic workload, admittedly, but one which some of the other systems we have evaluated have passed with flying colours). Now, the results that we obtained for the four passes of our x264 benchmark run were pretty consistent. It might turn out that normal workloads don't trigger the throttling and it is something we hope to evaluate further down the road.