I have mentioned this before in our recent memory review list, but it is worth mentioning: reviews are often just snapshots in time, and when price is such a major factor with regards to memory, if a kit happens to have a heavy discount at the time, it can impact the review conclusion. Memory can be a null point in a motherboard: stick in the cheapest 1866 C9/C10 kit you can find, enable XMP and away you go with no afterthought. More expensive kits do not always equal performance, and as our benchmarks go, higher specification kits might also have little affect (expect BF4 testing, where initial reports say it is relevant and I will add in our 2014 testbed update).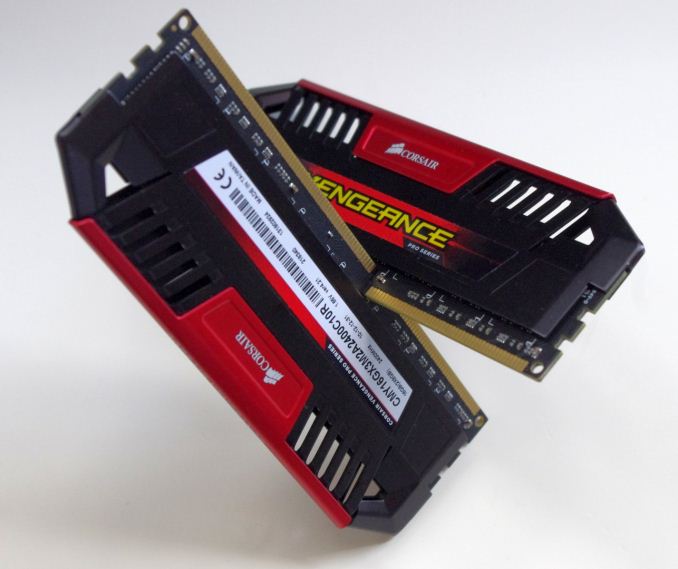 The problem Corsair has with this nice looking Vengeance Pro kit is twofold: at 2400 C10, there are very few gains over a slower 1866 C9 memory kit to be hand in terms of real world benchmarks. You can throw as many synthetic benchmarks at me as you like, I personally do not care – they do not show any direct real world benefit and are utterly pointless for memory reviews. The other problem is the price. Compared to other DDR3-2400 C10 2x8GB 1.65V memory kits:
$150: Team Xtreem LV DDR3-2400 C10 2x8GB 1.65V (on offer)
$175: G.Skill TridentX DDR3-2400 C10 2x8GB 1.65V
$177: Avexir Core ASUS Z87 DDR3-2400 C10 2x8GB 1.65V
$177: Avexir Core MSI Gaming DDR3-2400 C10 2x8GB 1.65V
$177: Avexir Core MSI OC DDR3-2400 C10 2x8GB 1.65V
$230: Corsair Vengeance Pro DDR3-2400 C10 2x8GB 1.65V
$280: Corsair Dominator Platinum DDR3-2400 C10 2x8GB 1.65V
Any reasonable gamer is going to jump on the cheaper memory kit (saving either $80 for the on offer kit or $55 for the next one down) and boost a GPU a grade or spend more on CPU cooling. While there is some amount of overclocking headroom in our sample, the loose XMP tRFC and tRC timings might be cause for concern as well. Ultimately Corsair need to price this kit around the $170-$180 mark to be in with a shout of selling volume to users building their own systems.