Battery Life
Thanks to the mini's integrated 23.8Wh battery (and the low idle power of the 28nm A7), the Retina Display's power consumption is more than offset. Battery life in all of our tests is at worst unchanged from the mini, but at best we're talking about a 21% increase.
Our web browsing test shows a 10% improvement compared to the original iPad mini. The new mini with Retina Display can even last longer than a 4th generation iPad, and it's hot on the heels of the iPad Air (I'll be updating this section with LTE and LTE hotspot results).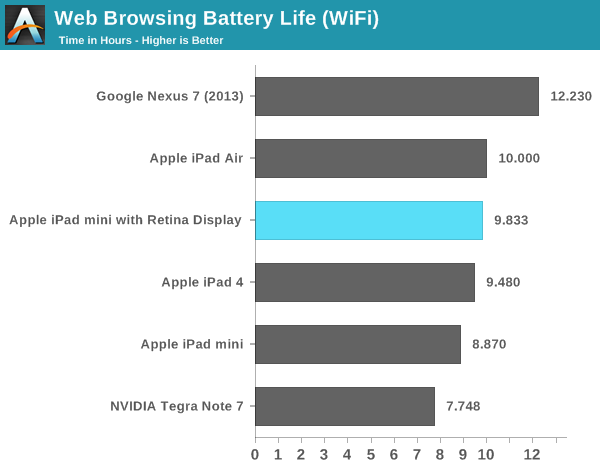 Video playback is where we see the biggest improvement compared to the original mini. Here the new iPad mini lasts 21% longer on a single charge, once again outlasting even the iPad 4. The iPad Air doesn't offer any appreciable gain in battery life over the Retina mini.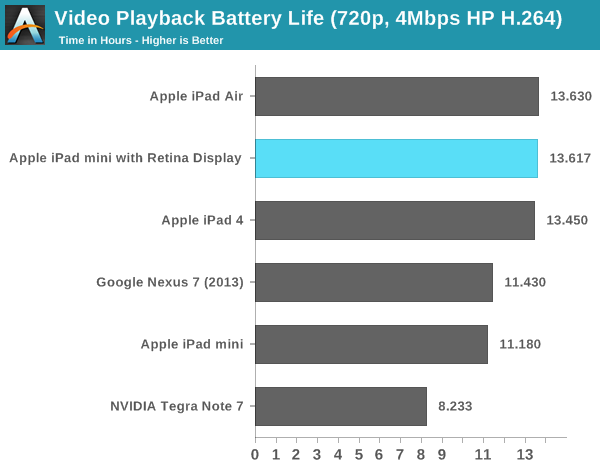 Our 3D battery life test is the only one where the old mini manages to beat the new Retina model. With a 1.31% margin of victory though, it's pretty safe to say that for current 3D gaming workloads you'll see similar battery life out of the Retina mini as the old model. This is also the only test where the iPad Air delivers better battery life on a single charge (~11%).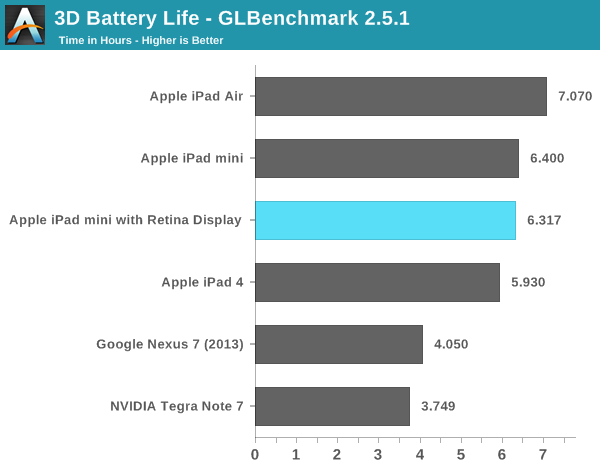 Apple ships the Retina mini with a 10W USB charger and lightning cable. This appears to be the same charger as what shipped with the 3rd generation iPad (but obviously with a different cable). Using the newer 12W charger from the iPad 4/Air has no impact on charge time as the mini still only draws a maximum of 11.7W at the wall (compared to 13.8W for the iPad Air).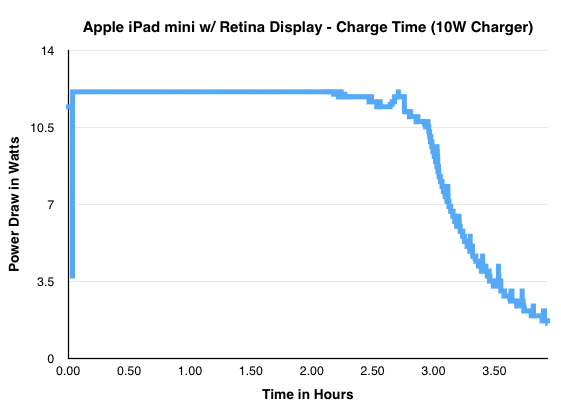 The iPad mini with Retina Display completes a charge from 0 to 100% in a sliver under 4 hours. That's a little quicker than the iPad Air, and similar to the original mini with its 5W charger.