Metro: Last Light
As always, kicking off our look at performance is 4A Games' latest entry in their Metro series of subterranean shooters, Metro: Last Light. The original Metro: 2033 was a graphically punishing game for its time and Metro: Last Light is in its own right too. On the other hand it scales well with resolution and quality settings, so it's still playable on lower end hardware.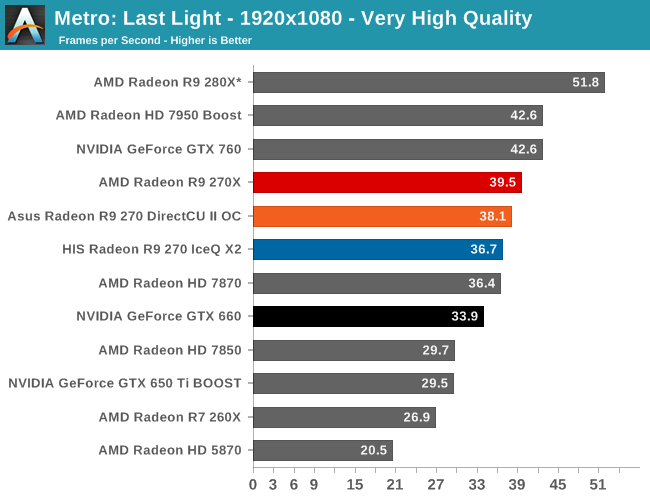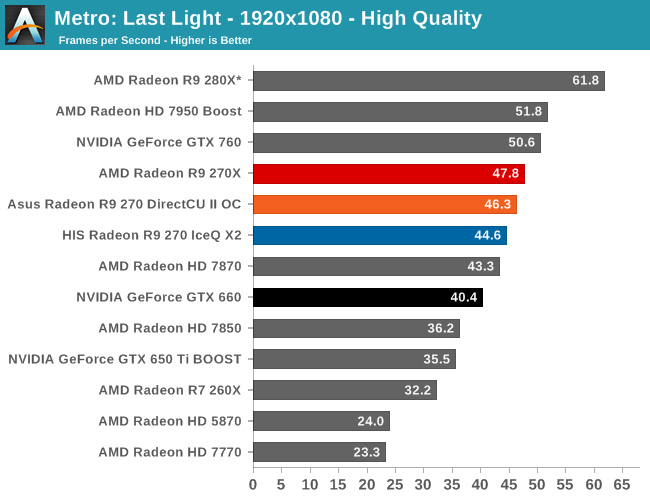 AMD likes to pitch the 270 series as their primary 1080p cards, and although they generally do a perfectly fine job at it, Metro is a reminder that there are scenarios where they will come up short, particularly if trying to do 1080p at the highest quality settings. For these cards if we want framerates better than the 30s, we have to look at moving down a quality level.
At 1080p high quality, we can get our 270 cards up to the mid-40fps range. 270X of course leads the pack, but the 270 cards are very close behind owing to the fact that the only difference between the cards is the GPU clockspeed.
For the 270X in particular we're looking at performance just a few frames per second behind the more expensive GTX 760, for a deficit of 6%. Otherwise the only cards close to it are of course the 270, and the outgoing 7870.
As for our 270 cards, they are second only to the 270X in anything near their price. The Asus card with its factory overclock is as to be expected faster, essentially splitting the difference between the stock clocked HIS 270 and the 270X. Furthermore in this test both cards are faster than the 7870 – a Pitcairn card with higher clockspeeds – showing the potency of the memory clockspeed increase. Finally, both cards are 10%+ faster than the GTX 660, making this an easy win for AMD.