The activity cited most often for improved memory speeds is IGP gaming, and as shown in both of our tests of Crystalwell (4950HQ in CRB, 4750HQ in Clevo W740SU), Intel's version of Haswell with the 128MB of L4 cache, having big and fast memory seems to help in almost all scenarios, especially when there is access to more and more compute units. In order to pinpoint where exactly the memory helps, we are reporting both average and minimum frame rates from the benchmarks, using the latest Intel drivers available. All benchmarks are also run at 1360x768 due to monitor limitations (and makes more relevant frame rate numbers).
Bioshock Infinite: Average FPS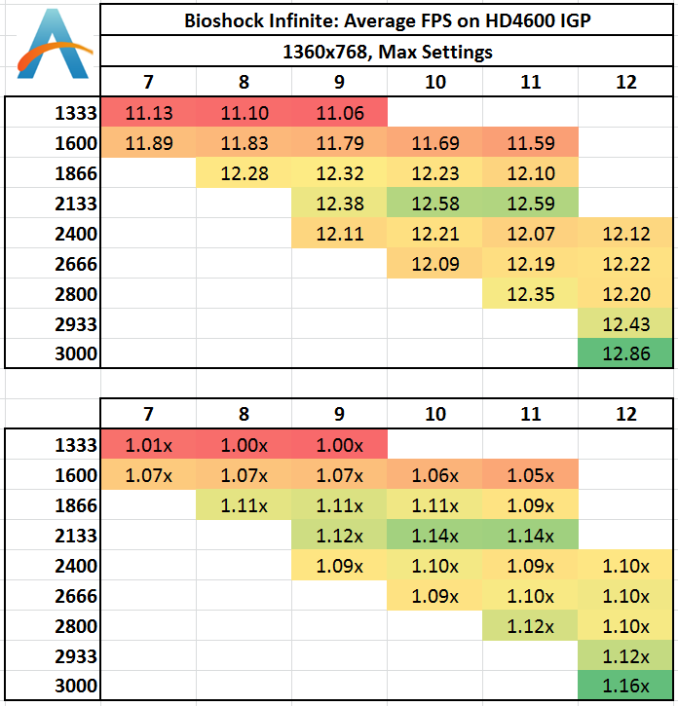 Average frame rate numbers for Bioshock Infinite puts a distinct well on anything 1333 MHz. Move up to 1600 gives a healthy 4-6% boost, and then again to 1866 for a few more percent. After that point the benefits tend to flatten out, but a bump up again after 2800 MHz might not be cost effective, especially using IGP.
Bioshock Infinite: Minimum FPS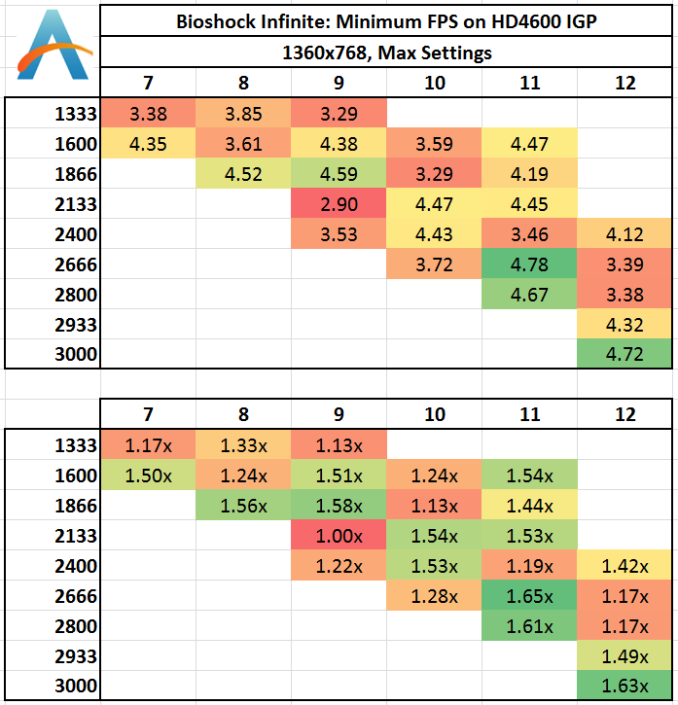 Unfortunately, minimum frame rates for Bioshock Infinite are a little over the place – we see this in both of our dGPU tests, suggesting more an issue with the title itself than the hardware.
Tomb Raider: Average FPS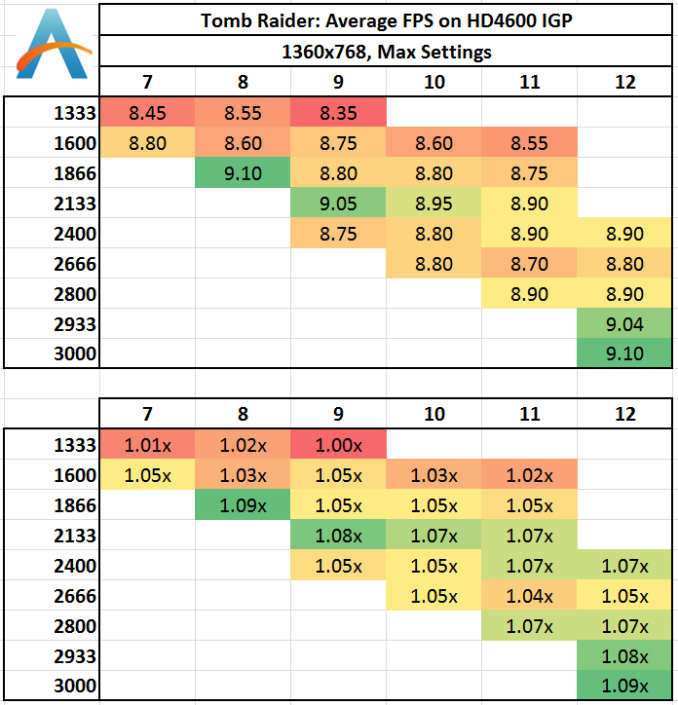 Similar to Bioshock Infinite, there is a distinct well at 1333 MHz memory. Moving to 1866 MHz makes the problem go away, but as the MHz rises we get another noticeable bump over 2800 MHz.
Tomb Raider: Minimum FPS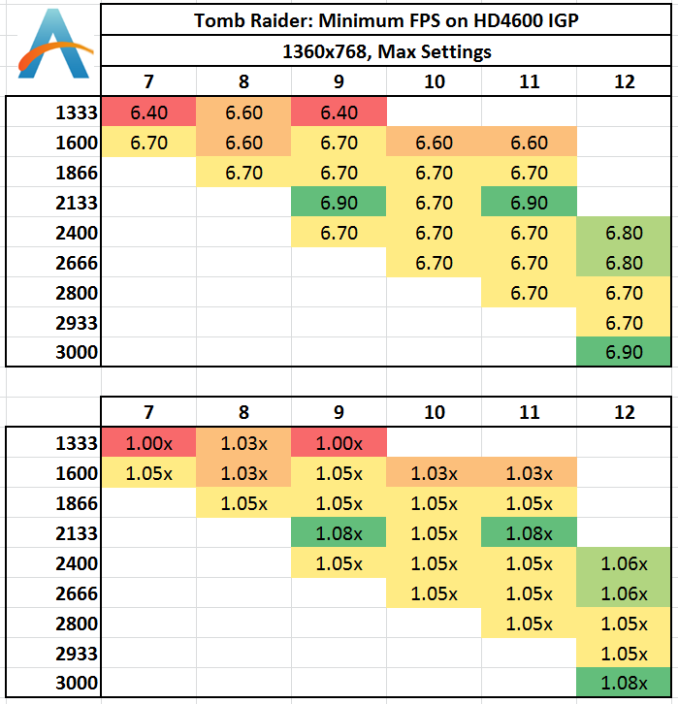 The minimum FPS rates shows that hole at 1333 MHz still, but everything over 1866 MHz gets away from it.
Sleeping Dogs: Average FPS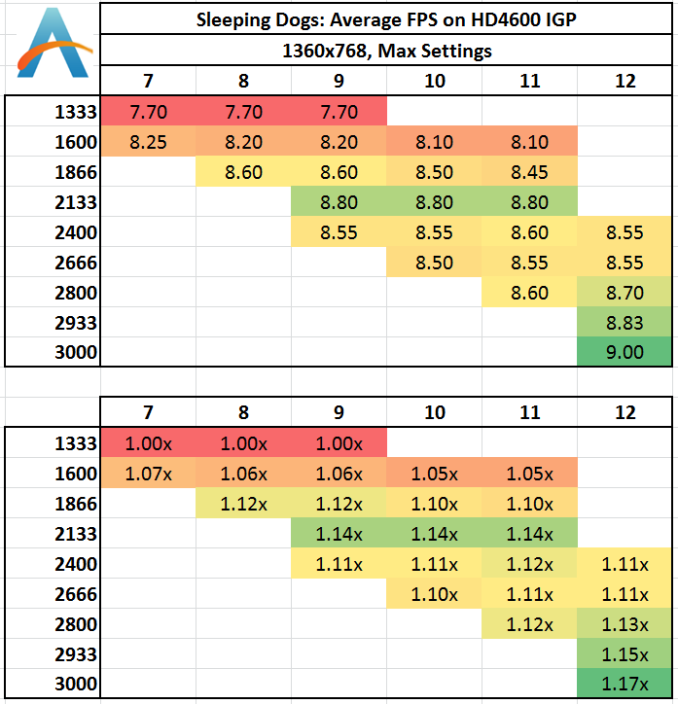 Sleeping Dogs seems to love memory – 1333 MHz is a dud but 2133 MHz is the real sweet spot (but 1866 MHz still does well). CL seems to make no difference, and after 2133 MHz the numbers take a small dive, but back up by 2933 again.
Sleeping Dogs: Minimum FPS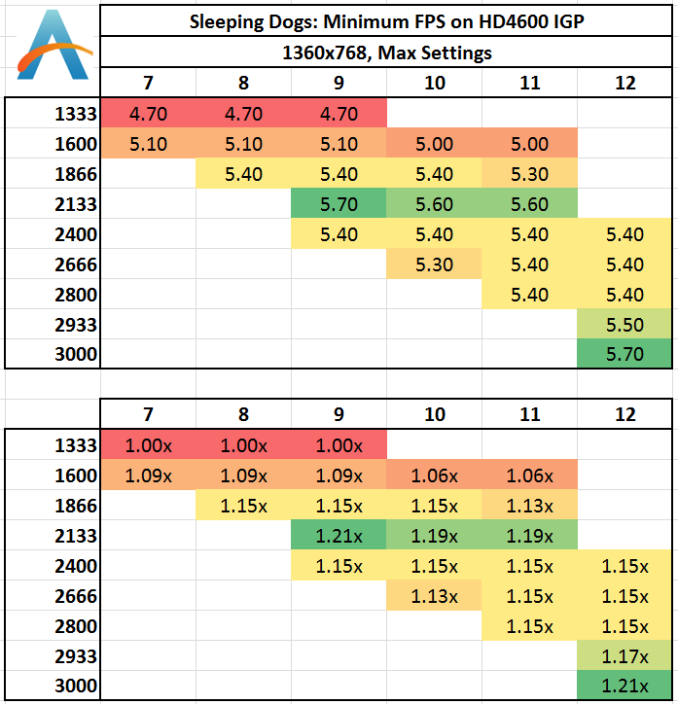 Like the average frame rates, it seems that 1333 MHz is a bust, 1866 MHz+ does the business, and 2133 MHz is the sweet spot.