Video
Apple's new H6 ISP brings with it a modernization of the video recording options for the iPhone 5s. The default video record mode is still 1080p at 30 fps, but there's also a new 720p 120 fps "slo-mo" mode as well. In the latter, video is captured at 120 fps but optionally played back at 30 fps in order to achieve a high speed camera/slow motion effect. The result is pretty cool:
In the camera UI you can select what portions of the video you want to play back at 30 fps and what portions you want to leave at full speed. The .mov file is stored on NAND as a ~27Mbps 720p120 without any customizations, however when you share it the entire video is transcoded into a 30 fps format which preserves the slow motion effect.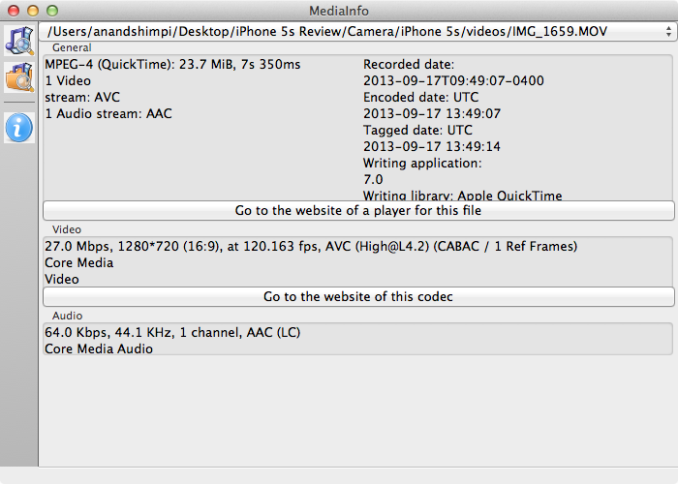 The slo-mo mode is separate from the standard video recording mode, it's the next stop on the dial in the new iOS 7 camera app. Video preview in slo-mo mode also happens at 60 fps compared to 30 fps for the standard video record and still image capture modes.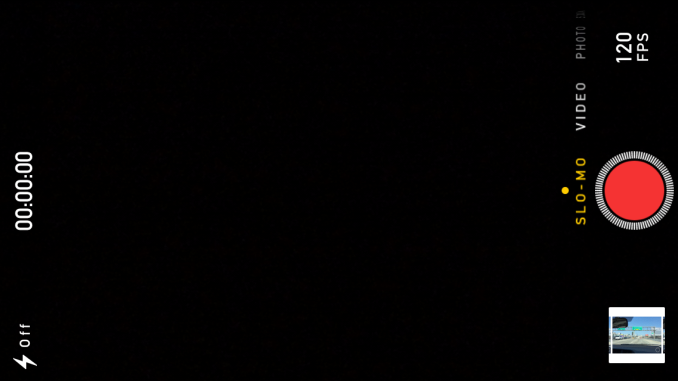 Camera preview frame rate, toggling between slo-mo and normal modes
Adding high speed camera modes to smartphones is a great step in my opinion and a wonderful use of increases in ISP and SoC performance. I would like to see Apple expose a 1080p60 mode as well. Technically 1080p60 does require slightly more bandwidth than 720p120, but I'd hope that Apple targeted both in the design of H6 and simply chose to expose 720p120 as it's an easier feature to market.
Standard 1080p30 recording is also available: