CPU Performance
With Haswell on the desktop we showed a 0 - 19% increase in performance over Ivy Bridge at the same clocks. With Haswell ULT, similar parts have identical turbo frequencies but Haswell does drop the base clock by 100MHz in this case. There's also a lower TDP, and that TDP now includes the PCH as well, potentially decreasing the time spent in max turbo.
The end result is effectively no gain in performance across our benchmarks. PCMark 7 and single-threaded Cinebench show a 3 - 6% increase in performance, while multithreaded Cinebench and x264 show a 3 - 5% decrease in performance.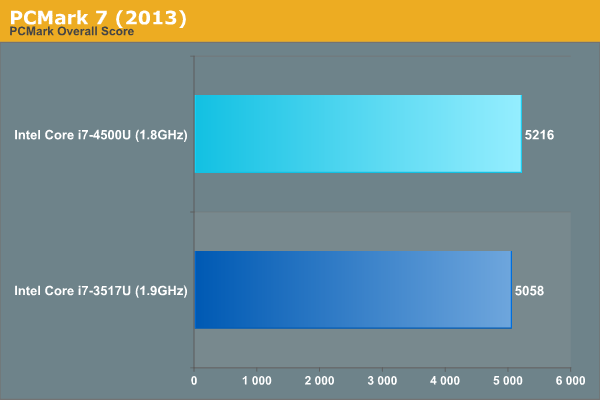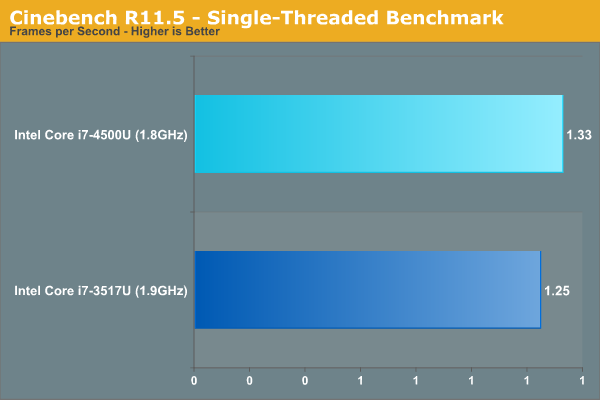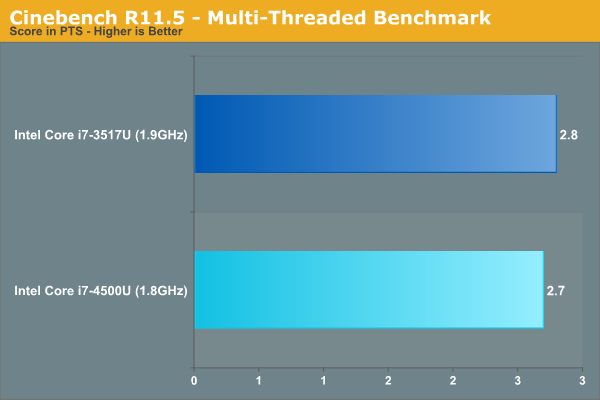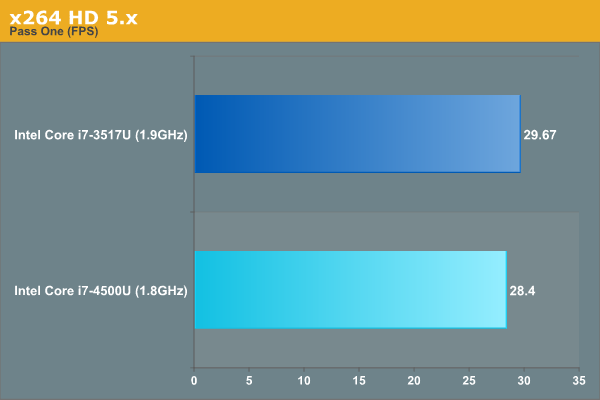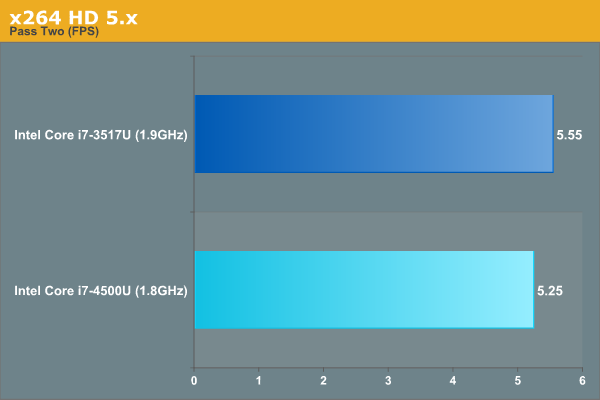 As we saw in our battery life tests, it looks like there are some larger performance gains to be had in power limited scenarios. The explanation there makes sense. Haswell ULT's lower TDP may cap max frequencies more than on Ivy Bridge, but at lower frequencies the CPU cores are less likely to bump into the chip's TDP limits - allowing Haswell's IPC advantage to really shine. When plugged in however I wouldn't expect CPU performance any different from Ivy Bridge.
CPU Performance Comparison
PCMark 7
Cinebench 11.5 (single threaded)
Cinebench 11.5 (multithreaded)
x264 5.0.1 - 1st pass
x264 5.0.1 - 2nd pass
PCMark 8 Home (Power Saver)
PCMark 8 Creative (Power Saver)
Core i7-3517U
5058
1.25
2.8
29.67
5.55
1595
1391
Core i7-4500U
5216
1.33
2.7
28.4
5.25
1777
1583
Haswell Advantage
3.1%
6.4%
-3.5%
-4.3%
-5.4%
11.4%
13.8%