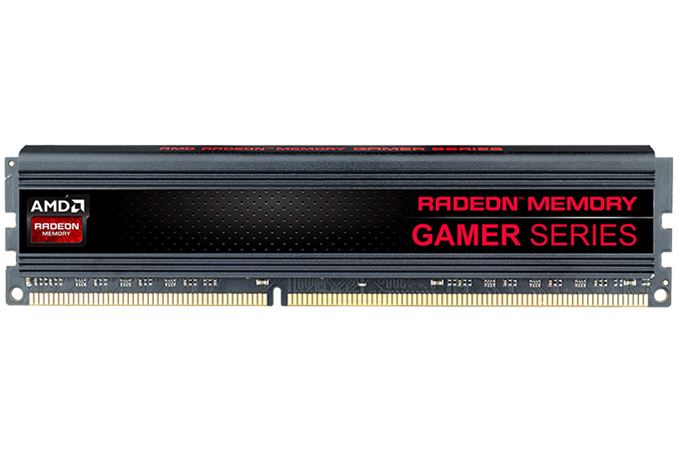 After entering the PC memory market about a year and a half ago, things have for the most part been quiet for AMD's fledgling memory operations. With DDR3 enjoying a long, prosperous reign as the memory of choice for PCs, memory is not a fast-moving field that has the kind of rapid innovation and quick product turnovers as AMD's GPU and CPU businesses do. But with that said, even as a commodity product there's still periodic bumps in capacity and performance, and that's what AMD is announcing today.
Joining AMD's existing 1600MHz (RE1600) and 1866MHz (RP1866) Radeon Memory products today is a new SKU, the 2133MHz (RG2133) Gamer Series. The RG2133 is a middle of the road 2133MHz part, sporting a CAS 10 latency (10-11-11-30) and a voltage of 1.65v. In keeping with AMD's other memory products they aren't using any flamboyant heatsinks here, so these are simple DIMMs enclosed in a heatspreader, keeping the DIMM height at a low profile of 30mm.
AMD Memory Specification Comparison
RE1600
RP1866
RG2133
Kit Speed
1600MHz
1866MHz
2133MHz
Subtimings
9-9-9-28
9-10-9-27
10-11-11-30
Voltage
1.5v
1.5v
1.65v
Size
2 x 8GB
2 x 8GB
4 x 4GB
Price
$95
$125
$155
As with AMD's other memory products RG2133 memory is being manufactured and sold in 16GB kit form. The DIMMs are 4GB each – unlike AMD's other speed grades which are 8GB these days – so the full 16GB kit is 4x4GB rather than 2x8GB. Meanwhile AMD continues to contract out the actual manufacturing of their memory products, and while they haven't named the manufacturer of the RG2133 DIMMs they've said that they're keeping the same manufacturer as with their other products, which would mean it's once again Patriot doing AMD's manufacturing.
For AMD the primary benefit of introducing another speed grade of RAM is not only to keep themselves competitive in the memory market, but also to work the fact that AMD's APUs greatly benefit from increased memory bandwidth. Even though the GPUs in AMD's APUs are lower performing than AMD's discrete GPUs they're still memory bandwidth starved to a very large degree, and as we've seen even back in 2011 with Llano most games benefit from additional memory bandwidth. So by pairing RG2133 memory with Trinity/Richland, AMD can significantly improve their GPU performance in many cases even with the same silicon.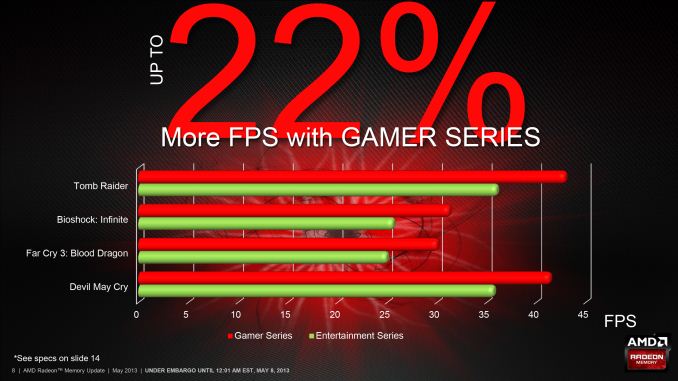 The catch as always will be pricing. 2133MHz memory carries a distinct premium, so although faster memory will improve gaming performance it's not a "free" upgrade. Builders and buyers will be looking at a $155 price tag for a 16GB RG2133 kit, $30 more than the RP1866 kit. However short of adding a discrete GPU, this is going to be the best way of improving AMD's iGPU performance for the time being.
On a final note, AMD will once more be bundling licenses for their branded version of Dataram's RAMDisk software with their memory. RG2133 kits will come with a license good for a 64GB RAM disk (note that you can't actually get 64GB of RG2133 into a system at the moment). All other AMD memory products will continue to ship with a license for a 6GB RAM disk. The usefulness of AMD's RAMDisk software remains questionable, but as AMD's pricing is generally competitive it's essentially a freebie with an otherwise solid memory package.