Final Words
Silvermont really is Intel's Conroe for the mobile market, but not in the sense that many have been expecting. Given that success in mobile is so closely tied to device wins, Silvermont alone isn't enough. Unlike Conroe, a very competitive Silvermont won't change the world overnight. What Silvermont does however is offer a great foundation for Intel going forward. Conroe lead to Penryn, Nehalem, Westmere, Sandy Bridge, Ivy Bridge and soon, Haswell. It was the platform that Intel could build on regularly by executing on tick-tock. Conroe paved the way for the insane advantage Intel has held onto for the past few years. Silvermont is like Conroe in that it provides that same foundation.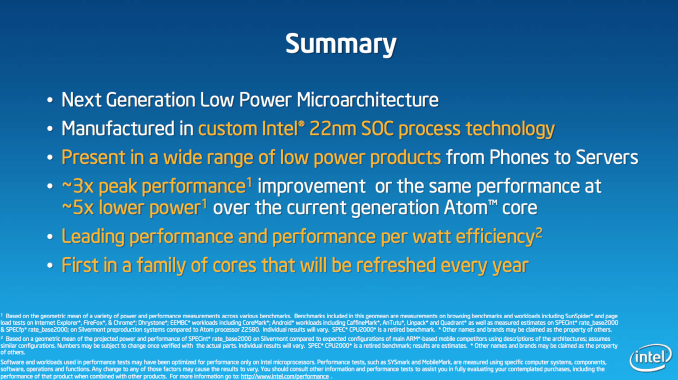 The mobile market is far more competitive than the PC industry was back when Conroe hit. There isn't just one AMD but many competitors in the SoC space that are already very lean and fast moving. There's also the fact that Intel doesn't have tremendous marketshare in ultra mobile. Silvermont may feel a lot like Conroe, but the market it's competing in is very different. That's not to say that Intel can't be successful here; it's just not going to be easy.
Architecturally Silvermont is very conservative, and that's not a bad thing. A side effect of not wanting to make Haswell irrelevant by a far lower cost part is the benefit of maintaining power efficiency. Intel joins the ranks of Apple and Qualcomm in intelligently scaling performance while respecting power consumption. Intel's 22nm process should give Silvermont a lot of runway to use. If it can quickly follow up with 14nm, Silvermont's power advantage could end up being akin to Conroe's performance advantage in the mid-2000s.
Even so, Silvermont is long overdue. It's the first mobile architecture where Intel really prioritized smartphones and tablets, and on paper, it looks very good. Now it's up to Intel to turn a great architecture into great design wins. From what I'm hearing, we may actually see that happen.