Like many recent flagships, the OPPO comes with a 5" 1080p AH-IPS display produced by JDI. It's pretty similar to the one you can find in the Droid DNA and other phones with this screen dimension and resolution, except for the Galaxy S4, which of course uses Samsung's own 1080p SAMOLED panel. All of these displays share the 443 PPI pixel density, which is incredibly high, especially in the displays that have a full RGB stripe subpixel matrix. It's hard to ask for anything more than this in a display, and the differences in sharpness and density in this panel versus the HTC One's 468 PPI display (1080p on a slightly smaller 4.7" panel) are almost academic. We're well beyond the point where one can see individual pixels with the naked eye, as on even most 720p displays were (notable exception: Galaxy S3).
The touch controller is provided by Synaptics, with the Find 5 utilizing the same ClearPad Series 3 S3202 as the HTC One and One X, with 10 points of multitouch detection. Even without in-cell touch, there's not much of a perceptible gap between the LCD and the glass, and the display does quite well outdoors (as there isn't much reflectiveness added due to air gap).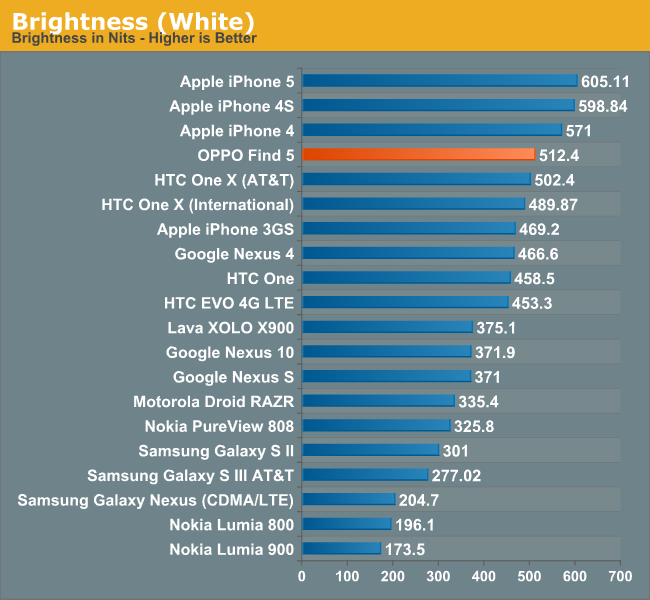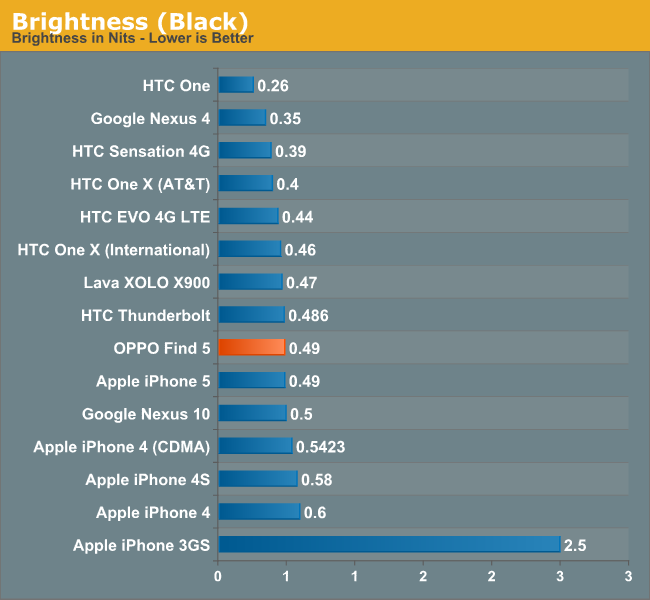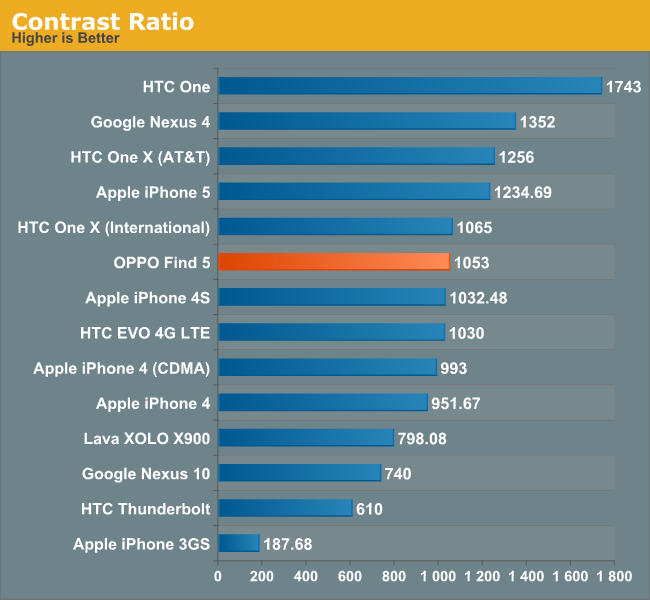 The display is really bright, one of the brightest Android devices we've ever tested. Contrast ratio, at just over 1000:1, is very good, but nothing special and well short of the HTC One's 1750:1 contrast panel. The colour temperature of 6432K is very close to the 6500K we consider to be neutral, and the panel calibration overall seems to be decent though not as good as we've come to expect from manufacturers like Apple or HTC.
I think 4.7" is the sweet spot for display size, something that was reached with the last generation of handsets. There's not really any benefit to going with a 5" panel over a 4.7" panel beyond just having a bigger number - it's not like jumping to a Galaxy Note-sized 5.5" or larger display, where the device ends up being more of a phablet than a handset, but it does add just enough bulk to be on the cumbersome side.