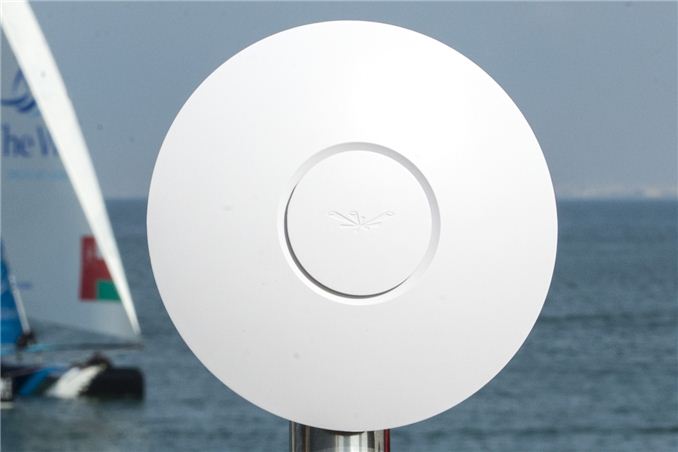 The enterprise Wi-Fi market is a hotly contested one with expensive offerings from companies such as Aruba Networks and Ruckus Wireless being the preferred choice of many IT administrators. Primary requirements for products in this market are the ability to support high client device densities and the provision of a robust and flexible management interface.
Ubiquiti Networks, founded in 2005, entered this market in Q4 2010 with their UniFi series. The offerings surprised the market with very attractive pricing while providing all the features available from the tier-one vendors. While those vendors have been a bit cautious in jumping on to the 802.11ac bandwagon, Ubiquiti is going ahead and launching the UniFi 3.0 Wi-Fi access point platform along with what seems to be the first 802.11ac enterprise AP.
The 802.11ac access point is based on the Broadcom platform (With the BCM4706 SoC, just like all the 802.11ac consumer routers / APs in the market right now). The APs also have wireless mesh capabilities. In a multi-AP deployment, wired uplinks are not needed for all of the access points.
The differentiating aspect of Ubiquiti's offering is the free UniFi 3.0 management software and controller. The latter can be run on-premises, or deployed in the cloud (either private or public). Some of the interesting features of UniFi include 'zero hand-off roaming' which allows users to roam while seamlessly switching between different access points without latency or interoperability issues. In essence, multiple APs can appear as a single AP to client devices. A single UniFi controller can manage multi-site distributed deployments. UniFi also provides detailed analytics and WLAN grouping capabilities, which are taken for granted in the enterprise Wi-Fi AP space.
Ubiquiti's UniFi 3.0 platform / 802.11ac AP is schedule to launch next month at a price point of just $299. With the arrival of 802.11ac-capable smartphones such as the HTC One and the Samsung Galaxy S4, enterprise IT administrators are bound to be on the lookout for 802.11ac-capable gear. Ubiquiti Networks seems well-positioned to tap into that market.
A challenge for Ubiquiti would be the fact that solution providers in any enterprise space are usually well-entrenched. Administrators are also wary of trying out new vendors because of support issues and a multitude of other factors. Do any of our readers have experience with Ubiquiti's products in the enterprise space? Feel free to let us know about it in the comments.
Source: Ubiquiti