Silent Cooling Performance and Absolute Performance
Testing cases is in some ways much simpler than testing coolers, and a large part of that is because outside of an integrated fan controller, there's really not as much variability in the case's stock performance. Coolers, on the other hand, immediately benefit from the motherboard's fan control, and that has to be taken into account. They also have a more direct effect on the CPU's overall thermal performance. That means we need to break down the results into more useful metrics.
The first one is for silent performance. As a noise cap, I've chosen 33dB. Any coolers or settings that resulted in idle or load noise above 33dB have been pruned from the chart.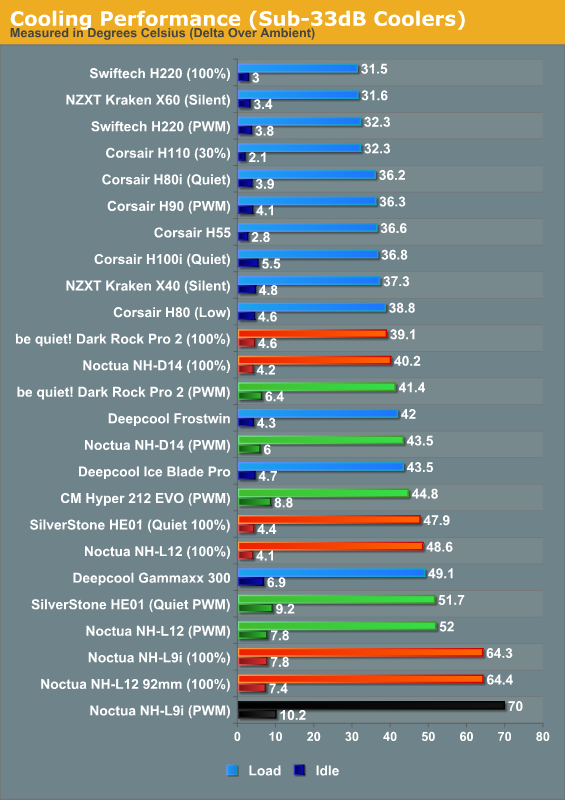 While every cooler I've tested today makes an appearance on this chart, the closed loop liquid coolers unfortunately have a clear advantage here. These are all quality units using excellent fans, though, and I'm keen to point out that you have to go to a 240mm or 280mm radiator before the closed loop units take a decisive lead. Generally speaking, you can get close to a 120mm or 140mm closed loop's cooling potential in an air cooler with comparable noise levels.
I'm keen to point out that Cooler Master's inexpensive Hyper 212 EVO actually does put in a pretty good showing here. Users on a budget would do well to note that it actually beats SilverStone's much larger Heligon HE01 when the Heligon's fan isn't cranked up.
With silent cooling broken down, let's take a look at the absolute maximum performance that can be gleaned from the coolers we've tested so far.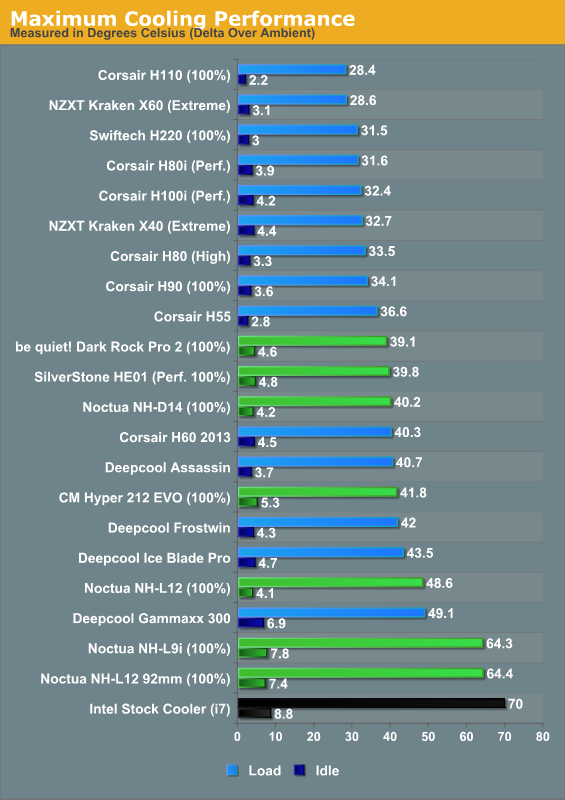 As it turns out, the closed loop coolers have a bit more headroom left in them compared to the majority of the air coolers tested. Our top performing trio is pretty much neck and neck for thermal performance, and even the Cooler Master Hyper 212 EVO is able to get awfully close to them. If you want high end air performance, you can definitely have it at a good price.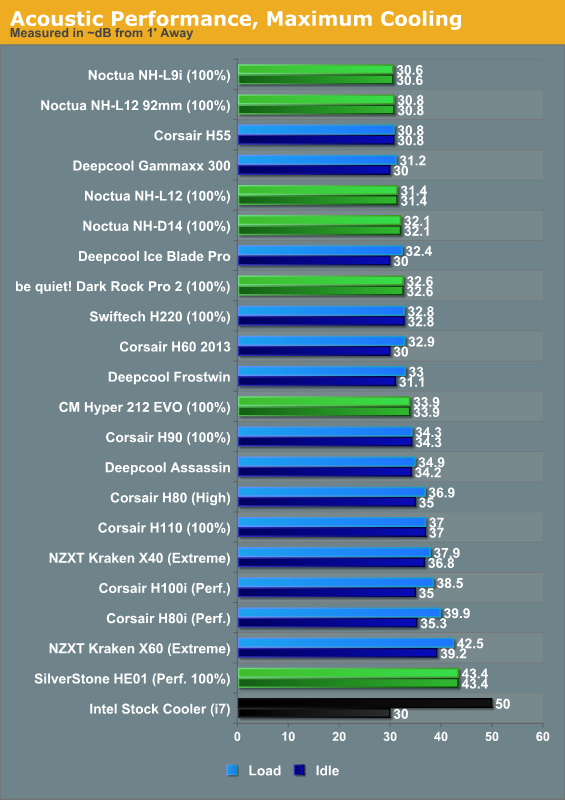 Of our big winners, though, Noctua and be quiet!'s solutions prove to be the quietest. SilverStone's Heligon may be able to produce comparable thermals, but that 38mm thick fan has to do an awful lot of grunt work to get there.